THE MICHAEL SCHENKER GROUP Reissues EMI (2008)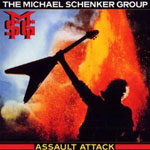 EMI continue their excellent and long overdue MSG appraisal. Post UFO/Scorpions, Schenker had formed MSG in 1979 and here we have albums four, five and six.
1982's Assault Attack saw more musical chairs, with ex Rainbow singer Graham Bonnet replacing Gary Barden, drummer Ted McKenna rejoining former SAHB bandmate and bassist Chris Glen, and now the Tommy Eyre at the keyboard help. It received mixed reviews at the time but now can rightly be considered a classic rock album, with both Bonnet and Schenker at the top of their respective games. With Schenker now having to handle all the guitar parts he was working harder, and the album verges on metal at times. The opening title track is a rifftastic epic, and 'Rock You To The Ground' verges on blues-metal. Contrast that with the more commercial 'Dancer', the obvious single. The album is really well worth checking out, and is bolstered here by a non album B-side. ****
The Bonnet era was as fractious as it was excellent, and pretty quickly Gary Barden was back fronting the band; an obvious choice alone for his familiarity with the earlier material. With Andy Nye now on keyboards, Built To Destroy is more melodic. Although there's still plenty of fire in Schenker's guitar work, opener 'Rock My Nights Away' features keyboards equal to the guitar in the mix. It's still on the coarse side of melodic, the coarseness adding a metal touch; the album could easily have been influential to a lot of late 80s bands. The album, much like Whitesnake's Slide It In, was given a US Remix, which was issued in the UK as a picture disc. But unlike the Whitesnake album, both versions are included here in their entirety. Just be careful of the Wikipedia entry, it only lists that alternate track order with no mention of the alternate version. There is a difference and it's to great be able to compare them here. ***
The original band's parting shot was another live album, 1984's Rock Will Never Die, recorded at Hammersmith on the previous year's tour. With an additional rhythm guitarist to bolster the band, the set kicks off with an excellent take on 'Captain Nemo' before launching into 'Rock My Nights Away'. While you could argue about another live album so soon, there is more reliance on MSG material and more of that to choose from. The set is well recorded, the guitars and keyboards well mixed. There are also 6 bonus tracks to complete the set. 'Are You Ready To Rock', 'Rock Will Never Die', 'Courvoisier Concerto' and 'Armed And Ready' all sound great; true testament to the band and Michael Schenker, who never sounded consistently so good before or since. And having Klause Mein and Rudolph Schenker guest on 'Doctor Doctor' make a fine parting shot. ***½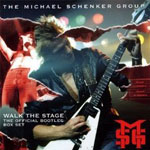 And to round things off, we get a 5 disc set of Walk The Stage: The Official Bootleg. If you ever needed proof, which you don't, well it's all here anyway.
Four CDs plus a DVD covering the band's 80-84 career, and whatever (limited) overlap there is with the individual album bonus tracks, this supersedes all.
Disc 1 kicks off with Live At Hammersmith September 1980. The line-up of Schenker, Barden, Paul Raymond, Cozy Powell and Chris Glen is that which recorded the following year's second album, but here were promoting the first. The set list is heavy on that first album, opening with a boisterous 'Armed And Ready' and features 'Cry For The Nations', 'Victim Of Illusion' and 'Into The Arena'. The extended 'Rock Bottom' and 'Lost Horizons' both run to over 11 minutes. Schenker's on rip roaring form, and Barden plenty talkative with the crowd.
Discs 2 and 3 will excite further: The same line-up, 1 year later, 2 shows on 19 August 1981 in Osaka Japan. The afternoon show kicks off with 'Armed And Ready' and 'Cry For The Nations' but it's tracks from the second album like 'Attack Of The Mad Axeman' and 'Let Sleeping Dogs Lie' that stand out. Both sets are excellent and well recorded too.
Disc 4 is the Reading 1982 performance, where the band go down a storm. This was recorded just a few days after Bonnet was fired and Barden drafted back at the last moment. The band really are on form, but it is a little unfair on Bonnet when Glen's introduction of Barden gets a huge cheer. Because of late change, the emphasis is on the early material, but the Bonnet era 'Rock You To The Ground' does go down rather well.
The set concludes with a DVD recorded live at Hammersmith 1983. Yes, this is an official video of the Rock Will Never Die live album, filmed for the Japanese market at the time in preparation of the impending tour there. An enthusiastic crowd, a tight and energetic performance, with some good angles. Well worth watching.
Overall a decent package that'll please rock fans, headbangers and Schenker fans alike. ***
Review by Joe Geesin
---
| | |
| --- | --- |
| | Print this page in printer-friendly format |
| | Tell a friend about this page |