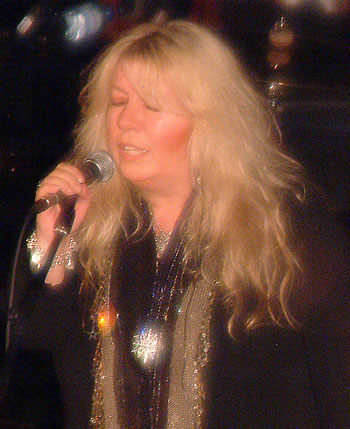 Judie Tzuke was always an artist that had reviews and interviews in Kerrang! back in the 80's, always looking slightly at odds surrounded by hair metal bands and scary looking thrash metal bands.
In fact she still gets some press in 'Classic Rock' but never seems to get much exposure in other music mags like 'Q' or 'Mojo' (luckily GRTR! Radio has this month as Judie Tzuke month so I managed to hear some of her songs).
So Judie Tzuke was someone I knew of, but had heard little by them, and tonight was a chance, thanks to my good friend Steve, to experience her live and on the first date of her UK tour.
First up was David Saw who played a very enjoyable set of original material and a couple of covers including one off the 'Pulp Fiction' soundtrack (a 1950's ballad - I think perhaps a Ricky Nelson number?). He had a confident style and witty between song banter that proved a hit with the audience.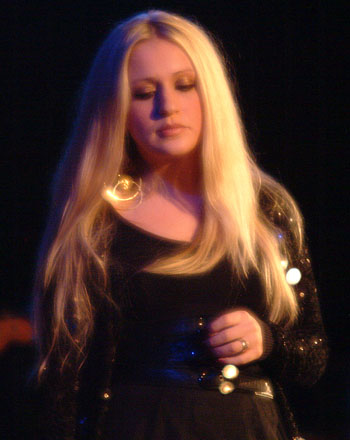 Judie's daughter Bailey was next with a lively set of songs backed by most her mum's band. She has a lovely, rich voice slightly reminiscent of Stevie Nicks and the songs have that timeless feel, with a strong melody running through each one.
She was joined by her younger sister Tallulah on backing vocals. A fine set and her music is definitely worthy of further investigation.
After an interval (it doesn't get much more very rock 'n' roll than eating a tub of ice cream!) Judie Tzuke took to the stage, joined by her two daughters and the band who it had to be said were phenomenal. They were so tight musically from the keys, the guitars that never took away from the rest of the band and the drummer who could provide quieter percussion then switch to some Cozy Powell-approved bombast when required. This was the first night of the tour - imagine how they will sound after a few more nights.
A set list covering all her career with highlights the moving 'Liam', where Judie was backed by keys only and her two daughters on backing vocals.
The jaunty 'Submarine Boy' and 'Sportscar', a song that allowed the band top have some fun musically with such a fast paced song.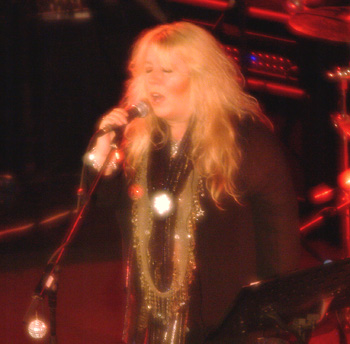 The song she is most known for, 'Stay With Me Till Dawn' was simply amazing with Judie Tzuke's vocals still sounding as good as when the song was first recorded and backed by waves of keyboards.
Encore time saw a family a capella on 'For You' which quite literally bought the audience to their feet. It's easy to forget sometimes how strong an instrument the voice is on its own.
Easily one the live highlights I've seen in my 25 years or so seeing gigs. 'If' followed this with the keyboard player back onstage and then the full band came back for 'The Choices You've Made'.
For a first night the band and Judie Tzuke sounded like they were on the final dates such was the tight sound and enjoyment of the musicians shown clearly on the stage.
One the most enjoyable gigs I have been to in a long time and Judie Tzuke is now firmly on my radar to get her albums for my collection. Go and see her on tour as she is a delight to listen to plus you get her two daughters who seem to have inherited their mum's vocal talent.

Review by Jason Ritchie
Photos by Noel Buckley
---
Judie Tzuke regularly features in the singer-songwriter sequence on Get Ready to ROCK! Radio, Mon-Fri 14:00-16:00 BST (GMT + 1)
---