JETHRO TULL Stand Up (Collector's Edition) EMI (2010)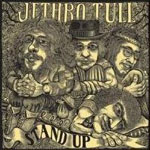 When I interviewed Ian Anderson for Get Ready to ROCK! Radio earlier this year he played down the issue of 'anniversary' editions but he could see the merits for the fan 'who wants to have everything we've ever done'.
The first thing to say about this reissue: it's a lovely package. Right down to the authentic 'pop-up' paper engineering - wonderful.
But wait, you also get the original album, bonus tracks, and the Carnegie Hall gig recorded in 1970 spread across two CDs. Add a liner note from Ian Anderson and 45-minute recent interview putting the album in context on a bonus DVD and you have the definitive version.
The band's second album moved them more into prog/folk/fusion territory after their blues-fired debut in 1968. It is perhaps no coincidence that with new guitarist Martin Barre on board this new direction was made easier. 'Stand Up' produced some great and durable tunes that have stayed in the band's setlist ever since.
'Jeffrey Goes To Leicester Square' characterises this more eclectic approach along with 'Nothing Is Easy' and 'Fat Man'. 'We Used To Know' inspired The Eagles' Hotel California chord structure whilst 'For A Thousand Mothers' presages what became the riff-driven approach of subsequent album 'Benefit' and then 'Aqualung'.
There was no obvious single on the album, but fortunately we have amongst the bonus tracks a string of the band's more commercial offerings released in 1969-70 which shot them on to 'Top Of The Pops' and wider acclaim. (These singles were also included on the original 2001 remaster from which the original album here is sourced).
The BBC tracks, originally broadcast in June 1969, underline the fact that there needs to be a definitive Tull at the BBC collection because their radio sessions are spread across many different reissues and boxed sets.
Needless to say, three of the four tracks have appeared previously on the 1988 Anniversary box set ('Bouree', 'A New Day Yesterday' and 'Fat Man' ). Anderson recounts that John Peel (from whose sessions these come) expressed a dislike for 'Stand Up' and this precipitated a rift with the veteran broadcaster that was sadly never healed.
In terms of the band's Stateside sorties, the Carnegie Hall gig is perhaps overshadowed by the later Madison Square Garden set recorded in October 1978 (and available on CD/DVD in 2009). The setlist is a lot of 'Stand Up' and a bit of 'Benefit' but it does capture a band in ascendancy based around the exhilarating showmanship of Anderson.
Bizarrely the DVD also contains the Carnegie Hall gig, no visual but a DTS surround sound mix. Completists should know that 'By Kind Permission Of' and 'Dharma For One' appeared originally on the 1972 'Living In The Past' compilation (reissued on CD in 1994) and the balance of the gig was included on the 25th Anniversary box set in 1993.
A great collector's package, worth it, especially for that facsimile pop-up. What next? The full fold-out St Cleve Chronicle (& Linwell Advertiser) for 'Thick As A Brick'? We can but hope.
****½
Review by David Randall
Ian Anderson interview, January 2010
---
| | |
| --- | --- |
| | Print this page in printer-friendly format |
| | Tell a friend about this page |