Just witnessed your best live gig?.. send us a review!
BON JOVI O2 Arena, London 20 June 2010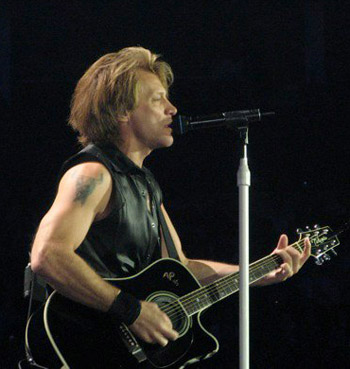 It's an ill wind that blows nobody any good. Michael Jackson's death last year left media giants AEG with a huge task in filling all the dates booked for his shows at the O2, and who better to step into the shoes (or gloves?) of the King of Pop, than the Kings of Stadium Rock?
So it came to pass with Bon Jovi forsaking their usual outdoor shows for a twelve night residency at the O2. It is never been fashionable to like Bon Jovi, and they attracted a lot of criticism for the scale of prices for premium seats, followed by schadenfreude when many of them failed to sell and were offloaded in special offers. Other former fans have accused them of losing their edge and becoming bland and uninterested.
But the three shows I witnessed saw a band still on top of their game and delivering value for money for their fans with a 2 ½ hour set, packed with songs and devoid of some of the previous padding (like the interminable Shout).
Better still, at least a quarter of the set list varied each night, with many obscure songs given an airing at least once to please fanatics who went multiple nights, while ensuring all the hits were still present and correct every night. It really was a lesson to many established bands with a stagnant set list (no names, no UFO).
Jon Bon Jovi came over as a rather joyless businessman in the recent rather depressing documentary, When We Were Beautiful, and yet if he was feigning his enthusiasm on stage, he is a more talented actor than I gave him credit for.
Trim and with the most gleaming set of teeth money can buy, his ability to work the crowd and how they responded to his every move was very apparent from my viewing point in a box overlooking the side of the stage (paid for, but not at premium prices I hasten to add!) .
The biggest selling point of Bon Jovi (though I realise musical snobs may view this as exactly the reason to dislike them!) is their accessibility - catchy songs with lyrics that affirm the positive power of human nature, and 'yeahs' and 'who-ohs' placed for maximum singalong impact, which makes for an almost revivalist atmosphere when sung in unison by a 23,000 crowd.
They opened on this occasion with one of my favourites, Blood on Blood, which saw Springsteen influences clash with their 80's pop-metal, followed by newie We Weren't Born to Follow, the latest in a line of classic anthems. But the gig really took off once JBJ urged the whole crowd out of their seats and to cast off their inhibitions to You Give Love a Bad Name.
Whether it was the massive, hook-filled choruses of Born to Be My Baby and In these Arms, or the more groove-filled I'll Sleep When I'm Dead and We Got it Going On, with JBJ prowling the raised platforms at the back of the stage, the whole place was joining in and singing along, making for a memorable atmosphere, capped by Bad Medicine, surprisingly moved for this tour into the middle of the set.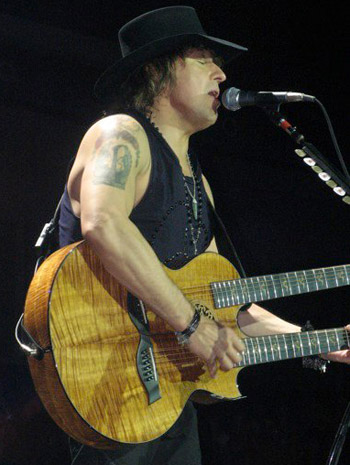 While the other four musicians were line astern towards the back of the stage, Richie Sambora was allowed to share the limelight. He seemed back to his best after his personal problems and was even given a slot to prove that he is arguably the best singer in the band - for most of the tour he took on Lay Your Hands on Me, but on this occasion it was the rarely heard Homebound Train, with its Aerosmith meets Deep Purple feel.
The mood was completely taken down for a while with Jon going deeper into the crowd to sing the ballad Bed of Roses, before ushering the rest of the band forward to join him for an acoustic segment of the Who's Squeeze Box - in honour of David Bryan who in Jon's words was 'making the accordion look sexy' - a superb These Days with some great vocal harmonies, and Someday I'll be Saturday Night.
However the band are masters at pacing a set, and from there on in it was back to up tempo rockers. Another admirable characteristic (unless you are stuck in the past and think the band never recovered from JBJ's early 90's haircut) is the way newer songs nestle comfortably alongside the old classics, so we got the likes of Have a Nice Day and Work for the Working Man as well as the insanely catchy Its My life, before ending with Keep the Faith, where I was particularly impressed with the way Tico Torres urged the beat on.
I Love this Town was the surprise first encore this time, before they closed with perhaps their two signature songs- Wanted Dead or Alive, with Richie thankfully dispensing with the long pre-song tune up but releasing a spine tingling solo, and Livin on a Prayer. After JBJ sang an a capella intro, the crowd did not even wait for the band to kick in before chanting the chorus in unison, and even the cavernous O2 arena was turned into a riotous party.

Who was Jacko anyway? On this evidence I can keep the faith that the Jersey boys will continue to provide a great live experience for years to come.

Review by Andy Nathan
Photos by Katie Phillips
---