Just witnessed your best live gig?.. send us a review!
BON JOVI O2 Arena, London 19 June 2010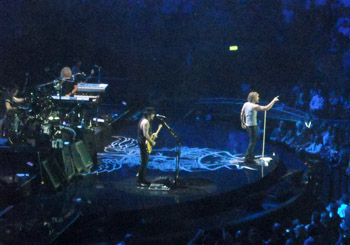 Once upon a time I was a massive Bon Jovi fan, first witnessing them live at Castle Donington back in 1985. A year later Bon Jovi turned the rock world on it's head with the release of 'Slippery When Wet', an album that featured the slick global hits of 'You Give Love A Bad Name' and 'Livin' On A Prayer'.
I later went on to see the band over 25 times, impressed by their exhilarating live shows. For years the only females you'll see at rock concerts were mainly dominated by boilers, but for the first time beautiful women were flocking to see shows by the new pin up heroes who had more hair than you'll find whoosing around a horses backside, and tight trousers with a six pack package.
Since Bon Jovi became a stadium band I lost interest in ever seeing them live again, last time being on the 'These Days' tour some fourteen years ago. Those female fans have kept with Bon Jovi throughout the years and most of the audience here tonight are called Sharon or Tracey, live in Essex and have been treated to the show by their boyfriend Dazz or Dave who has impressed his babe with the most expensive tickets one can flaunt your wonga at.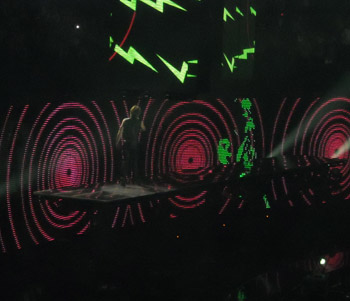 Loadsamoney is evident tonight. For a pidgeon eye's view of the show up in the gods will set you back a nifty, a seat within 100 metres of the stage is over a ton and for a ticket within the inner circle of the stage where you can almost reach out and brush JBJ's teeth, that's over three hundred nicker to you squire.
I'm here on night seven of a twelve night residency where over the nights Bon Jovi will perform 72 different songs from their extensive catalogue although second album '7800 Fahrenheit' has been hair brushed out.
Judging by the set lists from the other nights, I was in luck tonight with many tracks from those glorious late 80s performed, reminding me of happy times when i was a teenager impressing my new girlfriend in my car whilst listening to Bon Jovi on a C-90 casette tape with 'SWW' on one side and 45 mins of 'New Jersey' on the other.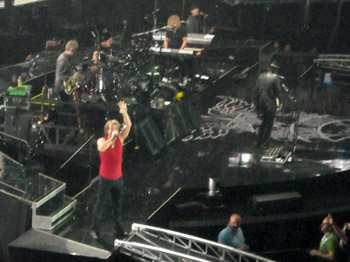 'Wild In The Streets' made us go wild in the aisle's, the biggest surprise was 'Wild Is The Wind' which they didn't perform back on the 'New Jersey' tour was one of the biggest highlights tonight. The only song from the debut was the now rarely performed 'Runaway' which brought the house down. The band especially seemed to be enjoying this rocking starlight.
Something was amiss though. These days Jon Bon Jovi tries so hard to be like Elvis it's painful to watch. Often standing on tip-toe with bending knees, shrugging his shoulders and tilting his head with arms out stretched, the man should be locked up in a jailhouse rock for copyright infringement violation.
Ritchie Sambora is still top of his game, but I feel that at times he was pushed to the side lines by the second guitarist the band now have with them whilst on tour. Bobby Bandiera was away from his day job as a member of Southside Johnny & The Asbury Jukes, who in the past has also performed with Bruce Springsteen (Doh!... I was trying not to mention the Boss in this review.), played a predominant role, later becoming the human jukebox segueing 'Paint It Black' and 'Oh! Pretty Woman' into 'Bad Medicine to good effect.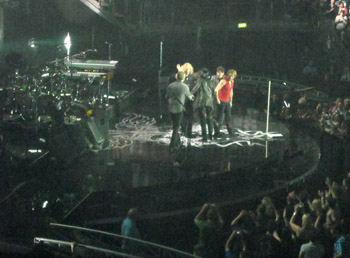 Sambora took over vocal duties for 'Lay Your Hands On Me', later joined by Jon Bon Jovi at the rim of the circular stage to perform some acoustic ditties including 'Diamond Ring' from the very underrated 'These Days'.
From the new album, 'Work For The Working Man' worked very well in the live environment with it's punchy chorus which saw JBJ raised high at the back on a platform amongst the neon lights. 'It's My Life' is the best song Jovi have come up with in the later years, is a great sing along anthem. The girls were kept happy when JBJ got his maracas out for set ender 'Keep The Faith'.
During the encores, the couple next to me were enjoying one of their first ever concerts. The girl asked her boyfriend to take a picture of herself with me because she wanted a picture with a man with long hair. She was loving it.
'Livin' On A Prayer' blew the o2 roof off with everybody singing along to ''Whhoooaaahh we halfway there, whhhhhhhhoooooooaaahhhh livin' on a prayeeerrr, brought the memories flooding back for me, realising why I used to love this band so much.
The band took their bows and left the stage, as I was walking away Elvis Springsteen comes back onto stage to soak up the last of the applause. I did find myself asking the question Why?..Whatever happened? But I suppose 100,000,000 can't be wrong.
Glad I came along tonight, it was good to see Jovi and the boys once again in a indoor venue and Tommy and Gina next to me went home happy, hand in hand.

Set List: Happy Now / We Wern't Born To Follow / You Give Love A Bad Name / In These Arms / Born To Be My Baby / Wild In The Streets / Wild Is The Wind / Captain Crash & The Beauty Queen From Mars / Runaway / We Got It Goin' On / Bad Medicine / Lay Your Hands On Me / Open All Night / Diamond Ring / I'll Be There For You / Love For Sale / Work For The Working Man / It's My Life / Who Says You Can't Go Home / Keep The Faith ..encores Something To Believe In / Someday I'll Be Saturday Night / Wanted Dead Or Alive / Livin' On A Prayer

Review and photos by Mark Taylor
---