Just witnessed your best live gig?.. send us a review!
Latest review (29/30 December)

BLACK COUNTRY COMMUNION
John Henry's Rehearsal Rooms
20 September 2010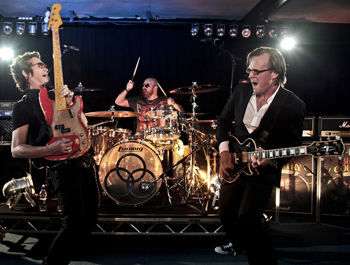 Photo: Christie Goodwin
Black Country Communion have just released what could well be the heavy rock album of the year. The supergroup featuring Glenn Hughes, Joe Bonamassa, Jason Bonham and Derek Sherinian have certainly set tongues wagging since their first inception.
On the day of the release of the new eponymous debut album Black Country Communion are playing a private gig at the John Henry's Rehearsal Studios in North London to a small select crowd of industry types and a few lucky competition winners.
Seeing the band up close and personal can only be described as orgasmic due to the combustion and velocity of the music.
Album opener 'Black Country' opens the show galloping along at a Maidenesque pace. 'One Last Soul' kick our butt's next and you immediately realise it's the skilled musicianship and chemistry of this band that makes these songs come alive.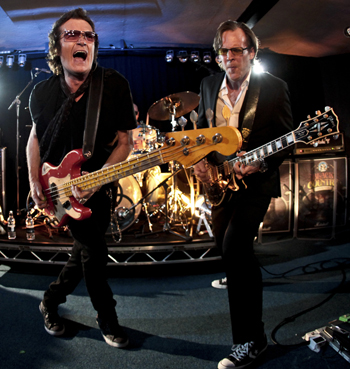 Photo: Christie Goodwin
Glenn Hughes has been loving every breath he takes this past decade and has found the perfect band to accompany him, ''It's great to find a band that can really smoke....Wow...No pun intended.''
The suited guitar maestro Joe Bonamassa takes the vocal lead for the Free-ish 'Song Of Yesterday' featuring some swirling Hammond work from Derek Sherinian and glass shattering screams from Hughes towards the end.
Bonamassa plays in a heavier style in this band even throwing in a swinging Iommi riff for 'Stand (At The Burning Tree). 'The Great Divide' gets better with every listen. Those gathered inside the studio just look at each other in amazement.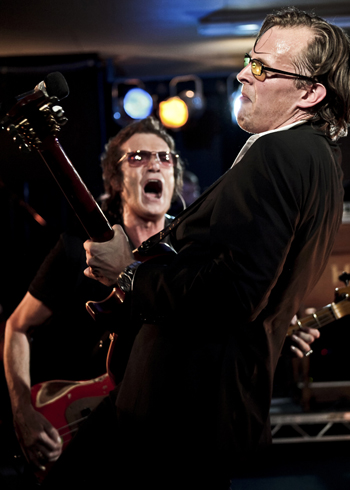 Photo: Christie Goodwin
I've only ever seen drummer Jason Bonham perform once before at Led Zeppelin's legendary o2 gig, and seeing him perform up close I realised just what a formidable drummer he is.
After delving into Hughes's history with the Trapeze track 'Medusa', Glenn Hughes stated that John Bonham would sometimes get up and play that track with the band and that it is such a honour to be playing that track with his son some 39 years later. With that, Jason Bonham kissed his hand and raised it in the air whilst looking at the heaven above. His father would be more than proud.
An hour quiclky passed by ending with the arena rock sounding 'Sista Jane' featuring shared vocals from both Hughes and Bonamassa who was bending notes all night long. The band even teased us with a snippet of Who's 'Won't Get Fooled Again' which would of blown the roof off if they decided to go all the way.
It was a real privilege to witness this show tonight and it may be some time before we see the band do a full tour as both Hughes and Bonamassa are about to undergo their own solo tours, but promoters should get their cheque books out at the ready because Black Country Commuinion are deservedly going to be the hottest ticket in town.

Set List: Black Country / One Last Soul / Beggarman / Song Of Yesterday / Stand (At The Burning Tree) / The Great Divide / Medusa / Sista Jane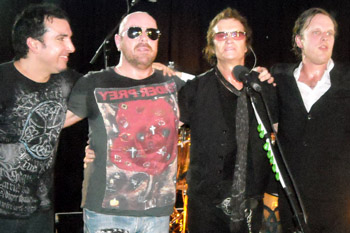 Photo: Mark Taylor

Review by Mark Taylor
---
---