Just witnessed your best live gig?.. send us a review!
BANG YOUR HEAD FESTIVAL, Germany
15-17 July 2010
Review and photos by Mark Taylor
Day 3 17 July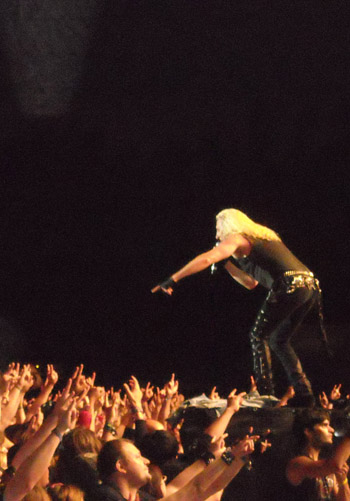 I was awoken in the morning by the sound of pitter patter on my tent, which got heavier by the minute. There was no life in any of the three of us, and I was very much in a comatose state for much of the morning.
I was the first to stick my head out for some fresh air and could only hear snoring from the tents of John and Jim. I decided to sit on my camping seat for a while with my head in my hands before I took my first drag of the day.
The rain kept coming so it was time to hide in the tent yet again which went on for most of the day.
After the previous day's sunshine, today was turning into a monsoon. I wanted to see some of the bands including Savage Grace, Treat and I was too far shot to see Bullet.
Eventually deciding enough is enough it was time to give the other's a kick up the jacksy and start to demolish the rest of the whiskey. The rain kept on pouring down and like many campers I decided to stay undercover on the campsite. Huddled together in John's tent the whiskey was working fine.
Sometimes there was a break in the rain, and soon as you've made a decision to make our way in, on comes the rain yet again which meant Fates Warning didn't get a look in either.
We were soon joined by a couple of Austrian's who enjoyed the English humour. Tanked up to the limit and looking forward to seeing Twisted Sister later tonight, I started a sing along on the shuttle bus to the refrains of ''We not gonna drink it, No! we not gonna drink it, we not gonna drink it...anymore''.
We braved the rain to support our fellow London based Geordie boys The Quireboys who played a set with quite a few songs from their later years. Spike ran down the ramp to get a good soaking (Well you don't expect Spike to be 'dry' do you?). A good rag time cover of Rainbow's 'Starstruck' impressed.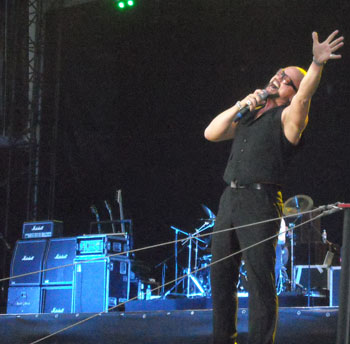 With the continous rain, we took shelter with many others in the Messehalle. Thankfully the rain stopped in time for Queensryche. The Seattle thinking man's rockers were billed as playing a greatest hits show. However we didn't get anything from the first E.P or from 'The Warning' or 'Rage For Order' and surprisingly only a couple from 'Operation Mindcrime'.
The bulk of the set come from the albums from 'Hear In The Now Frontier' album onwards, although 'Empire' got a major look in.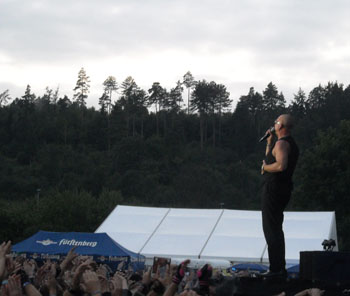 Geoff Tate has been piling on the pounds recently and looked to have a new spare tyre around his waist, which didn't effect him from hitting the high notes.
Bang Your Head came alive to a fantastic version of Sabbath's 'Neon Nights'. Despite the set list I did actually really enjoy Queensryche's set this time round.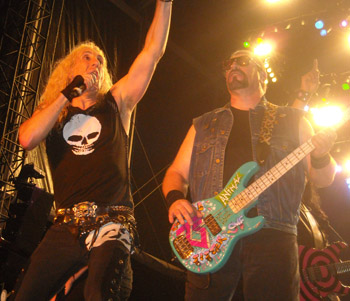 Awaiting the headliners Twisted Sister, the place erupted to the sound of clinking bottles and the voice of Dee Snider ''Twisted Sister...Come out and play...'' Twisted F##king Sister come out to destroy. This time playing without their trade mark make up, it really didn't make a difference to the TS live experience.
A set full of fun filled punch fisting anthems, although the set was still missing some classic album tracks, the Sisterhood were making sure we stayed hungry for the next time. ''We're Not Gonna Take It' saw BYH fans still singing the chorus for a full two minutes after the song finished.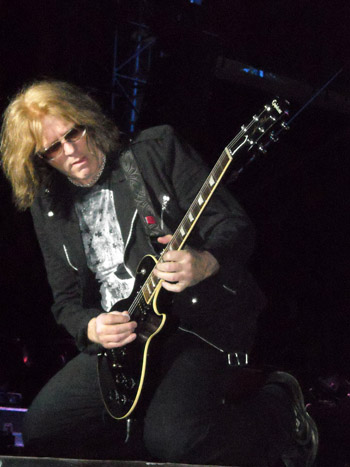 A sublime raucous version of 'Long Live Rock N' Roll' would've made Ronnie James Dio proud up there in the great big sky.
BYH promoter Thomas Michel was dragged out onstage by Dee Snider to great applause. Ending with 'S.M.F', the song could've easily been directed to everybody here this weekend.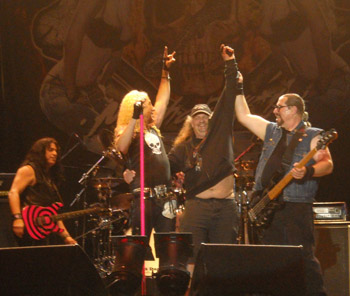 With fireworks exploding, this was a fantastic ending to a fantastic weekend away. I'll definately be returning here next year.
What do I want to do with my life?....I WANNA ROCK!

Queensryche set list : Hit The Black / Sacred Ground / Man Down / The Hands / Damaged / The Thin Line / Breaking The Silence / Silent Lucidity / The Right Side Of My Mind / Neon Nights...encores... I Don't Believe In Love / Jet City Woman / Empire

Twisted Sister set list : Come Out & Play / The Kids Are Back / Stay Hungry / Captain Howdy / Shoot 'Em Down / You Can't Stop Rock N' Roll / The Fire Still Burns / I Am (I'm Me) / We're Not Gonna Take It / The Price / I Believe In Rock 'N Roll / Burn In Hell / I Wanna Rock....encores... Under The Blade / Long Live Rock 'N Roll / S.M.F
Review and photos by Mark Taylor


---
---