Just witnessed your best live gig?.. send us a review!
BANG YOUR HEAD FESTIVAL, Germany
15-17 July 2010

Day 1 15 July
It's festival season and it's that time of year where my wallet takes and a big pounding. Although i enjoy the UK festivals, every year i do try to treat myself to at least one Europeon festival.Our friends overseas are not controlled by so much authoritarian health and safety issues, meaning the music is louder and goes on into the early hours of the night.Not only that,but the beverages are of a much wider taste(No luke warm knats pee on offer here.) and the cuisine is much kinder to your stomach.
As for the festivals in Germany, I've visited the mother of all metal festivals - Wacken - on a couple of occasions and the much smaller but fun Headbangers Open Air and have always had a great time with our German cousins. This is my first visit to Bang Your Head which is now in it's fifteenth year.
Situated in Balingen, which is a hour's drive from Stuttgart. We took the sensible option of hiring a car between the three of us from the airport, meaning we could stop off en route at the local supermarket to stock up with enough booze to keep Lemmy happy if he was stranded on a desert island.
German metalheads know how to camp at festivals in style. Many bring converted camper vans covered in logo's of their favourite bands, generators running at full power for their music systems (Forget about getting a good nights sleep.) and even that old second hand sofa ends it's life here at festival land, making life comfy and it's worth soon making friends with our German friends to share some beer and hog the sofa for a while.
Surrounded by mountains of green the hills are alive with the sound of music. With the booze free flowing and the clock ticking it was time to see some action. My only complaint about BYH is that you have to catch a shuttle bus into the main arena which is about ten minutes away, but not too much of a problem as the buses were running frequently.
The opening night was taking place in the newly built Messehalle Volksbank next to the main outdoor arena. A night billed as a celebration of the NWOBHM. (That's the new wave of British heavy metal to you and me folks.) Thirty years on and the scene that gave us so many greats is still making it's Deutsche Mark.
Also this weekend was to be a celebration of the lives and works of Ronnie James Dio. The organisers had asked every band if they could possibly add a track sung by Dio into their set. Most bands obliged or for those who felt they couldn't tackle the great man's work ,songs of their own were dedicated instead or just a few bars were slipped in.
Roxxcalibur are a band featuring members of Viron and Abandoned who have successfully made the ultimate metal tribute band, playing mainly the more obscure songs from the NWOBHM era. Songs originally done by the likes of Grim Reaper,Dark Star, Vardis and Witchfinder General sounded revitalized and would keep any conisseur of the genre very happy indeed. Ending with 'Neon Nights', Roxxcalibur gave the first tribute to Dio of the weekend.
Blitzkrieg are mainly remembered for only one song. To most, that's the B-side of Metallica's 'Creeping Death' E.P single where along with a cover of Diamond Head's 'Am I Evil' Metallica brought the sounds of the NWOBHM to a whole new generation.
Blitzkrieg were never one of my favourite bands of the time and didn't really move me tonight.I always felt that the riff to the self titled 'Blitzkrieg' was very similar to Focus 'Hocus Pocus', but at least it got my head banging .'The Mob Rules ' ensured some good applause.
Time to cool down in the fresh air and a enjoy a cigarette, it was also a good time to make some new friends. I had to have a chat with a couple of guys who were wearing a Tygers Of Pan Tang T-shirt and a Desolation Angels T-shirt (Who remembers those South Londoners?).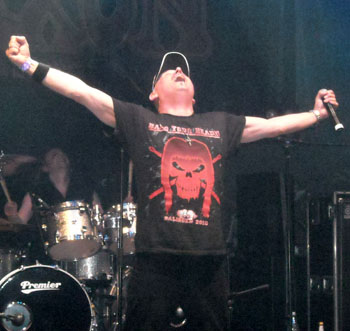 Too busy chatting and consuming I couldn't believe I missed the beginning of Demon who were unexpected guests this weekend after replacing Icon.
The night of the Demon impressed throughout with their melodic metal. Why this band were never a main draw back in the UK is beyond me. Demon were treated like heroes here tonight.
Singer Dave Hill was enjoying himself maybe a little too much saying ''I don't know why I'm talking to you c##ts because you can't understand me anyway'' with tongue firmly in cheek but which may have got lost in translation, but a local behind me shouted back sternly 'Oh yes we can.''
Demon gave a polished set including their first single 'Liar' which I enjoyed immensely. 'Don't Break The Circle' was the song everyone was calling out for. A surprising cover of 'Starstruck' raised the first Rainbow song of the weekend. It's an injustice why more people haven't discovered the works of Demon.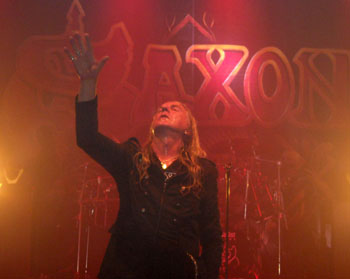 Saxon were the headliners tonight who surely would've seen themselves high on the bill on the open air stage had they been here a day later. With the hall packed and the beer flowing Saxon gave a set which was a headbangers delight.
It was time for some serious air guitar-ing with a set that was mainly focused on those glorious heavy metal thunderous days. The amps were turned to ten and it didn't matter if you spilt the pint of the person next to you: We were all unified by the strength of metal tonight.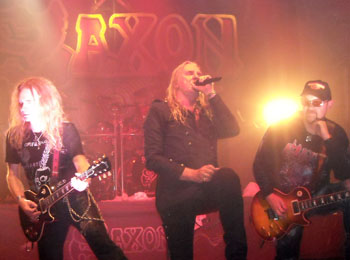 'The Eagle Has Landed' was the only time my neck got a rest from headbanging if only for the first couple of minutes of that song. Saxon didn't play any Dio tracks and Biff Byford may have made a dedication but I was too Brahms 'n Liszt to remember.
This was a set full of classics, and was one of the best gigs I've ever witnessed from Saxon, but playing to a crowd of denim and leather wearing metalheads what more could you expect? This was one solid ball of rock that bowled me over.
Getting the shuttle bus back to camp, it was time for more drinkies and to listen to the nearest ghetto blaster. A late night ensured and before crashing out we all agreed there was no chance of us making the first band the next morning at 10am.
Zzzzzzzzzzzzz-burp-hic-fart-zzzzzzzzzzzzz..night all.

Saxon set list : Heavy Metal Thunder / Dogs Of War / To Hell And Back Again / Live To Rock / Dallas 1pm / Motorcycle Man / And The Bands Played On / Demon Sweeney Todd / Strong Arm Of The Law / The Eagle Has Landed / 20,000ft / 747 (Strangers In The Night) / Wheels Of Steel / Princess Of The Night ....encores .. Crusader / Solid Ball Of Rock / Denim And Leather
Review and photos by Mark Taylor
---
---