Just witnessed your best live gig?.. send us a review!
Pontins, Prestatyn, North Wales 2-4 December 2010
Photos by Noel Buckley (except where stated)
Day 2
Friday 3 December 2010
Friday sees more loonies turning up and all three stages open, the big guns are here to show us how it's done. After the previous nights intake, I was in no fit state to check out the young blood in the Queen Vic.
It was Diamond Head who were my first band of the day - only guitarist Brain Tatler remains from the origInal line up but singer Nick Tart does a good job stepping into the shoes of Sean Harris.
It's the 30th anniversary of their 'white' debut and the band had been performing it in it's entirely at some previous shows but the set today had more of their greatest moments including 'In The Heat Of The Night' and 'To The Devil His Due' but it was always going to be 'Am I Evil' that was going get the heads some serious headbanging.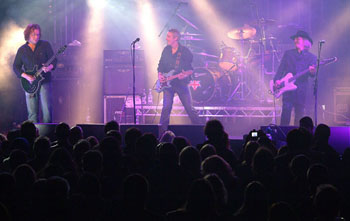 FM were fantastic a couple of nights back in London, but with only a hour slot I felt they played too much new material ignoring some classics from their debut 'Indiscreet'.
However the band were still highly enjoyable and a welcome addition to the bill with their own brand of melodic rock - but do we really need a Marvin Gaye cover when they've got so many good songs of their own?
One great thing about this festival is stumbling across bands you wouldn't normally bother to see. Whilst nipping back in from the cold after a fag I encountered Evil Scarecrow on the Blackstar Stage.
A parody black/death metal band from Nottingham who were excellent, not only funny as hell, but they also had the songs of quality that will kill off any black metal band who take themselves far too seriously. Seeing the crowd chant back 6-6-6 was a joy to behold. Definitely be seeing them again.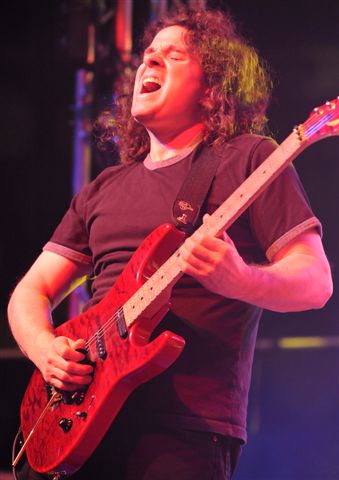 Photo: Lee Millward/GRTR!
UFO were without doubt, the band of the weekend. With so many crowd pleasers in their set, songs like 'Doctor Doctor', 'Only You Can Rock Me' and 'Too Hot To Handle' are perfect sing-along HRH fodder which had grown men crying into their pints.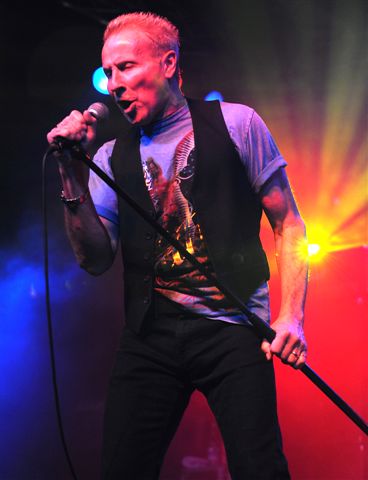 Photo: Lee Millward/GRTR!
Phil Mogg's voice hadn't sounded so good in years. Vinnie Moore on guitar was so fluent and bassist Barry Sparks - stepping in for the on-sick leave Pete Way - was clearly enjoying every moment. I've never seen this version of UFO play so good, they were magnificent.
Due to time restraints the band didn't have time for 'Lights Out' or 'Rock Bottom', but it didn't really matter, the day had already been won.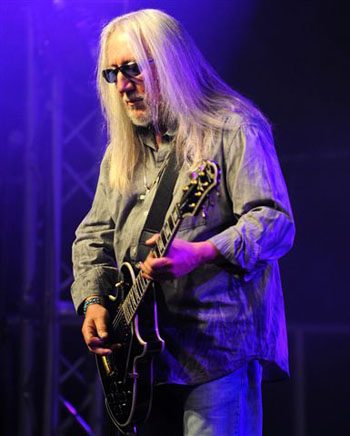 Photo: Lee Millward/GRTR!
Another veteran band where a hour set doesn't really do enough justice was Uriah Heep. Another set full of classics including a surprise rendition of 'Free 'N Easy', a track from the John Lawton years, but songs like 'July Morning' and the storming 'Easy Livin'' are pure solid gold material. Mick Box went home with an even bigger smile on his face.
Winning the Babe of the Week award was the stunning Canadian Brittany Paige (3!), lead singer of Kobra & The Lotus. The metal queen sounded like Geddy Lee's younger brattish sister belting out an arsenal of 80's flavoured power heavy metal. My pint was trembling, shame they've just finished a UK tour because I'd like to see them up close and personal again.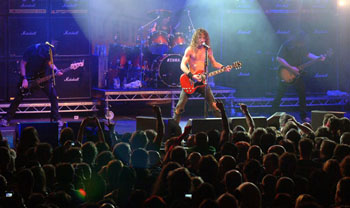 Aussie heroes Airbourne cancelled their London date the previous night due to illness and had many fans worried that they may pull out of their show here too, but we needn't had worried because Airbourne were in fine form. Joel O'Keeffe voice sounded a little croaky but the band were in headbanging in perfect non stop synchronicity.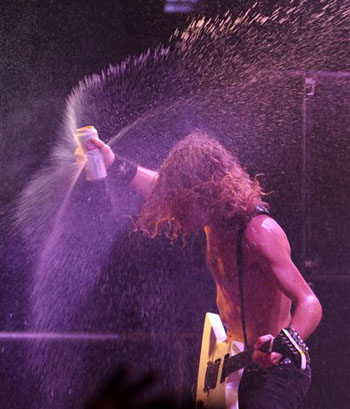 Photo: Lee Millward/GRTR!
During 'Cheaper Wine & Cheaper Women' (A song which could've been dedicated to me this weekend.) O'Keefe encouraged many sheila's to get on shoulders with many willing to flash off their boobies.
I had double vision by this time. O'Keeffe would later sing from the top of the stage and run into the crowd without missing a note. Top notch stuff.
Hardcore Superstar were over at the Blackstar Stage the same time as Airbourne attracting a large female following but I'm only interested in hardcore porn stars so I gave them a miss. Jett Black followed who were a lot of fun (More of them later.)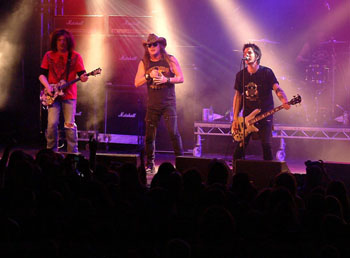 Back at the Hard Rock Heaven of the main stage Skid Row were slaving it to the grind. The more recent 'New Generation' sounded great but it was the classics from the first two albums that everyone wanted to hear. During 'Sweet Little Sister' guitarist Scotti Hill did a disappearing act, with bassist Rachel Bolan looking over his shoulder wondering what's going on, a roadie finally whishpered into his ear that Scotti had fallen off the side of the stage. The band carried on and Scotti was rushed of to hospital with suspected broken ribs.
Older fans like myself may never get used to seeing Skid Row without the brat of metal Sebastian Bach out front but Johnny Solinger does a good enough job filling in difficult cowboy boots. The youth though still went wild.
With the night almost over, closing the main stage were Swede's Fatal Smile who are gearing for world domination with their Skid Row meets Marilyn Manson riff attack.
The ladies were drooling over the tall blonde singer Blade. The ballad 'For The Last In Line' is a dedication to Ronnie James Dio that features lines of many of his songs that went over the heads of many this time of night, but the rockers 'Straight To Hell' and 'Run For You Life' ended a great day on the main stage.
The night was by no means over for us hardened party animals. By now i had all the hairs of the dog and was ready to roll yet again.
First off wandering around the chalets in search of a drink/party I joined Uriah Heep who were in a happy mood, especially keyboardist Phil Lanzon who would later join me in my chalet to finish of some vino.
Later I had to guide him home back to his chalet (Last seen getting a journey home by the Prestatyn coast guards.)
Later on it was time to gatecrash the Total Rock room and wake up the lightweights with a firm finger up the nostrils. With a bottle of Jack everyone was soon alive and we soon dancing to the tunes of Motley Crue, Poison, Journey and Autograph's 'Turn Up The Radio', I'm sure next door wanted us to turn down the radio.
After giving the Metal Hammer crew opposite the full monty, Jett Black came crashing into the room for some iron board surfing (They were soon flat out and had me in creases.). With bottle of Jack and then the vodka empty and realizing the time was 7.30am it was time to retire for another dose of rock in just a few hours time.
Review and interviews by Mark Taylor
Photos by Noel Buckley (except where stated)
---
---