Just witnessed your best live gig?.. send us a review!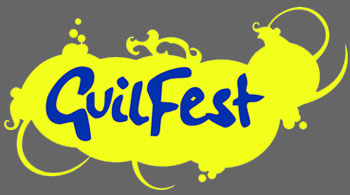 GUILFEST Stoke Park, Guildford July 16-18 2010
THE ROCKSOUND STAGE
Review and photos by Georgia Rawson
Friday July 16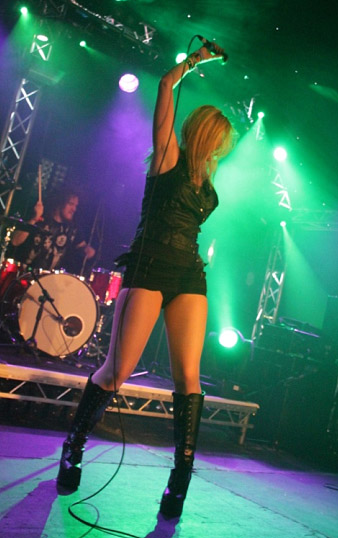 When Karn8 take to the stage you are quickly reminded of the rising toll of female fronted bands. But although the band share a resemblance to alternative rockers Pretty Reckless, Karn8 take a sudden turn and a rehabilitated Courtney Love and Hole seems to have taken to the stage. It's not the band that seems to be a let down: it's the crowd.
Early drinkers seem to have attempted to seek asylum in the plastic walls of this tent but although their reaction is minimal, there are a good few that are led into a dancing rocking rhythm by Karn8 and their oh so catchy rhythms and bass lines.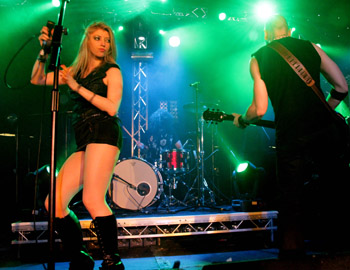 Guitarist Bones throws in the clean cut beats and guitar licks that have the crowd moving towards the end of their set but tracks such as Where the Fires Play have apace and depth that if Motorhead's Lemmy could hear, he would be air guitaring like a fool.
Karn8 don't seem to have made a large scale impression but it has definitely woken up a few characters within the crowd. It's a shame it's just so early and no one has been bothered to crawl into the Rocksound at an early hour. 5/10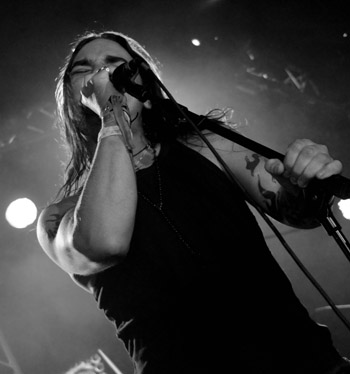 It's never too early to rock n roll and Retox seem to be set out on proving that. Recovering from pre-party hangovers the crowd makes an effort to support themselves against the front barrier, hoping to nurse their headaches with more scuzzy tunes.
Frontman Sharpie is more than willing to dive into the crowd that had gathered to watch their rock n roll antics, whilst guitarist Maxi (the youngest member of the band) plays with an energy that can't be seen in the other members who limply work at their instruments.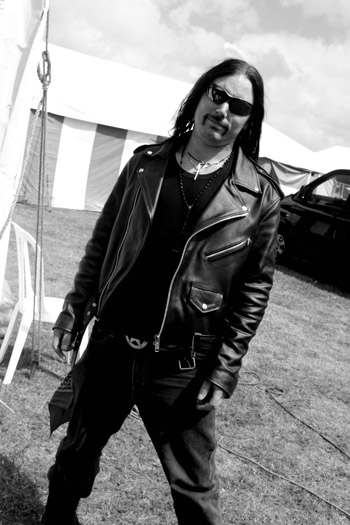 RETOX
We caught up with old school rockers, Retox's Maxi (guitar) and Sharpie (Vocals) to talk about shaving N-Dubz, downing Jagermeister and using a chainsaw".
How did you find your set at Guilfest yesterday?
S: It was fucking rocking. We tried to blow the roof off the place.
How do you think the crowd's reaction was?
S: Pretty good. People were jumping up and down and they were all drinking...drinking the free Jagermeister (which I had done)
What was the concept behind the free Jagermeister?
S: We like to give something back to the fans
Does it relate to any of your music?
M: Wasted?
S: Nah, it was just to give something back really. They come and see us, have a good time so give them something back, a couple of shots of Jager.
If you didn't have Jagermeister what would you of given them?
S: Jack Daniels
If you could have had anyone join you on stage yesterday who would you of had?
M: Dappy (N-Dubz)
S: So we could kick him and shave his eye brows off afterwards. Here's here somewhere"
Other than alcohol what do you suggest people take to festivals?
S: Wellington boots, Jagermeister, Johnnys
M: Safe Sex
You are pretty Rock N Roll, who would you say your influences are?
M: Alice In Chains, Sound Garden, Nirvana. Have you ever read 'the Dirt?' Crazy shit, it's about Motley Crue
Who else do you plan on checking out?
M: I missed all of the bands I wanted to see like The Blitz Kids. I met We Are The Ocean. Well we were backstage and I was really drunk. They made me whip out my guitar and have a little jam. I played 'Superstition'
S: Playing Stevie Wonder to WATO last night was awesome.
M: I'd like to think they were laughing with us If it was at me it was because they were jealous of my incredibly amazing guitar skills
If you could have anything on your rider what would it be?
S: Girls, beer. No drugs except the good drugs.
If there is a zombie outbreak at a festival what would you do?
S: I'd go back home and get my chainsaw. It's a big steel chainsaw, 18 inch. I'd hack them together
M: I don't need that, I've got a guitar. I'd just stand there
S: I've got dead rising on the x-box, 'Dead Rising' You can take a guitar and beat them (the zombies) to death . Or a lawn mower, that'd be handy, up close and personal.
M: If we played a set we'd probably blow their minds anyway

Although Maxi plays with the perfection of Slash, the rest stumble to find the right rhythm and tones to sweeten up this crowd, swaying between heavy chords and pacing drums.
It's not long until the rock n roll really kicks off though. Who says you need ID when there is suddenly free Jagermeister being drained down the throats of the crowd fed by who else than Sharpie himself?
You could say the crowd is literally trying not to bite the hand that feeds and suddenly feel more alive with the feeling of Jagermeister warming their cold sleeping bodies. Retox create a short but sweet moment of classy sex, drugs and rock n roll following in the footsteps of influences BuckCherry.
But too much energy and too much of a big attempt to fill the rock n roll boots becomes Retox' downfall and the crowd's attention soon returns somewhere else. 5/10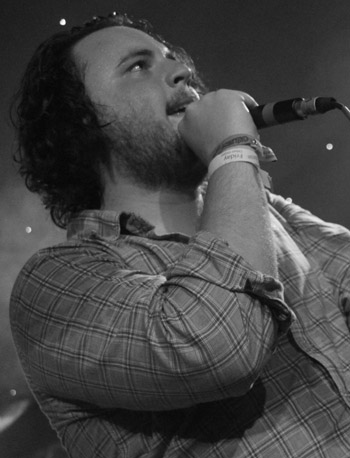 Stars of the Search Party are definitely one of the more refined bands playing this stage. The choruses are a release of the tension that comes from arriving 5 minutes before they are due on stage, but stars of the search party are not here to waste time.
Tracks such as 'the Culprit' are played with perfection and precision that hasn't been seen so far today. SOFTSP draw the biggest of the crowds so far and have all intentions to make it into one hell of a party. Similarities can be made with both the likes of Young Guns and A Day To Remembers front man work and sound as the crowd erupts into furious pits and flying limbs.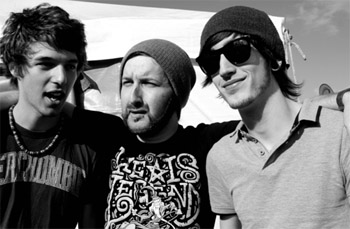 STARS OF THE SEARCH PARTY
We caught up with Stars Of The Search Party's Russ (guitars), Steve (guitar and vocals) and Callum (drums) after their set at this year's Guilfest to talk about traffic, warm up screaming sessions and lollipops ...


How did you find your set at Guilfest today?
R: it was pretty hectic, we had a few transportation problems, and we turned up 5 minutes before we were meant to be onstage. Pretty stressful
S: We did it though didn't we?
R: it was very last minute though but it was awesome.
How do you think the crowd reacted today in comparison to one of your normal shows?
R: The crowd is always awesome at Guilfest.
C: It was pretty good considering we still went on . A 14 year old went after my sticks
S: it was pretty good, I mean every body starts out scattered apart but the crowd fills out half way through and it gets a lot better
R: Yeah it's always nice and to see a couple of hundred people and then look out and there is double the amount of the crowd. What's good about Guilfest is that everyone really goes for it.
S: We managed to get a mosh going; there was a lot of sweat flying around and limbs. Our vocalist can get anyone going except for one which I'm not going to mention ... Bournemouth.
R: Basically he was having a bit of a bad day and some people were giving him shit
S: And Rob was getting a bit pissed off so he opened a bottle of water and threw it in the crowd and it hit someone in the face.
R: Actually it bounced off the ceiling - we'll just say it was the ceiling not the vocalist.
S: He tried to bribe girls once with lollipops
R: It was some 13 year old girl on top of the crowd, (in high pitched voice) "do you want a lollipop?"
S: We can be normal people sometimes.
R: We don't take ourselves too seriously
What else do you have planned for 2010?
S: We've got a tour coming up from the 12th to the 21st all around the South with Dead Poets.
R: We're supporting Not Advised at the Islington Academy and the Young Gun's album release show
Do you find there is a large difference between these smaller shows and the festival?
S: We always get the same people
R: The boiler-room because of the way it is, it is very difficult to get people moving around so much everybody seems a little bit scared of hurting themselves.
Finally what sort of genre would you say the band is?
S: It's hard to say ...
R: Awesome. We're awesome-core
S: forsurecore

The crowd have finally set themselves loose and people are literally clinging to the front barriers as to not be pulled into the whirlwinds erupting behind them.
Guitar duo Russ and Steve (also screaming duties) allow their guitars to pour out the downbeats and simmering aggressive energy that the crowd has been craving. Feeding off the energy their fans have put in, choruses such as "my hands are, my backs to the wall" send fists into the air and it's raw as hell.
Repaying the crowd in free t-shirts and merch makes them (the crowd) lap up more than they can handle and are left filled with what they have been wanting to hear all day. 7/10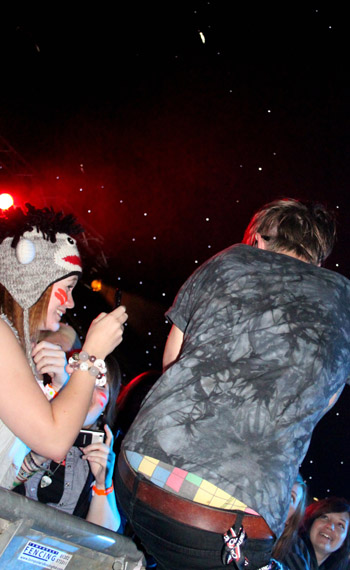 The Blitz Kids are catchy as hell but can still burst into a moment of aggression, enough to send the pits flailing and choruses of 'la,la,la' which echoes through out the crowd and fills the cave with their raw, gripping and sheer phenomenal tunes.
The crowd is led in and out of the pits and soak with sweat as they dance for their lives to the likes of 'Sell Yourself'. The venue soon becomes a product of Blitz Kids' destruction with Johno's gripping melodies working in harmony, or in pure alliance with Joe's vocals, not to mention the backdrop of aggressive energy supplied by Eddie's Drums and Nick's bass lines.
The energy and tension builds up before igniting a large bang of pure hardcore, sending everyone overboard. Blitz kids offer a fine chance for people to dance but that's not what they are here for.
Determination to rip open walls and holes all over the crowd with their antagonism, it's hard to keep that dispersion for long as the punters collide into one another and hurl themselves over the barrier making security finally do their job.
Although the crowd seems to be reacting well, it's the emptiness of the sounds being produced that seem to be the problem. The band literally has to turn their amps on max as they compete to be heard over one another. Joe is quick to offer his hand to the crowd and delves into a pool of hands as he screams in the face of anyone who tries to fight him off.
But its not all aggression, violence and chaos, Blitz Kids have the crowd singing along and feeding from their catchy pop punk melodies throwing one hell of a party. 8/10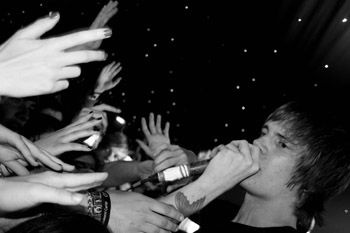 We Are the Ocean are the band that everyone has seemed to be waiting for. Restless hours of clinging to the front barrier through thick and thin have finally paid off as WATO take to the stage with a dramatic build up of cheering, chants and a roaring of vocal chords. The sound is immaculate and WATO need not bother with backing vocals as every word is sung back by the fans in perfect harmony. This is who they have come to watch. And main front man Dan and co is determined not to let this crowd rest for the duration of their set.
Tracks such as 'These days I have Nothing' send the pits flying and start off the heaviest of crowd control which Dan will happily conduct whilst Liam performs a perfect melody of both vocal and guitar harmonics. The melodies are clean and yet have a leeway to distortion that makes the sound unique and leaves the crowd hungry for more.
For the next 45 minutes the crowd throw their bodies around as Dan screams into the faces watching in awe and anyone who tries to resist him is suddenly won over by his charm. WATO close on the perfect note. 'Nothing good has happened yet' is sung back and the crowd fills in the words for the opening 'Let me in from the rain, don't you let me go again, let the water run down my face' with such volume, if the band were to hold mics to the crowd they would simply explode. 8/10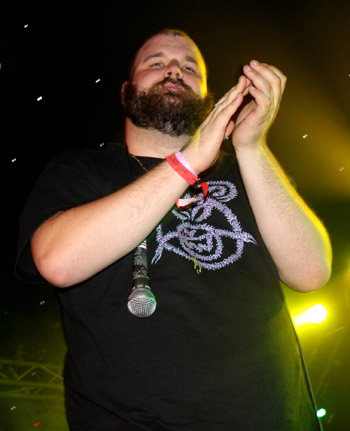 The first thing anyone will say about F***ked Up's live set as that they need not bother take to the stage as within the first few seconds front man Damien Abraham (AKA Pink Eyes) is deep within the crowd fighting with anyone that stands in his way.
The tank vocalist drives through each song with enough aggression that security run half a mile when he heads in their direction.
Tracks such as 'Baiting' are perfectly hardcore enough to rip open any crowd, it's just a shame that his off stage antics drive half the crowd out of the tent and across the festival site whilst the techie clings to the microphone wire hoping it doesn't trip anyone up .
However this much punk antagonism and hostility has not been seen since the age of Black Flag and Henry Rollins would be joining in the chaos erupting around him. The crunchy, scuzzy guitars of Generation send everyone overboard into a sea of fury and violence and the toll of crowd surfers' increases to such a rate that back up security has to be called in.
However, too much interaction and lack of sympathy to the crowd members leaves the tent half empty apart from the few who cling to barriers possibly for their safety. This would be great for a festival of skin heads and punks on a larger scale but not for Guilfest. Abraham shows determination that would stand up to any one or anything in a riot but a level of anger that has him taken to the ground by the end of his set. It soon just turns into a chaotic mess hence the name 'F**ked Up'. 6/10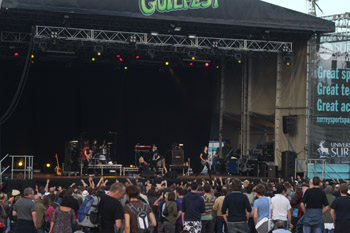 Saturday July 17
A Wolf Like Me kick off this Saturday morning perfectly by serving thick slices of their alternative punk. All though the band get up to a lot of off stage antics, they definitely don't stop partying when they hit the stage.
They kick start Saturday with more fans than any other of the smaller bands playing the same stage that it is no wonder that Connor O'Hara (guitar) looks up in both awe and amusement to find the crowd number double just after the first 4 minutes of their set.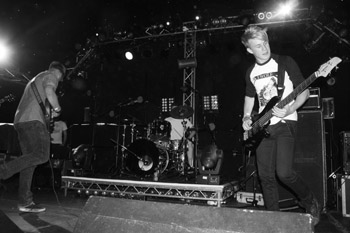 Leading the crowd is how you could describe vocalist/guitarist Jamie Gamache's work but he lets them do what they want causing total havoc within the crowd. They also aren't afraid to push the sales of their EP and new T-Shirt design that might just have the crowd feeding from their hand, Fun, energetic and wild, A Wolf Like Me are the leaders of their pack and are a band to keep an eye out for" 6/10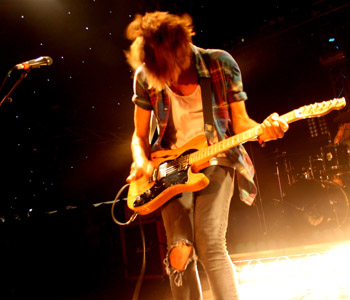 Futures are definitely a band that gets a crowd going. Reborn from the ashes of Tonight Is Goodbye, vocalist Ant West is here tonight to prove that round two is going to be sweeter, heavier and overall more phenomenal than anything else they have ever done before.
With tracks such as 'The Boy Who Cried Wolf' each song is a quick paced, poppy yet alternative rush of energy and sound that soon sends everyone into a frenzy. West's vocals are in perfect key and working as a duo with his catchy guitar hooks; he produces the perfect pop punk melodies that have everyone moving and dancing for all they are worth.
FUTURES
Tonight is Goodbye is dead and reborn from it's remains comes Futures. Poppy, catchy and having released one of the best albums of 2010, it is no wonder Futures were asked to play at this year's Guilfest.
We caught up with frontman Ant to talk about singing like a school boy and a possible mini elephant show ...
Are you looking forward to your set today at Guilfest?
A: I am indeed. We are going to go on in about an hour and I'm going to warm up my vocal chords with a lovely bottle of water.
What are your warm up rituals?
A: Normally entails running around in circles for about 10 minutes screaming. I do little scales, feel like a school boy!
If you were to have anyone from this festival join you on stage, who would it be and why?

A: I like all the bands on our stage (Rocksound Cave) X-certs are on now, but hopefully one of the good bands.
If there was a sudden zombie outbreak at a festival what would you do?
A: I would do my warm up, run around for ten minutes in a circle, hoping they stop what they do like "fuck, this guy can fucking run around in circles" then I'll run straight.
Where would you run straight to?
A: The bar. I'd use the bottles, they are plastic though". If you heat the bottles up they become fire bottles and I'd just throw them at the zombies.
Like in Sean of the dead when they bail to the pub?
A: My plan is flawed. It's always gonna happen. It will happen.
If you could have anything happen on stage today to make the show memorable, what would it be and why?
A: I'd get an elephant show and mini elephants, they all live in India like miniature elephants, like knee high. I'd get one of them, or two of them and let them jump around. I'll put them there, they'll be on the guest list.
Could this ever happen at a future show?
A: We've been talking to our label about it
If you could name the elephants what would you name them?
A: Pj and Sanje
Futures headlining tour kicks off on 23rd September as well as an appearance at this year's Sonisphere Festival . For more info visit www.wearefutures.co.uk.

George Lindsay's drums provide the heavy back beat for these miniature anthems (unfortunately there is no sign of miniature elephants jumping around at the feet of the band) whilst the rhythmic and clean cut guitars of both West and guitarist Casey Roarty produce the key points of each song with such a precision you'd think someone was playing their set straight from CD.
Bassist, Christian Ward's bass lines become the captivating and somewhat haunting verses of newer tracks such as 'Sal Paradise' whilst the crowd greedily steals each word from West's mouth during slower melody choruses of 'I will show you the road, if you just take me by the hand and talk about our souls'. However there is a unsound balance between both the newer and older material leaving certain members of the crowd alienated. But Futures have accomplished what they have set out on doing tonight, creating not only one of the most memorable sets at Guilfest, but one hell of a good time. 8/10
The crowd grows impatient as guitarist John Taylor takes to the stage to set his amp settings. Having played the London Roundhouse in February and having just released their first album, All Our Kings Are Dead, Young Guns seem unstoppable.
A band set out on making their shows phenomenal in every way possible, from diving into the crowd to dramatic piano break downs, the crowd has never seemed so alive. Every face in the room seems to be beaming including that of Young Guns during the next 45 minutes. Young Guns' album has been out for almost a week and yet with precision the crowd sings back every word they can muster from their energetic lively bodies.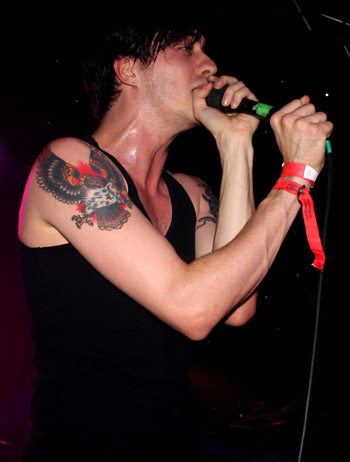 Eye contact with the crowd at all times and with that much energy and fight, Young Guns soon rip apart the audience with such power that the place seems to explode into chaos and noise with heavier tracks such as D.O,A. That is however one way of describing it.
YOUNG GUNS
We caught Up with Young Guns' (left to right, John Taylor (lead guitar), Simon Mitchell (bass) and Gustav Wood (vocals) before their set at Guilfest to talk about the new album, their love for N-Dubz, and rapping out Roald Dahl rhymes ...

Are you looking forward to your set today at Guilfest?
Gus: yes we are, we've never played Guilfest before, but we've played Guildford how many times?
John: Loads, we played our first bunch of shows in Guildford like our second ever show here
Gus: It was at the start I think
John: we've played like 4 different venues in Guildford or something
Gus; we've played a little pub and done almost everything, but we haven't played Guilfest so we're very happy to be here.
How do you think your set is going to go? I mean you've done warm up shows like Reading (Face bar)
G: There shouldn't be any broken stuff this time, one of the things we always notice about Guildford is there is a really great music scene and people like support live music in the area. So I'm hoping it will go really well. We're playing in between some really good bands.
Simon: It's the X-certs playing, then our friend's band Futures
But you might be the same time as N-Dubz?
S: No they are not actually, I checked, I really wanna see N-Dubz. N-Dubz are on at 10 to 8 and we're on at 9.
G: I'm not entirely sure how much of a fan base we share with N-Dubz so I don't know how much we have to worry about the clash.
J: Apparently they only sell their shirts in XL and XXL because they think they're ghetto. They are Simon's favourite band.
G: They are a piece of shit, they are one of the worst bands ever, and Simon just fancies the girl
S: No they're not their just pop; they are my favourite band, very musically talented
Other than N-Dubz who else are you looking forward to seeing?
G: Futures, The Blackout, X-certs I really want to see but don't know if we'll be able to.
Simon: Japanese Voyeur as well. I've heard a lot about them so I want to check them out.
How would you describe your new album? (All our Kings are Dead) You have a lion for your album art...
G: (pointing up at lion hat) Ties in nicely with this hat. I don't wear it on a daily basis, no I do actually, I wake up in it every day.
Well you know there is a theme of kings and those ideas run through out the whole record. That's why we went with Paul Jackson who helped with that idea.
I think it ties in, he did a great series of individual pieces of art for the singles as well. The lion is a very regal image.
Will you be playing a mix of both your old and new material?
G: Yes, we're never going to drop the EP.
J: Well maybe 5 albums down the line, who knows. We like to play the old stuff as well.
G: We're definitely not closing that chapter.
S: I just think it's important, I remember when I was a kid and you'd go see a band and if they didn't play any earlier material I'd be really annoyed. It would be stupid to play just the new album as it is only one album.
G: Well we liked the idea of maybe of doing a special show at some point where we do play the whole album.
Possibly the album release show tomorrow?
G: It's still a little too early, the album has only been out for a week, and people really have to be familiar with the album. Especially if some of the stuff on the album is slower you have to be careful how much new material you play.
You can play too much old stuff and people would want you to progress but if you play too much new material you can't alienate the people who don't really know it.
If you were to suddenly wake up at a festival and find that it was a zombie attack, you only had the lion hat to defend yourself and Fraser (Taylor - Guitarist) to defend yourself what would you do?
G: Oh if I had Fraser that would be sweet. That guy is pretty much Rambo
S: He would be dead
G: He'd wrap himself in cling film. I'd be shocked to find that zombies are real for a start. I would run as fast as I could. You'd probably just be fucked. Actually I'd wear the lion hat and walk on all four acting like a lion. Blend in I suppose.
J: Do Zombies eat lions?
G: No just humans, they want the brains
J: I'd just enjoy a nice brain
Finally what would you say your main influence is for the new record?
J: Roald Dhal, the rhymes and solos.
G: if you get John drunk enough he might tell you ... he is actually very poetic

All Our Kings Are Dead is out now available on CD and to download on itunes. Young Guns also headline on tour in November/ December.

As promised, Young Guns deliver a mix of both old and newer material and classic anthems such as 'Weight Of The World' send the crowd into a frenzy with the band standing so close to the edge of the stage they may as well be in the pits themselves.
Both John and Fraser Taylor's gripping melodies and epic breakdowns become an alliance with Simon Mitchell's rhythmic bass lines and Ben Jolliffe's heavy back beats and ignites a detonation of pure liveliness. Newer material such as 'Stitches' is sung with such emotion there is a high chance that Gustav could actually move the 4 walls of the Rocksound tent.
Furiously fast and accurate the Young Guns deliver a rare, unique and unexpected performance that leaves the crowd buzzing and feeling more alive than every set so far. 10/10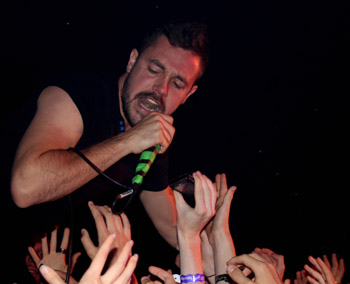 The crowd's anticipation finally reaches its peak as tonight's headliners, The Blackout, take to the stage. One of opening tracks, 'Children of the Night' is chanted on such a volume that it is hard to hear one of two vocalists, Sean Smith over the crowd.
These post hardcore rockers are here to tear the place down with one hell of a party. James (also known as Bob) and Mathew Davies' guitar rhythms and depth show the raw nu-metal sounds this band strives on, whilst drummer Snoz pounds his kit with the fury of a metal head causing the pits to widen up and consume a majority of the crowd.
It's not much longer before Gavin Butler (vocals) finds himself snowed under masses of arms and fans trying to get hold of him and a piece of his talent. The Blackout seems to play more melodic songs harder and heavier than ever before. Tonight Guilfest is vivacious and ready to cause total pandemonium under the control of both Gavin and Sean, who can't keep their hands off the crowd.
Dedicated fans are soon paid off for their hours of hanging from the front barriers when old timer 'High Tide Baby' echoes through the amps. "Whoa" is ricochet from the stage to the audience giving way to total control under the microphone.
Although Ian Watkins may not be here to full fill his vocal duties on the track, the audience has it covered word perfect. Kick flips and energetic movement is demonstrated by all members of the band which the crowd embraces, starting a party of their own as Beastie Boys' cover track 'Fight for Your Right' hits the ceiling, detonating a wave of energy that causes everyone to fly into a rage of madness, movement and excitement.
The Blackout have done it again, they came, they saw , they conquered tonight's show. 10/10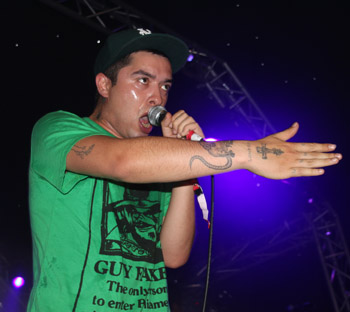 Sunday July 18
He may not look like one, but King Blues front man Itch is the leader of the movement that is happening tonight at Guilfest.
This is the most crowded the Rocksound cave has been this weekend with possibly the biggest crowd of the whole festival. From playing a ukulele to having a kid join them on stage to parting the crowd into 3, the King Blues have it all.
The guitar opening of most recent single and anthem 'Head butt' raises every hand in the air and Itch and co rupture from the foundations of this tent into the most energetic, lively and most memorable sets of the whole weekend. Itch's ability to rap out every word perfectly leaves the crowd in awe as they struggle to keep up with him as their body moves and dances all over the place.
Classic tracks such as 'Save The World, Get The Girl' tell the stories of these London punks with gripping melodies, quick pacing beats and thunderous acoustics creating remarkably captivating tunes that deserve to be sang by every single voice that is still left in the tent by the end of this weekend. King blue fans,
Punks, parents, teenagers and anyone come together simultaneously during the short bursts of energy and liveliness The King Blues deliver , producing one voice under the control and influence of the band that rule the stage tonight.
It is not until Itch performs a poem about a woman who owns '5 bottles of Shampoo' a metaphor about his strong feelings to support women's rights, furiously insisting 'fuck whoever tells women what they can and can't do, just remember it was a woman that gave life to you' that there is a break down of tears and a blow of emotional and sentimental value to almost every member in the crowd that only the words awe and beauty can describe.
The King Blues play with so much optimism of a better world and determination that they reach the heart of each member in the crowd starting a powerful movement that is produced by every song.
The front man skills are put to the test as the crowd becomes fully parted into 3 sections that one by one are conquered by the urge to dance and make noise to the melodies. Tonight The King Blues have stimulated and moved the very core of Guilfest making it a night to remember. We hope to be seeing more of The King Blues very soon. 10/10
Review and photos by Georgia Rawson
---
---