Just witnessed your best live gig?.. send us a review!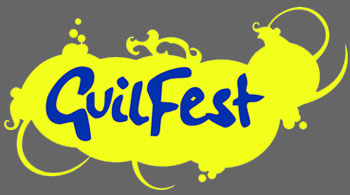 GUILFEST Stoke Park, Guildford July 16-18 2010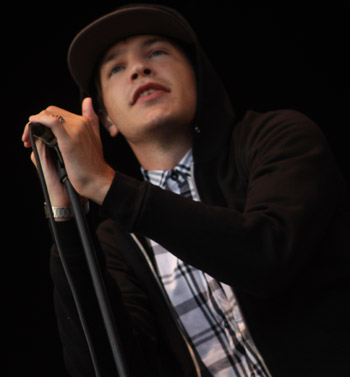 Friday July 16 by Georgia Rawson
The biggest crowd of the festival gathers as Hadouken takes to the stage. With their dance anthems and beats the crowd is sent into frenzy as front man ,James Smith greets the chants of his band name with "are you ready Guilfest!?"
A rush of energy and heavy moshing ripples through the crowd as opening tracks such as 'Get smashed gate crash' blare from every amp surrounding the band and the arena in total chaos.
Anthem choruses such as" welcome to our world we are the wasted youth, we are the future too" are sung back in perfect chorus leaving Smith smiling the usual buzzing grin. Guitarist Daniel "Pilau" Rice holds his mic to the crowd who continue to yell every word whilst their bodies and limps fly about it time with the songs.
Recent single 'Turn the Lights Out' leaves the mosh pits open as the crowd parts either side ready to collide into one another as the heavy synthesizers and down beats kick in. "push your way down to the pits, raise your hand if you want to be starting something" starts off the beginning of a series of explosions of raw power as the crowd is lead through possibly the best 3 minutes and 15 seconds of Hadouken's set.
Older fans of the dance music scene are pleased to hear Hadouken's rendition of the dance classic backings of 'Mic Check' echo with the stamping sound of feet raising off and onto the ground as the scene turns into a sea of heads and bodies raising in and out of the sky as both band and crowd alike get up and go.
The thunderous resonance of rock, grime and dance combine into a detonation of liveliness that could go off at any moment. Never has Guilfest felt so alive. 10/10
Saturday July 17 by Jason Ritchie

This year we have a two pronged review assault from GRTR! I am doing the mainstream areas and my GRTR! colleague Georgia Rawson spent the whole weekend in the Rock Sound tent where those modern metal combos hang out.

Skipping deftly past the main stage where Ali Campbell's UB40 was doubtless pleasing for some but over on the Good Time Guide Stage was the Crazy World Of Arthur Brown. Being honest his set only real comes alive when he plays his big hit 'Fire', otherwise it is nothing special and sounds very similar after awhile. He played Guilfest back in 2003 although he was on the main stage then.

Back on the main stage was Kid Creole & the Coconuts again not for me, although worth a quick look just to see his err Coconuts. Mungo Jerry performed a blues rock set that went down well with the crowd and the biggest reception came for 'In The Summertime', with the sun shining on the audience it made for a perfect setting for one of the summertime's classic tunes. The band appeared on Sunday in the acoustic tent as well but sadly I missed that set.

Over at the Kid's Zone it seemed bigger than ever and today they had Peppa Pig in attendance. At over six foot I am sure poor old Peppa scared some of the smaller children. Lots to do including making a clay daemon or doppelganger, a selection of comedy bikes (some are almost impossible to ride) and the usual selection of juggling equipment. One unique thing is Jan's Van, which is an old van that the children can paint and chalk on. Great fun although I am not sure you could drive the van off the site after the festival is finished!

Back on the second stage Alvin Stardust was performing a very heavy rock 'n' roll flavoured set including Eddie Cochran's 'C'mon Everybody' and 'Jealous Kind'. His guitarist was very good and played some mean slide/blues solos. Expecting 70's glam kitsch I was very pleasantly surprised and would recommend going to see him live.
Over to the main stage for the only band my daughter had heard of N'Dubz. A young rap meets dance act and time for me to catch-up on the latest 'Classic Rock' magazine whilst my daughter was dancing and singing away.

Hazel O'Connor used part of her set to celebrate the fact it was thirty years since the classic 'Breaking Glass' album was released. She was joined on stage by the Bluja Project, a two piece comprising of keyboards and sax. Lacking the full rhythm section and guitars I did think it may not work but I was wrong and this was one of the weekend's highlights for me. The newer songs mixed well with such classics as 'Will You' and 'Eighth Day', to make for an enjoyable set.

Headliners on the second stage were Hawkwind who I last saw back in 1988 at Keele University. Mainman Dave Brock is still steering the Hawkwind ship. The band are joined by two dancers who appear in various costumes.
Being Hawkwind we get a good light show coupled with a large screen at the back of the stage showing various images. The band doubtless sound better after a few pints and/or some herbal additives. After half an hour we decided to head off to see the Human League, the main stage headliners.
Much more enjoyable for the both of us and we managed to catch a few songs including 'Mirror Man', 'Don't You Want Me' and for an encore 'Electric Dreams. They went down a storm with the crowd and their light show wasn't too bad either!

Time for some rest before coming back for Sunday's delights...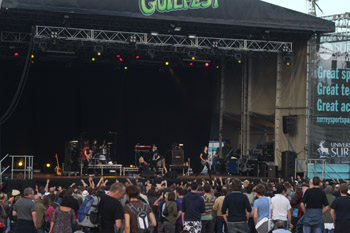 Sunday July 18 by Jason Ritchie

Sunday saw the Guilfest site bathed in glorious sunshine and as we made for the second stage we could hear Free's 'All Right Now' blasting out as sung by the Wonder Years choir. The choir is a group of older folks who enjoy singing rock and pop classics (they have been featured on a TV programme) and very good they are too. Mind you it is a little strange to hear two men in their senior years belting out 'Sex Bomb'. Guilfest faves the Rock Choir had been on before the Wonder Years but we had missed them, altough we did catch them later backing The Soldiers on the main stage.
The Soldiers are three serving soldiers who sing and raise money for three military based charities. Their set was a mix of soul, pop and Beatles classics. Nothing to taxing but perfect for a sunny Sunday afternoon.

One festival discovery was Saint Jude a female fronted blues/hard rock band who are certainly a band to keep an eye on. Nearest comparison I came up with is a female fronted Thunder circa that band's excellent debut album 'Backstreet Symphony'. Yes they were that good and what a powerful voice the singer has, backed by some tasty guitar riffs and solos.

There are many other music stages away from the main two stages and the Rock Sound tent including an acoustic tent, a couple of tents showcasing new and local bands plus the UNISON tent.
We saw a country meets rock 'n' roll band mid-afternoon in the 'Surrey Herald' tent who were good fun and had pulled a decent sized crowd. Sadly though I didn't catch the band's name. To escape all the music their is also a theatre tent which is worth a visit for various short plays, songs from the West End shows and some solo pieces. Back in musicville this year the organisers had added a 70's disco tent that seemed to prove popular and had a few people dancing away in fancy dress.

That purple monstrosity aka Barney was in the Kid's Zone but we managed to avoid his purple clutches. There are some very good shows under the big top and maybe they could perform outside of the Kid's Zone to a wider audience. One such act was African Dance UK, a team of Ghanaian acrobats who were truly amazing to watch. One even contorted himself into a tin bath!

Seth Lakeman has helped make folk hip amongst the masses and he delighted the crowd. Judging by this performance his next appearance at Guilfest should be on the main stage.The Blockheads have carried on the musical legacy after the passing of Ian Drury.

Level 42 are on - time for tea and cake then! Back in time for 10CC who feature Graham Gouldman as the sole original member. They played a hit filled set that included 'Rubber Bullets', 'Dreadlock Holiday' and 'I'm Not In Love'.

Status Quo are a perfect band to close this year's festival. They are well known by all and you can't help but have a smile on your face as you listen to 'Caroline', 'Down Down' and 'Rockin' All Over The World'.
Francis Rossi seems to be particularly enjoying himself, doubtless helped by his solo tour earlier this year where he could play some lesser played Quo songs. The mighty Quo indeed!

On paper this year's Guilfest may not have had the bands to make me go 'wow' but like any good festival the joy lies in being surprised by artists you may have thought wouldn't be your cup of tea (Alvin Stardust) but turned out to prove you wrong.
Then there are bands you have not heard of before the Guilfest but are a firm fan of after hearing them live (Saint Jude).
For a medium sized family festival you won't find better and the musical variety is another big plus for the Guilfest. Roll on next year and would be nice to see the Divine Comedy, Journey and the Eels. Well I can always hope...
---
---