Just witnessed your best live gig?.. send us a review!
DOWNLOAD
11-13 June 2010
Day 2: Saturday 12 June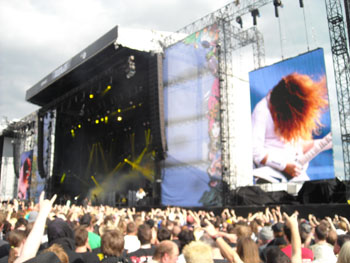 Fresh from supporting Airbourne and Kiss Taking Dawn had no problems playing in front of a large crowd, who almost lived up to their name going on stage at the ungodly time of eleven in the morning.
It was great seeing former Pantera drummer Vinnie Paul back in action who with his band delivered one big Hellyeah.
Most of the bands that I wanted to see today were taking part in the Pepsi Max stage, which was the larger one of the indoor marquee tents. It was time to open up and say ahh for new Finnish glam rock sensations Reckless Love who were playing in front of their largest ever audience today.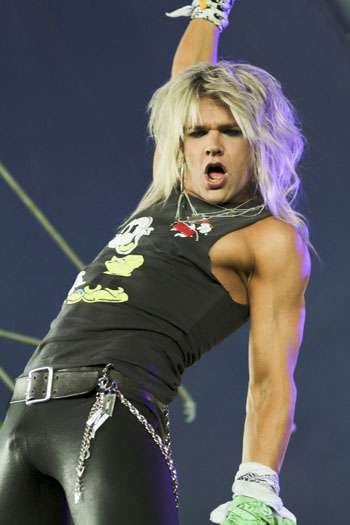 Photo: Karen Toftera
All the ladies eyes are on lead singer Olli, who with his blonde hair and high kicks reminded me of a youthful Michael Monroe and diamond Dave Lee Roth.
The biggest cheer (well, scream in fact) came when he ripped his shirt off. It was then I realised he has a chest that looks just like mine, so I have nothing to worry about. Ending with the single 'Beautiful Bomb', the band's infectious brand of bubblegum rock was one of the days winners.
Five Finger Death Punch were on the main stage playing to an ever growing army of fans. I sheepishly stayed away from the grilling of Lamb Of God to see Danish novelty band Rock Sugar who play two songs rolled into one all the name of having a laugh. Performing Enter Sandman mixed with the lyrics of Journey's 'Don't Stop Believin' only made me chuckle for two seconds then I quickly got bored. If i want a laugh then get some proper bands with an entertaining frontman, please.
Enuff Z'Nuff are one of those bands that I've never managed to see live before and was looking forward to this. However i personally didn't get it. Having listened to The Beatles and Cheap Trick most of my life, there was no room for the glamsters who couldn't move me in any way and I soon had enuff z'nuff of them. However many of my friends enjoyed them a lot.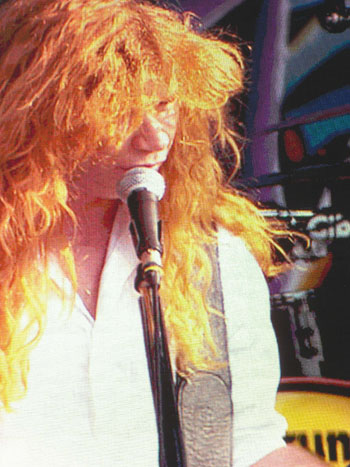 Megadeth were playing some true shredded metal. With Dave Ellefson back in the fold, Megadeth look like a band yet again and not just Dave Mustaine's plaything.
Saving the best towards the end, it was good to hear my favourite track named after one of France's best ever rock bands 'Trust'. The paranoiac 'Sweating Bullets' must have frazzled the brains of those crashed out around the arena. We were all the first in line for ' Peace Sells...' which ends the set in a polished manner.
Back to the marquee tent for some heavy melodic rock of Y&T who first played here back in 1984 in a classic line up that was also headlined by AC/DC. New songs from 'Facemelter' like 'Shine On' and 'I'm Coming Home' nestled in well with the classics.
A powerful set that won over many seeing the band for the first time. A short forty minutes set is not long enough for a band of Y&T's pedigree.'' Come back and see us in October when we will do our two and a quarter hour show '' says Meniketti at the end.
It was at this point that I had to do my duty for my country and watch the World Cup match of England versus the U.S. of A. Surprisingly the match wasn't shown on any any big screens here, so I nipped off to the V.I.P area and into the Classic Rock tent to watch it on the flat screen with many other biz types who should've been working (Well everyone is entitled to a meal break aren't they?).
After watching Rob "butter Green" fingers embarrass the nation, settling for a draw put me in a subdued mood. At least we didn't have to hear the Americans singing ''It's coming home....it's coming...Soccer's coming home'' just yet.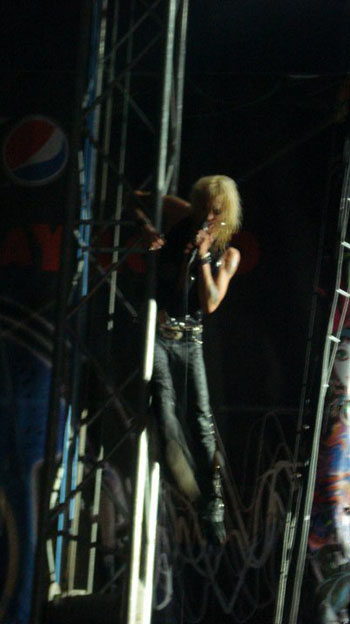 Photo: Neil Jones
Former Hanoi Rocks boy Michael Monroe was the surprise package of the day who delivered a kick-ass set .His band included Wildheart Ginger, former Hanoi Rocker Sam Yaffa and New York Doll Steve Conte. The set included excellent versions of the singers former band like 'Boulevard Of Broken Dreams' and 'Malibu Beach'. Also the solo material of 'Dead, Jail, Rock 'N Roll'.
New song 'Another Night In The Sun' roared along at break neck speed. Monroe climbed the scaffolding twice and even sang whilst hanging upside down. Rock 'n roll at it's best.
Rage Against The Machine closed the main stage and had a loud booming sound which could be heard right around the arena. With a set a little longer than the previous one at the excellent Finsbury Park gig. 'Killing In The Name' was what everyone wanted to hear, ending a very long day of a wide varity of the greatest sounds in rock.
As everyone else made the long journey back to their tents, I went back to the Classic Rock tent in the V.I.P area to have a few nightcaps, where we were entertained with the DJ'ing skills of Metal Hammer editor Alexander Milas who unashamingly played the best rocking sounds of the golden days of the late 80's which had me doing Dave Lee Roth splits during 'Jump'.
Ginger later took over the decks and we partied hard into the early hours of daylight. You're never too old to rock 'n roll.

Review and photos by Mark Taylor
---