Just witnessed your best live gig?.. send us a review!
DOWNLOAD
11-13 June 2010
Day 3: Sunday 13 June
I finally made it back to my tent at 4.30am after the shenanigans of the previous evening which didn't leave me much time to sleep. It's freezing in the middle of the night and once the sun comes out in the morning,your tent turns into a sweatbox and you have no choice but to get up and face the day ahead.
Feeling rough there was only one piece of medicine that put me back into good shape and that was the good 'ole hair of the dog.
With aching limbs ,it was time for a marathon walk part XI to see White Wizzard to see if they could work any magic on waking me up.
The band have put themselves in the firing line with a new line up since the release of 'Over The Top'. Today was the debut performance featuring new boys Welsh guitarist Lewis Stephens and singer Michael Gremio. It soon became apparent that the new boys are in the band for thier technical abilities. Gremio has a voice that reminded me of Tim 'Ripper' Owens who could reach the high notes with aplomb. The magic worked on me.
With Ratt having pulled out of the festival at the last minute, it was down to Brit AORsters FM to fill in their dead man's shoes, who were playing their biggest gig since the Reading Festival back in 1987.
The lightweight rock of FM was perfect for this midday slot who were getting polite applause from the crowd, many of whom unaware of who they were, as they wern't introduced. I was asked twice on who they were, but that can only be a good thing if people can take an interest to find out. New song 'Wildside' and favourites 'That Girl' and 'Bad Luck' filled the air with some smooth arena rock.
Today is fast becoming what is known as in football as Super Sunday with a bill featuring some of the biggest names in rock. With so many top acts Saxon were pushed lowly down on the bill. Saxon were here way back at the first Monsters Of Rock back in 1980 and were performing their classic LP 'Wheels Of Steel in it's entirety.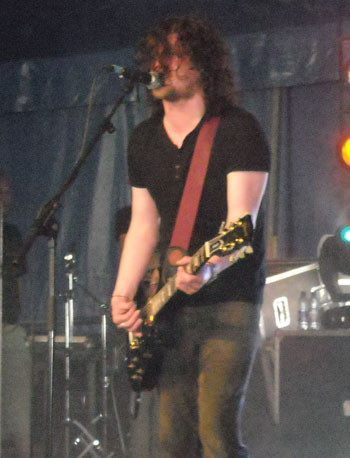 After a couple of numbers I sneaked off to the Bedroom Jam.com stage to see a new band who have been hotly tipped for greater things. The Virginmarys are a power trio who lie somewhere in-between Budgie and Cream with a commercial edge which featured some bombastic drumming. Songs such as 'Bang, Bang, Bang' did exactly what it said on the tin. I was blown away by the Virginmarys.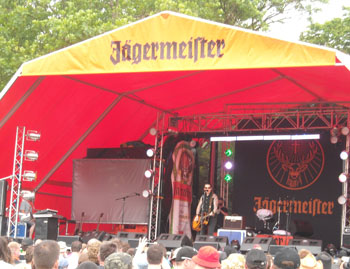 Trying to hurry back to last few minutes of Saxon, I walked past the Jaigermeister acoustic stage where, God Almighty, Ricky Warwick was doing some wild and wonderful tunes.
Saxon ended their set with some other tunes including the Donington anthem 'And The Bands Played On' and 'Denim and Leather' which raised some of the loudest voices of the day.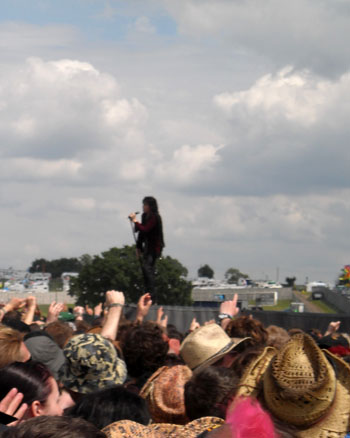 You don't know what you've got 'til it's gone and many were excited about the return of Cinderella, who opened here back in 1987 and haven't been on these shores since in almost twenty years.
Singer Tom Keifer looks like a young Steve Tyler and still has those razor sharp vocals. The set wasn't as hard hitting as that opening slot back in '87, playing tracks from their first three albums.
With the mid-section of the set being filled up with their slower numbers, it took the rockers 'Gypsy Road' and 'Shake Me at the end to show us how hard Cinderella really can rock.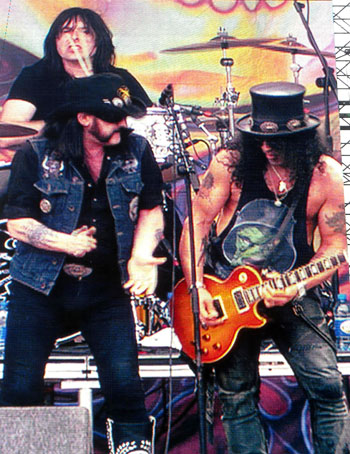 Slash is the epitome of coolness, who with Alter Bridge singer Myles Kennedy helping his friend out gave a retrospective set of his career. Of course the biggest cheers were for the Guns 'N Roses numbers with Kennedy almost doing perfect Axl impersonations on 'Nightrain' . Lemmy came out without his bass to sing vocals on 'Dr.Alibi'. It was great seeing the two legends together.
It was a nice day for a white wedding but two songs into Billy Idol's set, the sky blackened and the heavens above opened in a heavy downpour which could have left Billy Idol dancing with himself.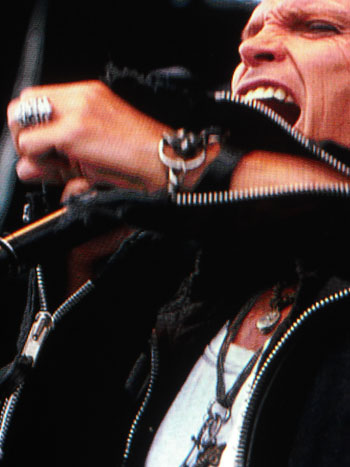 This didn't stop Idol from having some fun often running down the ramp into the rain, taking his shirt off making himself one of us. Ending the set with 'Rebel Yell' ,he left us wanting more, more, more and more.
As much as I love Motorhead, I knew we were going to get the same old set list, so I went off to find somewhere dry (i.e the backstage bar) which meant that I missed Slash returning the favour by playing 'Just Cos You've Got The Power' with Lemmy and the boys.
It was all happening over at the Ronnie James Dio Stage where Steel Panther were having some fun in the rain making the girls even more wetter than they already were.
A cover of the Backstreet Boys hit 'I Want It That Way' followed with Scott Ian guesting for 'Asian Hooker'.
Airbourne gave security a scare when during 'Girls In Black' Joel O'Keeffe climbed over 100ft up the rig to the very top of the stage whilst still playing in the pouring rain. When stage security decided they've had enough they pulled the plugs on the PA, with the crowd chanting ''Let them play, let them play'' (There's some great footage of this on www.youtube.com).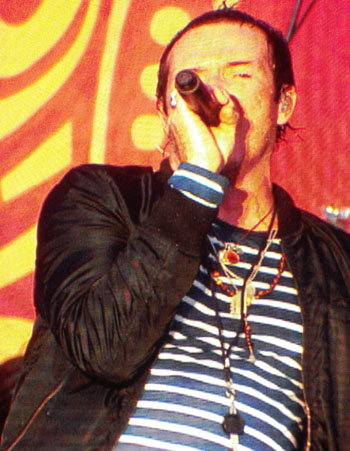 I never took to the erratic behaviour of Scott Weiland whilst he was in Velvet Revolver but today he looked sharp back in the band where he belongs, the Stone Temple Pilots. The band gave a stylish set which showed just why they are known as one of the top class acts of the grunge era.
The rain finally ended after three hours and the field had turned into the Battle of the Somme and in my tatty trainers, I was getting trenchfoot.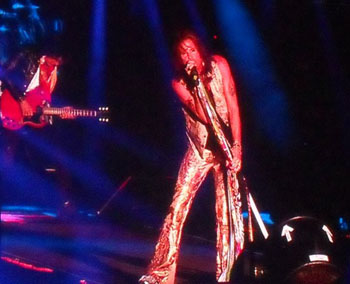 Photo: Julie Jones
Aerosmith ended Download on a high bringing some glitz and glamour to the festival. Like AC/DC it's the singer and guitarist out front shining in the spotlights. Tyler swinging his trademark mic-stand wrapped in scarfs high above his head, with riffs aplenty from Joe Perry.
A great set mixing the old with the new with a few wise choice covers thrown in showing where their influences lie. This was the best I've ever seen Aerosmith who played some loose rock 'n roll.
Even the syrupy 'I Don't Wanna Miss A Thing' sounded great when drawn out live. (Just check out the mouth watering set list below.)
Forget all the recent rumours about Tyler/Perry not getting on. There's no substance going up Tyler's nose these days and there's no substance in those stories. The band are high on rock 'n roll.
Another highly successful Download which I will remember for years to come.

Aerosmith set list : Love In An Elevator / Back In The Saddle / Mama Kin / Eat The Rich / Livin' On The Edge / What It Takes / Train Kept A-Rollin' / Cryin' / Big Ten Inch Record / Stop Messin' Around / I Don't Wanna Miss A Thing / Sweet Emotion / Baby Please Don't Go / Draw The Line ...encores ..Dream On / Walk This Way / Toys In The Attic

Billy Idol set list : Ready Steady Go / Dancing With Myself / Love Is Strange / Flesh For Fantasy / Scream / Eyes Without A Face / Kings And Queens / White Wedding / LA Woman / King Rocker / Blue Highway / Rebel Yell

Slash set list : Ghost / Back From Cali / Nightrain / Rocket Queen / Starlight / By The Sword / Sweet Child O' Mine / Dr.Alibi / Slither / Paradise City

Cinderella set list : Somebody Save Me / Push Push / Night Songs / Coming Home / Shelter Me / Don't Know What You've ('Til It's Gone) / Nobody's Fool / Gypsy Road / Shake Me


Review and photos by Mark Taylor
---