SONJA KRISTINA Harmonics Of Love
Market Square MSMCD150 (2010)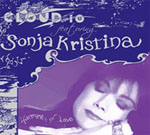 Sonja Kristina is something of an enigma: enduring, creative and, frankly, darned sexy. The Helen Mirren of Rock. It is really great that she is now finding fame again via a reformed Curved Air.
Hopefully, those intrigued and regenerated by her role as frontperson of that hallowed art-prog-rock band will take time to investigate her solo output.
Market Square - under the tutelage of our very own Peter Muir - have been quietly pushing Sonja's work for nearly a decade, and this latest reissue of 1994's 'Harmonics Of Love' packs in several bonus tracks to a handsome limited edition.
'Harmonics Of Love' - when she performed with her 'astro folk' band Cloud Ten - bridges her post-Air work with her more ambient recent offerings with arranger Marvin Ayres under the name 'Mask'. But don't think it's all nutroast and wholemeal, there are some very attractive tunes in amongst the alt-hippie vibes.
'Angel' and 'Heart Of Glass' in particular are superb whilst Sonja's take on 'Woman's Heart' edges into Market Square stablemate Eleanor McEvoy territory. And there are versions of a couple of Curved Air Songs: 'Elfin Boy' and 'Blindman'.
The bonus tracks round things out nicely and bring Sonja's story up to date. Another Curved Air song 'Melinda More Or Less' also appears on last year's band album 'Reborn' whilst 'Don't Believe A Word' is a cover of the Motorhead song that first appeared on a Motorhead tribute album. Like the album as a whole, this emphasises Sonja's diversity and a willingness to tackle the unexpected.
If you want to know what the music's all about, Sonja kindly supplies an explanation in the liner note. This is a limited edition, so snap it up, and then investigate Sonja's solo music further. It's an intriguing and frequently enlightening journey.
****
Review by David Randall

Related>>Album review (Sonja Kristina)
Related>>Album review (Mask)
---
| | |
| --- | --- |
| | Print this page in printer-friendly format |
| | Tell a friend about this page |