SONJA KRISTINA Sonja Kristina
Market Square MSMCD140(2006)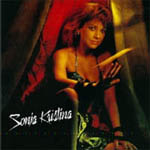 Sonja Kristina should be certified a national treasure. Simple as that. She's one of the most original and talented female vocalists to have emerged in the history of British rock.
Market Square have done us good service by reissuing this long-forgotten first solo album, originally from 1980 on the back of her split from Curved Air.
Sonja, in the face of changing musical fads, always sticks to her guns although she fully absorbs the musical vibe of the time. From the opening salvo of 'Street Run' the influence of punk is palpable but served up in her inimitable style so that it ends up like Madness crossed with, er, Sonja Kristina. Later on, Sonja is like a crazed Siouxie (Banshee) crossed with Suzy (Quatro) on 'St Tropez' co-written with one-time Pink Fairy/Hawkwind Paul Rudolph.
At times, in vocal phrasing she echoes Grace Slick in 'White Rabbit' days and in truth both ladies have a creditable hippie heritage: Kristina earning her spurs in the London stage version of the hit musical 'Hair'.
Curved Air were of course the art-rockers with whom Sonja made her name, at least in the charts, and she will forever be associated with the trippy hippy vibe of 'Back Street Luv'.
On this solo offering she nicks Darryl Way from that band, but we also have Colin Towns (Gillan) on flute and keyboards and one-time Wings guitarist Lawrence Juber. The excellent liner notes from GRTR's Peter Muir point out that contributing keyboards to her band of the time, Escape, was Andrew McCrorie-Shand who went on to pen children's TV themes including 'Rosie and Jim' and 'Telebubbies'. Ah, trivia!
'Breaking Out In Smiles' is an uptempo tune that could have belonged in the repertoire of any synth-pop band of the period such as the Psychedelic Furs, Teardrop Explodes or even ABBA, and you can almost smell the patchouli oil in the percussion-heavy bridge section of Spirit's 'Mr Skin'.
The slower 'Colder Than A Rose In Snow' and 'Full Time Woman' (with an intro like 'All The Young Dudes') shows Sonja's softer side but only 'The Comforter' will really appease fans of her former band.
Bonus tracks include the mid-eighties synth-pop 'Renegade' and 'We're Only Human' whilst a slinky 'Walk On By' is produced by and features latter-day Madonna collaborator William Orbit: Sonja was always slightly ahead of her time.
Musically it is varied stuff, perhaps best described as pop-art rock, and of particular interest to those who acknowledge Sonja Kristina's quirky but enduring appeal.
***½
Review by David Randall

Walk On By
© 2006 Market Square Records. All rights reserved.