Just witnessed your best live gig?.. send us a review!

SAXON/Anvil
Koko, London, 10 November 2009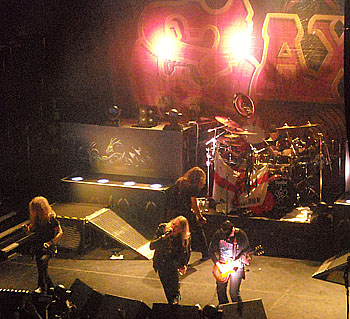 Mark Taylor writes:
Saxon have proved to be the most patriotic English metal band in recent years having performed on St Georges Day the last few years here in the capital city and have kept that flavour going by being here today on what is Rememberance Sunday complete with a giant poppy resting in front of the drums.
First on of this three band bill were German rockers SuidAkrA (Nope I don't know how you pronounce that name either) who have been going for some fiftteen years and have released 10 CD's in that time including new release 'Crogacht' (Nope I don't know how you pronounce that name either.)
Despite the fact that little has been heard of SuidAkrA here in the UK, the melodic death metallers went down well, especially with those who are fans of the battle/folk metal movement.
What dragged me through the doors of the Koko at an early time was the return of Anvil. I was a big fan of this band when I was a puny teenage rocker back in the eighties. I was overjoyed when they finally came back to the UK a couple of years back, amazingly performing to a few fans supporting a Pantera tribute band at the Underworld. Their career now coming full circle with the help of the film 'The Story Of Anvil'.
Greeted like long lost heroes by the Koko throng Lips and Co stormed their way through a brief forty minute set. ' School Love' is a headbangers delight, the monstrous 'Mothra' made a welcome return to the set. My only gripe was that the PA was on the quiet side, like Motorhead Anvil need their amps turned up to 11 to enjoy the full experience.
The infamous dildo also made an infamous return, although Lips' new golden one came with no batteries included. Robb Reiner proved he is one of the most underrated drummers in the world with a quick solo at the end of 'White Rhino'. Every great band has their anthem and 'Metal On Metal' got everyone on the upper three tiers arms in the air, a great sight to behold.
With a new album imminent, the story of Anvil has a few more chapters to go yet.

Set list: March Of The Crabs/ 666 / School Love/ Winged Assasins / This Is Thirteen/ Mothra/ White Rhino/ Metal On Metal
Joe Geesin writes:


One of Britain's best, enduring and endearing trad metal bands, Saxon have never put on a bad show, and this was no exception.

Given the sad loss of the Astoria, Camden's Koko had to make do and was pretty full with several generations of Saxon fans. And when you're celebrating your 30th anniversary, Saxon got the list pretty much spot on too.
Proof here that they have a stronger catalogue than most, and are both willing and able to mix things up. When you compare the 90s output to the likes of Iron Maiden and Motorhead, you'd have to go with Saxon, who don't need to rely on early classics.

The set opened with the excellent 'Battalions Of Steel' from the recent 'Into The Labyrinth', and things were immediately off to a great start.
The crowd loved the recent tracks as much as the older classics, and the band played to that. From 'Heavy Metal Thunder' to 'Dogs Of War', the band were energetic and solid, fans' hands held aloft throughout. Saxon's brand of New Wave Of British Heavy Metal is as solid and relevant as ever.

Singer Biff Byford sounded good and, as always, enjoyed chatting with the crowd. And as is now customary, it wasn't long into the set before a George Cross flag is presented on stage and draped over the drum kit.

The twin guitars of Doug Scarratt and Paul Quinn were great as ever, and bassist Nibs Carter always looks so enthusiastic.

Yes there were a few surprises in the set, but every era was covered and everyone seemed more than happy; 'Broken Heroes' was dedicated the guys on the front line (this was Remembrance Sunday) and 'Princess Of The Night' was the perfect finish to a good evening.

Set List

Battalions Of Steel/ Heavy Metal Thunder/ Dogs Of War/
Hell Cats/ Dallas 1pm/ Travellers In Time/ Broken Heroes/
Motorcycle Man/ Power & The Glory/ Solid Ball Of Rock/ Back On The Streets/ Iron Wheels/ Lion Heart/ And The Bands Played On/ Ride Like The Wind/ Wheels Of Steel
Encores: Live To Rock/ Denim And Leather

747 (Strangers In The Night) / Crusader/ Princess Of The Night



Reviews by Joe Geesin and Mark Taylor
---