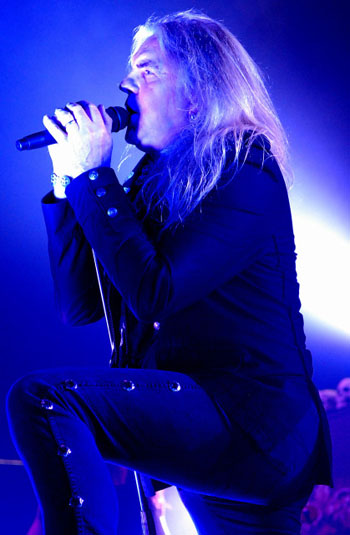 Photo: Lee Millward/GRTR!
British metal stalwarts Saxon kick off the UK leg of their Battalions Of Steel world tour at London's Forum on 23rd April, St. George's Day. Few band typify traditional English metal more than Saxon, and the band have openly agreed with (London mayor) Boris Johnson that more should be celebrated on this day, so it is apt to kick off the tour like this. The tour also coincides with the 30th anniversary of their debut album, and with EMI's CD reissue campaign.

The band will be supporting their new 'Into The Labyrinth', which has received almost universal exemplary reviews since its release earlier this year, and rightly so.

Saxon also return to London on 15th June, where they play Metal Hammer's seventh annual Golden Gods awards. To say Saxon are going through a purple patch right now is an understatement.

Here, singer Biff Byford, fresh from his drive over from France, gives us the lowdown on the band's current activities.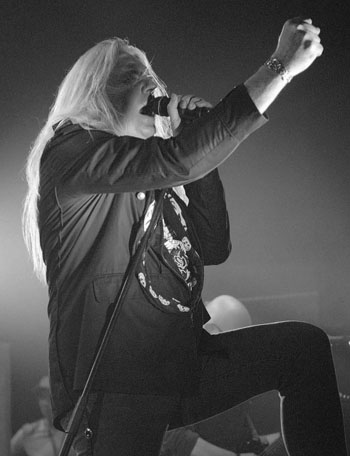 Photo: Lee Millward/GRTR!
The new album's had some fantastic reviews; did that surprise you?

BIFF Yes they've been great, but it always surprises us, always. We're always the underdog, but across the board they've been great, even Kerrang! liked it, so yeah we're pretty happy at the moment.

The last couple of albums have been a kind of return to form, haven't they?

BIFF The last three, since Lionheart, they've captured the imagination, we kinda feel the resurgence.

You're playing London on St George's day, for the second year running?

BIFF It's the third year. The first one was an accident, but yes it could be a regular thing, unless someone like Iron Maiden or AC/DC or Metallica decide to do it instead. I think AC/DC are playing Birmingham, don't know if it means anything to them anymore, they are British. So yeah, we're going to try to do it every year. Obviously it's difficult.

You tour the world but fans from around the world always come to see you in London, and there's always a plethora of George Cross flags. What is it about Saxon and Englishness?

BIFF It's a very metal thing, Iron Maiden would probably say they're as much British and get lots of Union Jacks. We seem to get lots of George Cross flags, which is pretty cool.

Goes back to the Crusader thing?

BIFF Goes back everywhere. I think it's nice. When the Lionheart album came out we played London on St George's Day for the first time and they promoted it with all these posters with the George Cross and they were stopping the shops selling them, there were lots of complaints from councils about the posters, which was cool (laughs).

The last couple of albums have seen you play more new tracks on tour than any time in the last 10 years.

BIFF I think that's because they're better. The band is very very confident, they are playing fantastic, very tight, we're playing as a unit. We're playing Battalions Of Steel, which is a very difficult track to play, but we're not playing to a backing tape of click track or anything. There's some keyboard bits, but we're good enough to play it through.

When I saw you tour Unleash The Beast, you were playing 4 or 5 tracks from it, but by Killing Ground you were down to like 1 or 2.

BIFF I don't know why that was. We like to test the songs live and if you feel the band aren't clicking together on it, or the crowd aren't responding, then you take that one out. We like to mix it around with the set list.

So what can fans expect on the new tour?

BIFF On this tour? Well it's quite a big stage set, I hope we can get it in everywhere. And it's going to be in fluorescent paint so when the strobe lights come on it'll look good, it all looks pretty cool, and we're looking to change things around a bit too. Six or seven new songs, some of the older ones, a few tracks off Innocence Is No Excuse. We're rehearsing in Brighton this week. We'll work it out, we don't make decisions until quite close to the show.

You're playing Metal Hammer's 7th Annual Golden Gods awards. How did that come about?

BIFF We were nominated, and they asked us to play. It's readers' votes, so we could end up playing and not win anything. But we thought it would be good to play, and the magazines are all supporting us, Metal Hammer, Classic Rock, supporting a great new album, it's all really good actually.

Classic Rock are one of the few magazines to post an increase in sales, and Saxon are doing pretty well right now, have you noticed a trend?

BIFF There's a lot of young kids getting into the music, and there's a lot of older fans you used to be into us and Iron Maiden and Whitesnake who are coming along to see us again and bringing their family along.
There's definitely a huge amount of people getting into it all right now. You see AC/DC and Metallica selling out in like 15 seconds, there's a real resurgence. And not just here, across the world.
We're going back into America, doing some great shows. "Battalions Of Steel" was number two on the College Radio playlist across America which was great, we're getting a lot of airplay, a lot of people getting behind us.
There's no egos in the band, which is maybe why we're doing so well at the moment. It's not like it used to be, and the whole band are getting recognition. It's not just like focus on the singer, Paul Quinn, who I think is a really underrated guitarist, he's getting in 'Guitarist' magazine, it cements the whole band thing.

You've involved with EMI's reissue campaign. Do you think it's long overdue?

BIFF Yes it is overdue, but my personal feeling is that they should have involved me more. A lot of things happened at EMI and before that at Carrere, things got taped at different speeds, things got mucked about. The one complaint I'm hearing about the CDs, the ones you can buy now, is that some of them are a little slower, that's because the speed changed in recording and it's not been reproduced. It would have been nice to have been asked, rather than just have stuff sent to final glance over. Obviously they've got a lot of pics of Graham Oliver. But I don't think EMI would know that, they're a large organisation, they might just think we're a two man band.

It's nice to have all the relevant extra tracks attached to the right albums though.

BIFF Yeah, but there's not a lot of extra stuff. Some stuff doesn't make the original album for good reason though. If it's not good enough, why should it go on later? Jimi Hendrix playing acoustic guitar in the bath may appeal to a diehard few, but you wouldn't expect everyone to be interested.

They've done similar reissue campaigns with other rock bands recently.

BIFF There'll always be a market, but fans always like the originals.

It's rare for Saxon to cover songs, but you've made a few brave choices.

BIFF You have to be careful when you cover songs. I thought we did a great version of [King Crimson's] "In The Court Of The Crimson King", which is one of my favourite songs, from the prog days.
I thought "Ride Like The Wind" was a great cover, we did a great version. If we'd written it, rather than Christopher Cross, I don't know what people would have thought of it. The Sweet song was Graham Oliver's idea, I think. Then we did "I Just Want To Make Love To You".

That was kind of a leftfield version of a standard that seemed to come off.

BIFF I liked it, Paul [Quinn] came up with this guitar riff and we thought we'd use that.

Have you started to think about your next album yet?

BIFF No, we're touring this one through to Christmas and possible into next year.

This is still the acoustic album?

BIFF Well it's not really acoustic, we don't know what it's going to be, there's some orchestra, some blues versions, some powerful versions.
We've done a version of Battle Cry, from Rock The Nations, and Stallions Of The Highway from the first album, we'll be doing different things, in places it'll be very different. Some of them are just going to be more powerful.

On Rock The Nations - how did you get to work with Elton John?

BIFF He was in the same studio, I think he was doing an album with Kiki Dee. The producer we had must have known him from way back because he kept calling him Reg.
There was some royal wedding or something because he was flying in and out by helicopter. And the producer said why don't we get him in on a track, "Party 'Till You Puke". And "Northern Lady" was playing while he was setting up his gear, and he started playing along to it and we sampled it. Don't think he even knows we used him on that track (laughs). He's probably owed royalties (laughs again). But we had great fun with him and his band, playing a bit of honky tonk piano for us.

What have been the highs and lows in the Saxon career?

BIFF Looking back, the first five years, it was all about the music. After that it was more about the image, which became as important as the music. Then back into the 90s, when Solid Ball Of Rock kind of got things back on track, that and Dogs Of War. We'd previously had issues with a couple of producers. It's like the last couple of albums seeing us come back again.

On The Eagle Has Landed Pt 3, you did a track with Yngwie Malmsteen, how did that come about?

BIFF We toured with him in the mid 80s, when he did is Rising Force album, and he loved playing with us, we got on great. We did this festival and asked him if he wanted to get up with us and he said yes. He got up with us again in Germany.

(Joe offers Biff 2 vinyl records) Would you mind signing these?

BIFF (picking up the Princess Of The Night picture disc) I've got one of these at home, up on the wall, made up to be a clock. (picking up the Into The Labyrinth) This is nice item (he opens it up and signs the gatefold). You know they only did 1000 of these, and it sold out, they had to press some more. They should do more. Where did you get it? Last time I was in HMV they had quite a lot of vinyl.
Saxon are on tour in the UK for Thursday April 23. The first batch of reissues from EMI are now available, all feature bonus tracks.
---

Interview © April 2009 Joe Geesin