Just witnessed your best live gig?.. send us a review!
Photo gallery (requires Flash)

SAXON/DORO Manchester Academy 2, 3 May 2009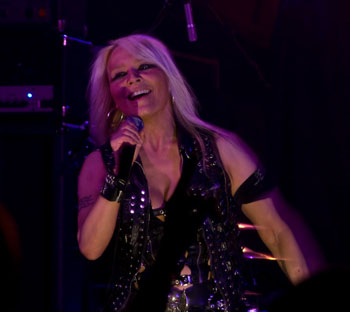 Photo: Ian Pollard

Live To Rock. Says it all really. But first, Doro. According to her PR Mike Exley, the German metal high priestess took a little persuading to join the Saxon men on their tour. She really shouldn't have worried.

Unfortunately, because of the dreaded curfew and the inclusion of another band, Sweet Savage, who I suspect were seen only by their roadie and his friend, Doro performed a thirty-minute set. For someone of her stature and quality this was a bit of a travesty. However, I think all bands should be given just half an hour occasionally - it really provides a focus and there is no room for waste or excess.

Criminally, we only heard a couple of tracks from the excellent current album 'Fear No Evil' ('The Night Of The Warlock', 'Celebrate') but as a taster for the band's music this set delivered in spades, with a trawl through some of the Doro standards such as 'Burning The Witches', 'Breaking The Law' and 'All We Are'. Let's hope she returns as headliner sooner than later.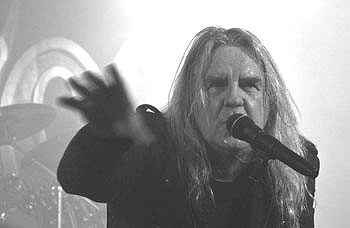 Photo: Ian Pollard
Saxon. On a roll, on a mission and nearly through with their UK tour. Fresh from his appearance in Paris on stage with Metallica, it's time to re-evaluate Biff and the Band especially on the back of an excellent new album and spate of reissues. The Saxon star, or cross(?), is in its ascendancy again.

This was the best gig of the year so far, aided by an engaging frontman ('no make up, just sweat and metal') and a back catalogue most bands would give their tattooed right arm for. They were also as tight as a sealed boxed set with Paul Quinn's soloing more in evidence trading off the excellent Doug Scarratt and a rock-hard rhythm section of Nigel Glockler and Nibbs Carter.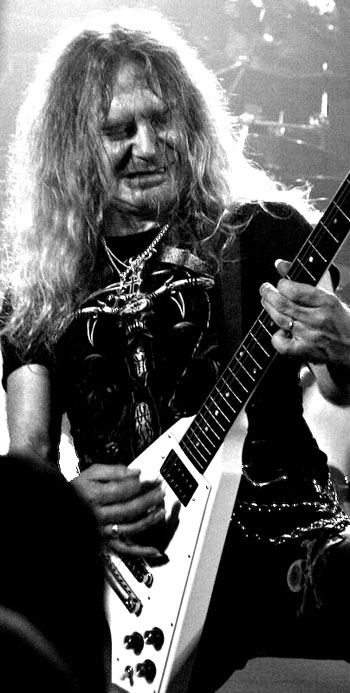 Photo: Ian Pollard
Starting with 'Batallions Of Steel', 'Heavy Metal Thunder' and 'Demon Sweeney Todd' the band proceeded to plunder their treasure producing such wonderful artefacts as 'And The Bands Played On', and a superb 'Crusader'. They even included the seldom-aired old single 'Ride Like The Wind' as well as 'Never Surrender', 'Wheels Of Steel' and 'Motorcycle Man'.

You really couldn't fault the set-list, with some flexibility in the choice of either 'Dallas 1PM' and 'Power And The Glory'. They played them both. This ability to mix and match is admirable and, really, this is a band totally in touch with their audience.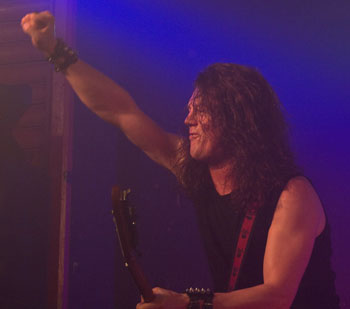 Photo: Ian Pollard
'Live To Rock' (one of the best rock anthems of the year so far) came too late in the set (it was the first encore) and the choice of material from 'Labyrinth' didn't really do it for me. Understandably, the band may have chosen those songs they thought would work best live but 'Valley Of The Kings' strangely fell short of the mark and 'Hellcat' even more so. Where was the dramatic 'Voice', 'Crime Of Passion', 'Protect Yourself' and 'Come Rock of Ages'?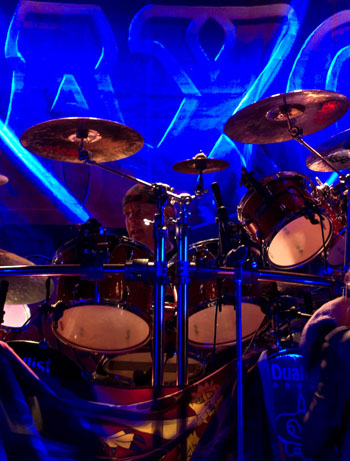 Photo: Ian Pollard
Not to worry, the encores were something else again, with a miniature greatest hits spearheaded by the truly magnificent 747 Strangers in The Night (one of THE greatest ever four minute heavy rock songs) and topped with 'Denim And Leather'.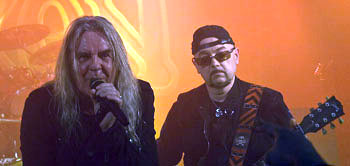 Photo: Ian Pollard
Probably more than any other band in this genre, Saxon deliver on all fronts. Easily parodied perhaps, but I think it is Saxon who have the last laugh. Their songs are durable, dramatic when necessary, and they give renewed life to the noble art of headbanging. Biff even implored original member Paul Quinn - at the start of a rampant 'Princess Of The Night' - to 'Assume The Position'...

As Biff noted, it was great to see a real cross-generation capacity crowd in a very sweaty Academy 2. Live To Rock? Thank the Lord he didn't become a teacher or a preacher.


*****

Review by David Randall
Photos by Ian Pollard/GRTR!
Photo gallery (requires Flash)
David Randall presents 'Assume The Position' every Sunday 22:00 (repeated Friday 22:00) on Get Ready to ROCK! Radio
Visit www.getreadytorockradio.com for more information.
---
Doro interview
---
| | |
| --- | --- |
| | Print this page in printer-friendly format |
| | Tell a friend about this page |