PROCOL HARUM In Concert with The Danish National Concert Orchestra & Choir Eagle EAGCD400 (2009)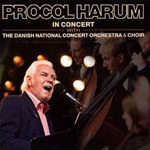 At a time when many Heritage Rock bands are revisiting their back catalogue, to either re-record a piece using modern equipment or simply re-shining old nuggets for a 'Best of Collection' who better to perfect the art than to than Procol Harum.
Recorded live in the open in front of an aggregate crowd of over 23,000 fans in Lejre, Denmark and with no expense spared, The Procols' have brought together some of their finest moments in the company of the Danish National Concert Orchestra & Choir. And while there is a historical musical antecedent going back to the 1971 recording with The Edmonton Symphony Orchestra, who would have thought that both Keith Reid's dark lyrics and for that matter Gary Brooker's instantly recognisable voice would still hold up all these years later?
Of course Procol Harum were arguably the pioneers of the rock band and orchestra format back in the early 70's and they really make the most of the opportunity here to apply the full orchestral arrangements to their best songs.
'Into The Flood' much like the '92 Edmonton reunion Concert is a highlight with both the choral 'call and response' lines and flighty mid-number strings plus accompanying clapping crowd all adding to its magnificence.
The closing 'Conquistador' is equally excellent. It's hard to believe that the original Edmonton band/orchestra version of this could be beaten, but this version comes close. From the snappy string arrangement and Geoff Whitehorn's intuitive guitar lines to the closing Josh Philips organ fill everything is in place.
Above all the song is testament to Gary Brooker's enduring voice and the band and orchestra finish with a real climactic flourish, worthy of what has gone before.
'Procol Harum in Concert' may be a retrospective romp through their history books but much of the music has clearly stood the test of time. 'Homburg' for example, is transformed from being an understated wry single via a film music style intro into something of real import. And its worth pointing out that perhaps only Keith Reid's eclectic lyrics could have stood such a bombastic examination. Needless to say Brooker sings imperiously throughout.
'Fires (Which Burnt Brightly') follows, and is seemingly the perfect song for an orchestral/choral overhaul. And yet although the potential is easily realised the song almost suffers from a case of over egging the cake. This is particularly so as the original version used a solo voice rather than a choir to map out the melody line.
'Nothing But the Truth' also remains nothing short of a tub thumper either with or without extra orchestration. But overall this is a celebration of a much loved band and a live realisation of their long embraced love of classical nuances.
And it is with two of their very best songs that Procol make best use of the 72 hands on deck. There's a specially added Latin verse on 'A Salty Dog' while 'A Whiter Shade of Pale' remains a show stopper. The latter opens with a beautifully disguised opening string arrangement and it's not until after the first verse that we hear the familiar Hammond line.
Procol Harum had much to lose with a project like this both in terms of their own performance and for that matter the question of how well the material would hold up in 2009. They triumph on both counts and 'A Whiter Shade of Pale' remains the icing on the cake benefiting from an inventive arrangement, a perfect band performance and a refreshing take on one of the most played songs of our time.
Given the recent court case you could have forgiven Gary Brooker for being fed up with the song, but on the contrary just like the album as a whole, it's a source of on going inspiration and is a magical moment in a splendid live recording.
****
Review by Pete Feenstra
DVD review
---
| | |
| --- | --- |
| | Print this page in printer-friendly format |
| | Tell a friend about this page |