Reassuringly expansive...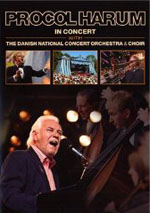 Playing with orchestras has become popular, and is actually well suited to Harum's symphonic brand of prog rock / pop. And after a year or so of inactivity we get this live DVD, recorded over 2 nights in August 2006, open air at Ledreborg Castle in Denmark.
Sole remaining original member Gary Brooker (piano / vocals) has already experimented with orchestration throughout the band's career, and the 15 song set here is largely well arranged and tightly performed. The crowed are sat on chairs around a lavish stately garden, almost as for an opera performance. But there's plenty of good camera angles and close ups, for the fan to enjoy.
The set opens with 'Grand Hotel', and is the only let down in terms of arrangement. It's good, but the moments of German Oompah music crossed with Stella Artois advert music is something a rock concert can do without, even if it is orchestrated.
But from then on, there's some great stuff, including the rock'n'roll of 'Butterfly Boys'. On occasion there is some excellent guitar work from Geoff Whitehorn, and Josh Phillips backs up well on Hammond organ. There's many a classic here, including 'A Whiter Shade Of Pale' (it still doesn't make sense though), 'Conquistador', 'Homburg', 'Nothing But The Truth' and 'A Salty Dog'. Other tracks like 'Fires' and 'Sympathy For The Hard Of Hearing' go down well too.
In the main it's good, enjoyable, and good value with a bonus of 6 tracks from a 1974 Danish TV Special and a well annotated booklet.
If you're new to the band, you'd be better off with the audio CD of the concerts released a month or so ago, but the DVD is essential for fans.
****
Review by Joe Geesin