Just witnessed your best live gig?.. send us a review!
MARSEILLE
Revolver, Birkenhead 11 July 2009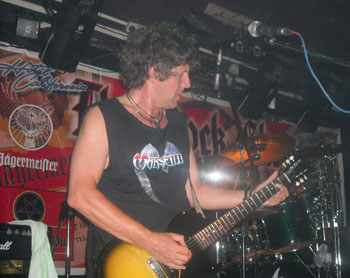 As metal comebacks go, this ranks among the most surprising. Money clearly isn't a main motivation. So used are we to seeing Neil Buchanan in the trademark red jumper presenting Art Attack on European telly that it takes a little while to adjust to the cut off T-shirt and strides again. The lure of the stage never leaves it seems.
But it doesn't take long. Neil Buchanan is a born entertainer and a tremendous personality to have on stage with you. His trademark curls sit well on a rock star frame. And why shouldn't it? As paper rounds go, that was not a bad one between 1980 and 2007. Isn't it so annoying when a guy looks good , sounds good and can change career just like that? Bah!
Marseille isn't about one man though. Andy Charters rejoins his old mucker on guitar, Singer, Nige Roberts is the only member not to have been in the original line up but has quickly stamped his own authority on the front man job.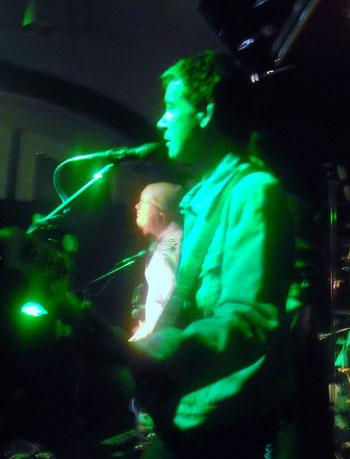 Steve Dinwoodie on bass looks all of 25. In fact you would have been forgiven for thinking this was one of those notorious situations where just the one original member is joined by his nephews to perform under the original banner. No such genetic engineering here, with Charters flying over from the US especially.
Drummer Keith Knowles was temporarily excused from proceedings with an injured hand, but this didn't detract from the occasion with Wolfpack's Paul "Andy" Anderson filling in for both the Bolton and Birkenhead dates admirably at short notice.
The tone was upbeat. Marseille are deliberately treading the good time rock n' roll grooves, continuing where they left off when Mountain Records became a muddy landslide. It was interesting to see one guy celebrating his 21st freaking at the front of the stage with his mates. In fact audience profile at this Birkenhead rock club was encouraging with the horny hands of toil mingling with the bright young things.
First off was the anthemic "Are You Ready?" which really took us back to those heady days where Marseille were on the stadium tours in the US and blowing off Judas Priest at the Liverpool Empire. These are my words as an 18 year old witness and not their claims. Some of the older songs have been updated with the highlight, "Heat of Night" featuring some tasty soloing from Buchanan. It's a testament to a song when you can remember the riff and chorus when you wake up in the morning.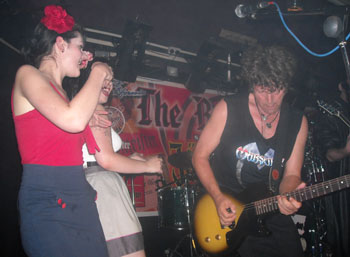 "Do it The French Way" was Marseille's closest brush with Top of the Pops. Punkish in delivery was evident here and, as if by magic, two young ladies who looked as if they had been flown over from the French province made an impromptu appearance on backing vocals.
Nige Roberts is a fine addition. With a skull cap and leather pants on a humid Mersey evening, he must have lost a stone in weight but no less energetic in his voice which reminded me at times of Paul Stanley as opposed to Holder and Gramm who he had previously been compared to by fans. A none too shoddy set of comparisons then.
Criticisms were few and far between. While Marseille naturally look at the old days for inspiration n the early days of this reunion, it will be interesting to see how songwriting develops live and digitally. At times, a slower more thoughtful number could have provided some variation. Even the most ardent feel good bands like Van Halen had their reflectional moments.
This is a band to seek out. Logically they are gigging twice a month across the UK due mainly to the geographical locations of the original members. Next visit to the UK is September with stops so far at Liverpool (Cavern), Midlands, Yorkshire, Tyneside and Lancashire to May 2010. Catch 'em if you can and bring your nephews and nieces to the party.
Review and photos by Keith Thompson
www.effective-media.co.uk

Set list
Rock You Tonight
Are You Ready
You're A Woman
Over & Over
The Can Can
Heat
Motherly Love
Lady of the night
Walking Through The night
Raise Hell
French Way
Some Like It Hot
---