MARSEILLE Fourplay EP (2009)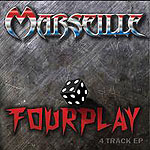 Will Neil Buchanan's fame as UK presenter of childrens' show, Art Attack be eventually replaced with some belated respect for his reformed band, Marseille?
A market leader in the New Wave of British Heavy Metal, their stadium profile in the US was all but obliterated by the collapse of Mountain Records in 1980. Once the Saxons, Leppards and Maidens got a foothold in the NWOBHM arena, it was difficult for these Liverpudlians to fly their tricolour in a crowded market two years later.
Fast forward to 2009 and there is a correlation betwixt Neil's major media. Marseille take a very direct route to your senses with a cheeky charm which is difficult to reject. Like Aerosmith, Kiss and Slade these guys produce grooves you can dance to with your other half.
None of the songs on this EP display any progressive airs and graces. Rhythm, courtesy of Knowles and Dinwoodie, is tight and punchy while the soloing from the twin guitars of Buchanan and US resident supply a Lizzyesque dimension.
The opener, 'Are You Ready?' takes us to a place we want to be. No credit crunch. No political posturing. No grunting. It's a beach party at your favourite resort. The theme is continued in 'You're a Woman.' Stating the obvious is part of the fun.
This is a team effort. At no point do you feel that Buchanan is trying to steal the show. In fact it's new singer Nige Roberts who gives the band its fresh identity, fitting in like a fresh gear box on a refurbished Firebird.
An AOR oriented melodic interchange between Charters and Buchanan on 'Heat of the Night' swing us along, with audience participation a probability as the tour wears on. When the rock n' rolling 'Some Like it Hot' ends abruptly, you want more of the same.
With a full UK tour beginning in July, Neil Buchanan's image will help the band's branding. And it won't detract from the mission to cheer us all up.
So stick another burger on the barby, grab your nearest and dearest and turn up the volume. Marseille are sizzling.
*****
Review by Keith Thompson
---
Forthcoming gigs:
Friday 11th September 2009 - The Cavern Club, Liverpool
Tickets £8.00 in advance On sale at Ticketmaster

Saturday 12th September - Josephs Well, Leeds
Ticket prices and final details TBA

Friday 9th October - The Engine Room club, Brighton
Ticket prices and final details TBA

Sunday 11th October - The Underworld, Camden, London
Ticket prices and final details TBA

Friday 6th November - Trillians Rock Club, Newcastle Free Entry

Saturday 7th November - The Roadhouse, Manchester
Ticket prices and final details TBA

Friday 4th December 2009 - Hark To Towler, Bury
£4.00 on the door (Date Change, was originally 12th)

Saturday 5th December -Hard Rock Hell Festival, Prestatyn With Queensryche, WASP, New York Dolls, Monster Magnet, Gun and many many more

---
Kev McDempster talks to Neil Buchanan (by phone), Steve Dinwoodie and Nigel Roberts about the second coming of Marseille, the new EP, and forthcoming gigs. (34:56)
(Real Audio Player required)
© Kev McDempster and Keith Thompson/7 Waves Radio
---