Just witnessed your best live gig?.. send us a review!
EUROPE
The Relentless Garage, London 1 November 2009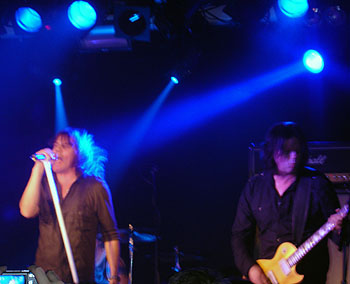 On Halloween weekend, there was only one real treat in town - a rare chance to see Swedish maestros Europe play one of the smallest gigs in their history, before a packed house of 600 at the recently refurbished Garage.
The gig was effectively a warm up for their upcoming European tour but the band were on top form, assisted by a superb sound, far better than I remember from this venue in its previous incarnation. They have the new Last Look at Eden album to promote and started in fine style with the title track and Gonna Get Ready, both with an updated seventies feel to them, before playing a mix of pre- and post-reunion songs.
Of the former, the Out of This World album got a generous airing with Superstitious, Sign of the Times and Let the Good Times Rock all played, while a frantic Scream of Anger harked back to even earlier days.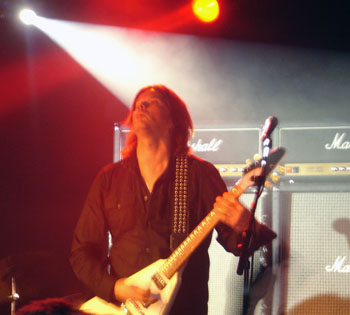 The newer material is heavier and darker, largely thanks to John Norum"s downtuned guitar, but nothing Joey Tempest sings can fail to be melodic and a stunning Always the Pretenders showed off this contrast.
His brief days as a teenage heart throb may have given the former Mr Larsson a credibility problem, but he has always been a masterful frontman and I was struck by the precision of his vocals with scarcely a note missed.
Two more new songs were played: No Stone Unturned came across as Rising-era Rainbow meets Zeppelin, with some progressive keyboards from Mic Michaeli and an eastern flavour, while New Girl in Town was simply a classic Europe ballad.
However inevitably set closer Rock the Night got the best reception to date (oddly some of the old favourites like Cherokee and Carrie were omitted).
The best moment of all came when they returned and Joey said "this song is going to expand your mind" and John cranked out the riff to Only You Can Rock Me as they played homage to their heroes.
Judging by some of the blank looks around me though, a quick UFO induction course was in order for most of the crowd (were my fellow GRTR! scribe Mark Taylor and I the only ones to laugh at Joey"s "they"re changing the mikes- can I fill in" ad lib?)
Then, the inevitable closer of the Final Countdown, the band"s greatest blessing and curse. However cheesy, it never fails to get people going and pockets of pogoing erupted around the venue.
A full UK tour is slated for early 2010 and whatever your preconceptions, on this evidence it is one not to miss at any cost.
Review and photos by Andy Nathan
Set list:
1). Last Look At Eden
2). Gonna Get Ready
3). Superstitious
4). Love Is Not The Enemy
5). Sign Of The Times
6). Always The Pretender
7). No Stone Unturned
8). New Love In Town
9). Scream Of Anger
10). Optimus (John Norum Instrumental Interlude)
11). Seventh Sign
12). Good Times
13). Start From The Dark
14). Rock The Night
15). Only You Can Rock Me (UFO Cover Version)
16). The Final Countdown


---
Podcasts (Joey Tempest/ John Norum)
---