Just witnessed your best live gig?.. send us a review!
Review and photos by Ian Pollard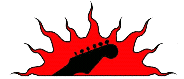 CAMBRIDGE ROCK FESTIVAL
Barton, Cambridgeshire 6-9 August 2009
Sunday 9 August 2009 (Day 4)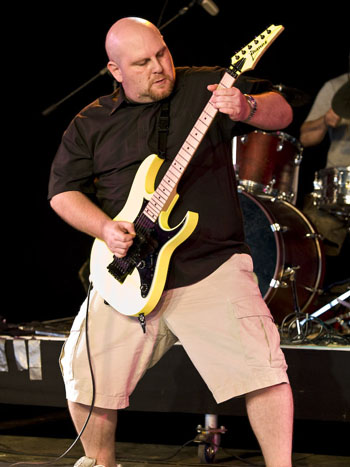 It is an early start on Sunday morning for Sacred Heart, regular favourites here at GRTR! Paul "Axl Bon Jovi" Stead fronts the band, which has seen a change on the drum stool, with Alex Burke coming in to join Nathan Lark on bass, and Mark Stephenson on guitar.
They open with the title tracks of their first two CDs, "Shake" and "Lay It On The Line" - these establish their credentials as a serious rocking band from the off.
Unfortunately, the by now familiar sound gremlins return to wreck "Tonight". The rest of the set goes well though, including covers of "Welcome To The Jungle" and "It's My Life" as well as a number of new songs from the forthcoming "Darkness Falls" album - highlight of which is the excellent "Music Man" which really allows Paul to show off his amazing vocal talent (he can thumb away at 6 strings quite well too).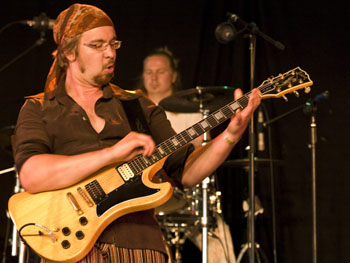 I'm not really sure how to describe the next band; Jeavestone are from Finland, and play an interesting blend of prog, folk, stoner, and who knows what else.
Talented musicians, clearly, but I suspect that their music is designed to be listened to in a dark room after consuming copious quantities of alcohol etc. A live performance as the first encounter with this band is probably not the best introduction.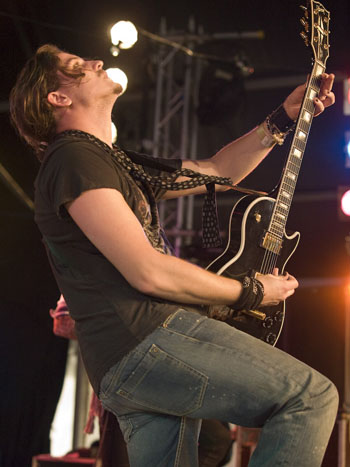 We are already running over half an hour behind schedule when Morph take the stage. This accomplished 4-piece from Devon are the heirs apparent to the mid-80's 'hair metal' crown. Despite their youth, they have already developed a good reputation for song writing, musicianship, and energetic live performances.
You only need to witness a couple of minutes of lead guitarist Harry Pierson on stage to see why - he is Poison, Motley Crue and Ratt all squeezed into one body. Mark Pascall complements his style nicely, and provides additional guitar and good vocals on the above average songs showcased here. The Sansome brothers, Sam and Joe form the tight rhythm section to complete the line-up. One to watch, these guys are going places.
The delay continues to grow and Breathing Space arrive on stage over an hour late. Having no current permanent guitarist, Bryan Josh is filling in until further notice and the almost telepathic communication he shares with Iain Jennings from their many years of working together results in a near-perfect performance.
Olivia Sparnenn has a beautiful voice and uses it to its full effect, absolutely nailing high notes (especially on "Rain Song") that most vocalists could only dream about reaching. Some songs from their new album "Below The Radar" are also aired, and the special advance copies on sale do not last long.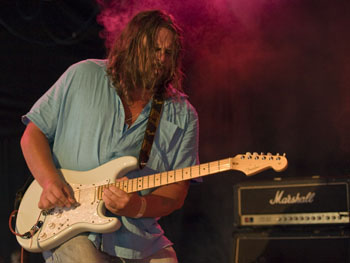 Airrace follow, celebrating the 25th anniversary of their first (and only) album "Shaft Of Light". As vocalist Keith Murrell points out, they didn't actually play together for 24 of those years. You wouldn't think it though, they put on a tight performance of songs from the album and some new "old" songs (that were scheduled to appear on the never seen second album). Maybe these songs will appear on a future CD, although their sound may well be a little too dated for a 21st century release.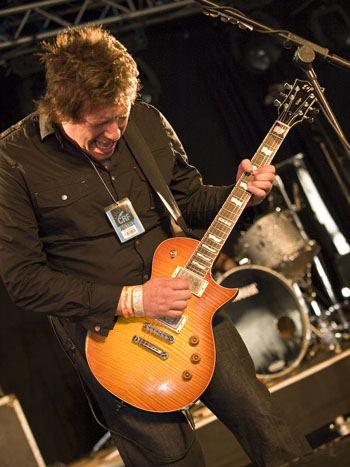 One of the unexpected highlights for me in 2009 has been the return of Airrace some 25 years after they released a classic album of British AOR, Shaft of Light, then sank without trace.
This was a gig on home soil for them and having seen them supporting Tesla and Thunder it was great to see them do a full length set and even unavailable drummer Jason Bonham was not missed.
Highlights were too many to mention but included Open Your Eyes, First One Over the Line and Didnt Wanna Lose You, plus the standout track from the first album Brief Encounter.
This built from a long keyboard intro into something of an epic with guitarist Laurie Mansworth - who lives in the very village the festival was held- really letting rip at the end.
Four songs that never made it to record were also aired and Keep on Going and So long had the big, anthemic arena rock sound that left me wondering what might have been had they got the breaks at the time.
Andy Nathan

News from the organisers... Karnataka & Simon McBride will not be performing on the main stage in order to try and get things back on schedule. Simon is moved to the blues stage and Karnataka are scratched from the line up completely.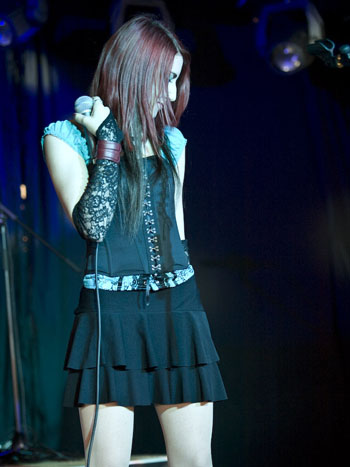 Touchstone are next up on the main stage. With their second album "Wintercoast" just released and receiving excellent reviews, this band are on the up. Something about their sound doesn't grab me though - I don't really know why, as they are all very good musicians and deliver a great performance to much appreciation. Good up-tempo prog for the most part, with some slower songs that allow vocalist Kim Seviour to take control. I almost feel guilty for not enjoying it as much as everyone else clearly is.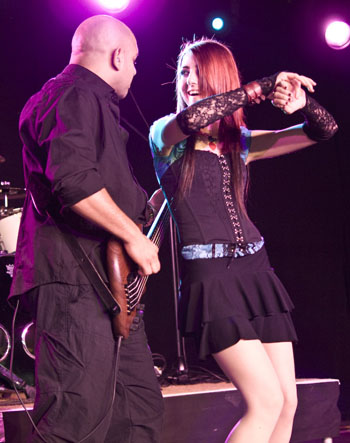 In to the final straight now, and Focus manage to get on stage (after one false start) only 20 or so minutes behind their scheduled time. Monitor problems persist throughout the set though, with Thijs van Leer getting the worst of it.
A Focus gig is never short on entertainment, even without Thijs' witty comments on sound quality, and crowd favourites "Sylvia" and "Hocus Pocus" keep the place rocking. The set culminates with the ancient art of yodelling of course, much to the delight of everyone present. A solid, polished performance from one of prog rock's most endearing stalwarts.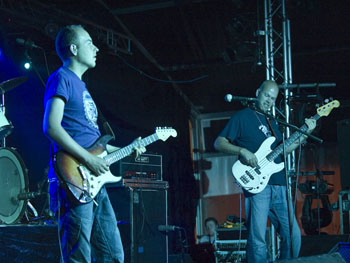 Headliner time, and it is with mixed feelings that I await the arrival of Asia. I was not a fan of how this reunion was handled and really expected it to be a big anti-climax. How wrong I was, as they were utterly brilliant!
Amazingly, after all the problems during the weekend, the sound was spot on (and no complaints on stage about monitors either).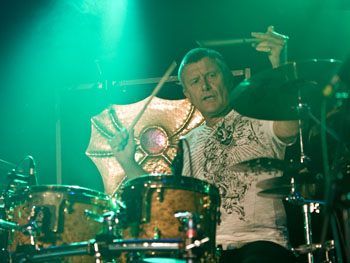 From the first bars of "Wildest Dreams" through to the final sing-along and closing power chords of "Heat Of The Moment", this was a super-group doing their thing. Songs came mainly from the self-titled debut and "Alpha" albums, with a couple from latest offering "Phoenix" and "Fanfare for the Common Man" thrown in to let Carl Palmer show off his amazing ability.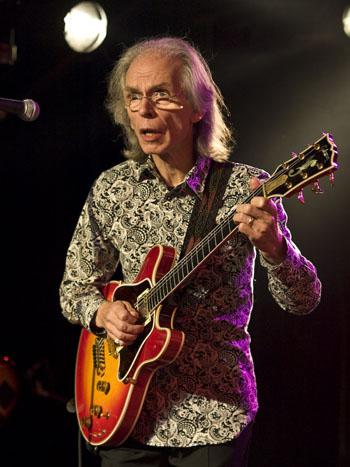 Steve Howe was at his best, playing to the crowd whilst always remaining note perfect (not that you would expect anything less from one of the best technical guitarists in the world).
Geoff Downes, surrounded on three sides by an impressive array of hardware, pumped out the 'parp-ology' at full volume. John Wetton was in as good voice as I have heard him in recent years. Highlight of the set was a rousing rendition of "Open Your Eyes", and they proved to be a fitting close to the festival.

Once again, big thanks must go to Dave Roberts, his family, friends, and volunteers for putting on this festival and fighting through all the problems to make it work. Also to everyone who supports the festival in the hope that it will continue for many years.
Asia by all accounts brought in their own sound staff, but this resulted in another long delay and the headliners hit the stage nearly an hour late.
Having seen them perform a bit of a stinker at a festival in America last month, I was apprehensive they would disappoint again, but the sound and lights were perfect, the band seemed motivated and on top form right from the opening salvo of Wildest Dreams and Only Time Will Tell with Geoff Downes parp-tastic keyboards.

Two newies were dropped into the set- An Extraordinary Life and Never Again - and held up exceptionally well against their old material, while in contrast to previous tours since the original lineup reformed, songs by their previous bands were kept to a minimum - namely Fanfare for the Common Man, which showed off their incredible musicianship, both individually and as an ensemble.

Although the likes of Here Comes the Feeling and Time Again were well received, with Steve Howe in particular on top form and surprisingly animated, the surprise of the night was a generous helping of songs from the 2nd album Alpha, including the rarely played My Own Time and Open Your Eyes, featuring the highlight of the set as Carl Palmer's drumming reached new heights of intensity as he battled with Steve's guitar solo as the song came to an end.
By the time the main set ended with The Heat Goes On and Sole Survivor, this was shaping up to be perhaps the best of the many concerts I have seen by the band in their various guises.

The set was a tad short at 80 minutes, but the encores Dont Cry and the inevitable Heat of the Moment wrapped things up in a somewhat less musically intricate way. Even Geoff Downes not coming out front with his keytar failed to spoil things.

Asia were worth the admission price alone, but overall it was a highly enjoyable festival, laid back and lacking overt commercialism but large enough to draw some classic bands. But next time it may have to be a case of no expenses spared for the best sound company around.
Andy Nathan

Review and photos by Ian Pollard
Additional reporting: Andy Nathan
Cambridge Rock Festival Preview
---