Just witnessed your best live gig?.. send us a review!
Review and photos by Ian Pollard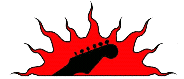 CAMBRIDGE ROCK FESTIVAL
Barton, Cambridgeshire 6-9 August 2009
Saturday 8 August 2009 (Day 3)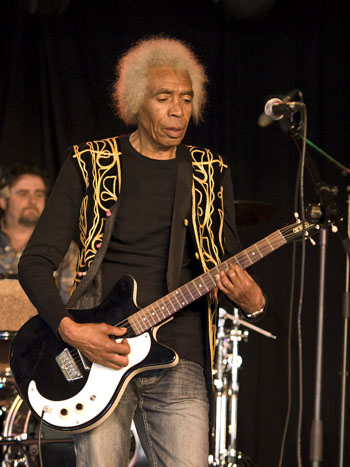 First up on a nice sunny Saturday is Ray Owen's Juicy Lucy. Featuring a new bassist, Roso, alongside Ray, Mike Jarvis and Spencer Blackledge, the band perform a tight set of blues-rock. Highlight is, of course, the Bo Diddley song that made them famous - "Who Do You Love", which surprisingly is aired early in the set. A good start to the day.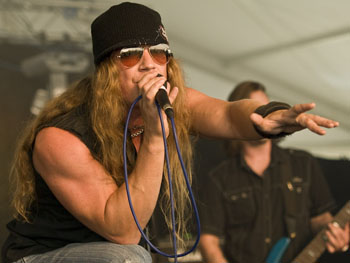 Time to move things up tempo with Rotherham's Crimes of Passion appearing on the alternative stage (which today is sponsored by the Classic Rock Society). This band have been getting good reviews on the back of their debut album and incessant touring.
Originally known as Deadline but renamed some 4 years ago, Dale, Andy and Kev are now joined by Simon Fearn on bass. They continue the strong live focus of the previous band with an excellent performance here.
Opening with a cover of "Holy Diver", the rest of the set is taken from the self-titled debut, along with one (I think) new song aired. Their modern styling to the traditional NWOBHM sound really works well, and there are plenty of chances to check out their live performances.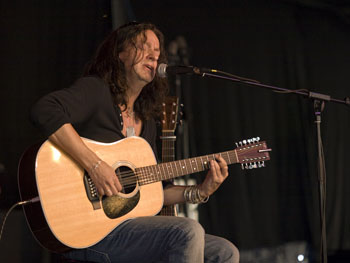 Back to the main stage for the somewhat unlikely pairing of Kilminster & Hockridge. Featuring songs from both Dave Kilminster's and Murray Hockridge's significantly different solo careers, it works surprisingly well. Dave is capable of playing any style on guitar with ease and Murray's vocals are sublime.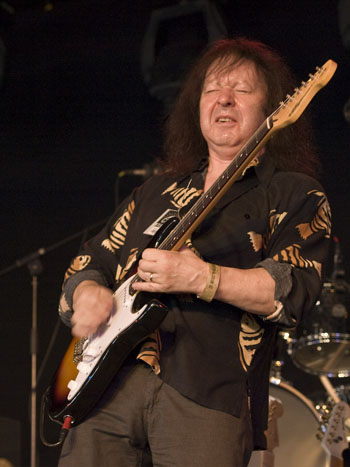 At last, a chance to see former Argent members John Verity and Bob Henrit in action with Phoenix. Named such as they literally rose from the ashes of their former great band. The wait was well worth it, as the band rock out with a set laced with classic songs. Highlights are a powerful rendition of "Rocky Mountain Way" and the iconic "Hold Your Head Up". Over 30 years of touring experience shows with a perfectly executed set from start to finish. Top drawer!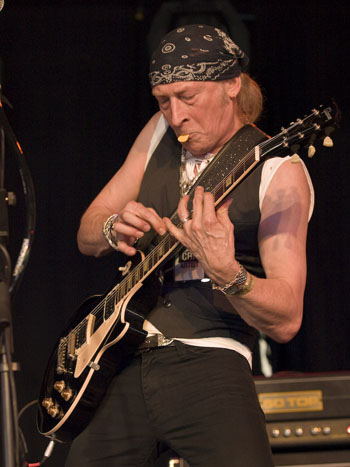 One of the most under-rated guitarists of his generation is next as Del Bromham's Stray take to the stage. Originally formed in 1966, they are one of the longest serving bands on the circuit (albeit, only Del has been in constant attendance). There is an extensive back catalogue of material to choose from, but new songs from the most recent 2009 album "Valhalla" fit in well and are as strong as any from previous years. Del really appears to be enjoying their current resurgence, and is in great form.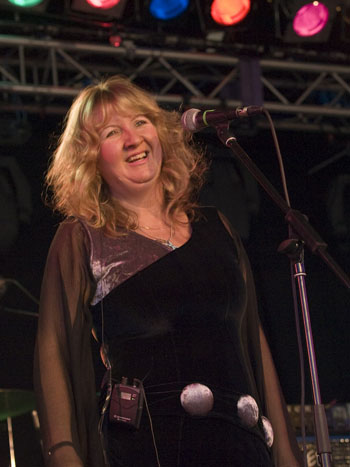 Already an hour behind schedule, the power and range of Deborah Bonham grace the stage next, as the younger sister of the late, great Zeppelin drummer showcases her new album "Duchess". Naturally, some songs from "The Old Hyde" make it into the set too, including "Stay With Me Baby". The emotion she pours into every note shows why she is a firm favourite here, and has a growing following around the world.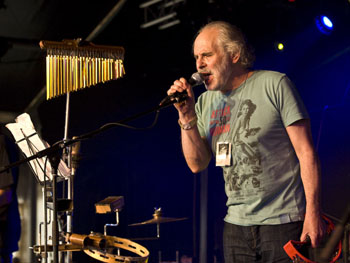 Deep breath... Pete Brown & Phil Ryan with Psoulchedelia are up next (try saying that after an afternoon sampling some of the 70+ real ales on tap here). Unfamiliar names maybe, but when you understand that Pete Brown co-wrote "White Room" and "I Feel Free" with Jack Bruce, the pedigree is evident.
This latest live vehicle leans more towards funk-rock, but is very entertaining and they finish with a storming rendition of another famous co-write (this time with Eric Clapton involved as well) - "Sunshine of Your Love".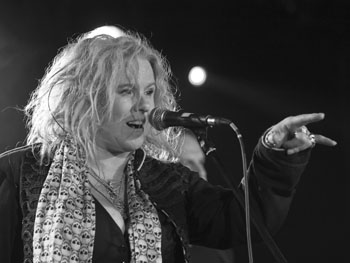 The second super-charged female vocalist of the day comes next. Never The Bride's Nikki Lamborn has the power to rival any singer, past or present, and a stage presence to match. Sound problems dog the set unfortunately, and one of the on-hand sound crew feels the wrath of Nikki's tongue.
The band still put on a cracking show though, with both Nikki and Catherine "Been" Feeney giving 110% (as are all the other band members of course - they wouldn't dare do otherwise). Debbie Bonham is invited back on stage for the finale of Zep's "Whole Lotta Love" - a true highlight of the day, even if it does cause further consternation for the organisers as they overrun their set time by a good 15 minutes.

Although popular on the real ale/biker music festival circuit Never The Bride are a little too 'chicken in a basket' for me. For a band that have been going for some time now ,they still rely on the same old cliche cover versions.
Despite getting a warm reception from the crowd Never The Bride are a band I won't be walking up the aisle with anytime soon.
Mark Taylor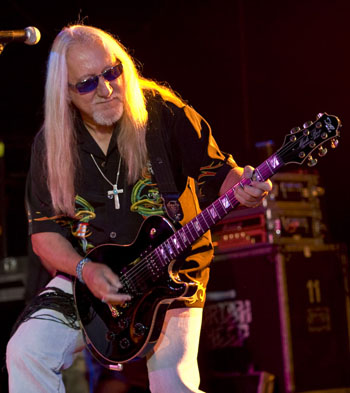 Scheduled to appear at 8.40pm, it is actually 11:30 pm before Uriah Heep get on stage (for the second time, following a false start 30 minutes earlier due to yet more sound problems). Like last night, there are still problems with monitors on stage, but happily the front-of-house sound is spot on.
A slightly truncated set sees the band perform about two thirds of the "Wake The Sleeper" album, interspersed with some of the many classics from their back catalogue.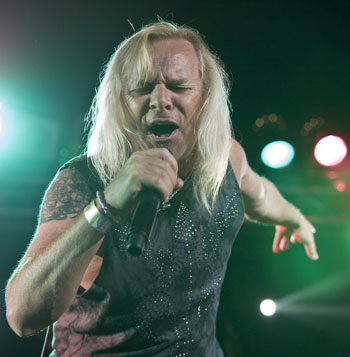 A consummate, professional performance reaches it's zenith with a fantastic rendition of "July Morning", and concludes with the crowd-pleasing sing-along of "Lady In Black". After the withdrawal of Jefferson Starship from the festival, a better late replacement could not have been found, and they delivered the performance of the weekend!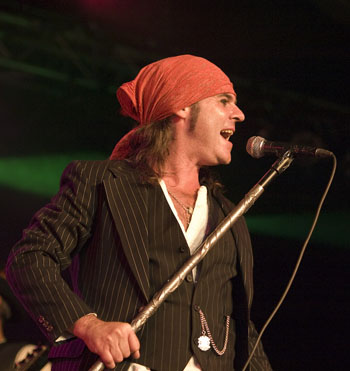 Finally, at 01:30am (ish), The Quireboys get onto stage. Spike (the only original Quireboy here) and the boys are still in good spirits though (no doubt assisted by some other good spirits during the waiting), and happy to play a full set that doesn't finish until after 3am.
Sadly, my own energy reserves are depleted just as "Roses & Rings" is aired, and I am back at the tent and asleep before they leave the stage. This was in no way attributable to the quality of musicianship or music on display (which was very high) - just exhaustion and the need to be back at the main stage by 11am on Sunday.
At half one in the morning the Quireboys came on to liven up those who were still awake and wanted to party, and party we did.
An enjoyable set which saw Spike inviting Uriah Heep's Mick Box onstage for a hug to express no hard feelings for the waiting. New tracks from the recent 'Homewreckers' CD mixed in well from the hits we know and love. With the time approaching 3am, Spike asked the crowd 'What's the time?' expecting to hear '7 O'Clock( A hit from the eighties), but iIm sure half the response was 3 O'Clock from the audience.
With an encore of 'Sex Party' even those who had already retired back to their tents were waking up with their partners to have a little party of their own.
Despite the earlier PA problems which could have turned into a nightmare, the Saturday was a complete success.
Mark Taylor

Review and photos by Ian Pollard
Additional reporting: Mark Taylor
Cambridge Rock Festival Preview
---