TOTO Falling In Between - Live
Eagle Vision (2008)
Melodic rockers caught in the balance...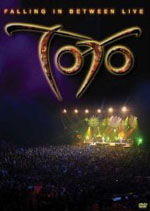 Recorded in March 2007 at Le Zenith in Paris with a set list composed of songs off the band's latest album 'Falling In Between', including a storming version of the title track, their classics like 'Rosanna' (complete with a jazz tinged intro) and 'Hold The Line' plus a few songs not heard live for a while like 'I'll Be Over You' and 'Isolation'.
Steve Lukather has been ever present throughout the band's history with vocalist Bobby Kimball also present (he was sacked by and was out of the band for 16 years as he reveals in the bonus interview on this disc) and drummer extraordinaire Simon Philips who has been in the band since the sad passing of Jeff Porcaro.
Long time bassist Mike Porcaro had to miss this latest tour although he is ably covered by Leland Sklar, Greg Phillinganes is on keyboards as David Paich has retired from active touring and finally you have Tony Spinner on guitar and vocals (his is excellent on 'Stop Loving You' for instance).
Toto live is all about taking the studio versions and then going on a musical journey plus with solo spots from Luke, Simon and Greg it makes for a great live show with some cool camera shots/angles. All the band are interviewed as well with Steve Lukather showing off his varied guitar collection and fascinating insight from Greg Phillinganes as to how he replicates the horns, piano and organ on 'Rosanna' and the beats on 'Africa'.
Toto DVD's are one of the few live DVD's I can watch again and again due to the sheer musicianship on display. Simply wonderful!
****½
Review by Jason Ritchie
***** Out of this world | **** Pretty damn fine |
*** OK, approach with caution unless you are a fan |
** Instant bargain bin fodder | * Ugly. Just ugly
get ready to rock is a division of hotdigitsnewmedia group