STEVE LUKATHER
The Toto guitarist released a solo album, 'Ever Changing Times' on Frontiers in early-2008. Currently on the last leg of the Toto world tour, there is also the DVD release 'Falling In Between Live'.
In September 1977 Toto released their first album 'Toto'. Over the years, Luke's writing contribution increased and he also featured on other artists' albums, notably Michael Jackson's 'Thriller' album in 1982.
Steve Lukather's first solo album 'Lukather' was released in 1989, and after 1991 - with the departure of Jean-Michel Byron - he took on lead vocal duties with Toto.
A second solo album 'Candyman' was released in 1994 and Luke continued his work with the 'Los Lobotomys' project with Simon Phillips, David Garfield and Fee Waybill.
Two more solo albums, 'Luke' (1997) and 'Santamental' (2003) followed, the latter featuring jazz fusion interpretations of traditional Xmas songs.
Photo: Lee Millward/GRTR!
What are you currently up to? (recording, gigs, plans)

I am finishing the last leg of the 2 1/2 year Toto tour and then my solo record drops in a few weeks and then when I get back from the LAST Toto I will rest for a few weeks, do promotion and then put my band together for aworldwide solo tour. I am busy. Haha!

Could you take us through your new album 'Ever Changing Times'

Man, that would take a long time. Haha. I would say we just went in everyday and sat and starting writing. seems like its cliche but everyday brings new inspiration and I just let it flow and these are the songs that came. I am
very proud of them.

How did you decide which musicians to use on your solo album? Do they much musical input into the songs composition?

I am lucky I get to work with the best musicians in the world! Various styles. I put together a basic band of young guys and older guys and some in the middle.
I have basic sketches on paper, sometimes write out parts that are more difficult. It helps that everyone reads music but its not like every note is written out. I welcomed the guys input and they gave a lot to me!

When the band records such a great album and similarly with other classic albums like 'Isolation', 'The Seventh One' or 'IV', do the band get a feel/sense in the studio you are creating something special?

Yeah we did. I did on my new record as well. There was an unspoken "Vibe" and the reaction of outsiders that would hear the music and go "man this is happening". You don't get that all the time.

What have been the live highlights so far for you? Toto have a massive European fan base but this is not the case in the US - why do you think fans have fallen away in the US?

Well the European and WORLD fans out there have stuck with us. We are not percievd as an "oldies band" and they have all of our 17 records and there KIDS are now coming to the shows so we have all grown up together. They keep coming back.
The USA has always been hard for us for some reason but most big bands in the USA don't even bother with the places we go to. Our music is world music in the true sense. I don't know why but that's kind of where it's at.

How do you think your guitar playing has developed through the years? Do you have any tips for a beginner and what style of music do you find the most challenging to play?

I keep practicing as much as I can. I am trying to grow as a guitar player. You never stop. If you do, you start to get stale and that is never good.
I study be bop and all that kind of stuff. VERY challenging and I let that creep into my rock playing.
Advice, take a few lessons and learn to relax when you play and learn how to GROOVE! Anyone can learn fast scales and tricks. The key is if you want to play with other people. I am still a student so I don't have much more to say than that.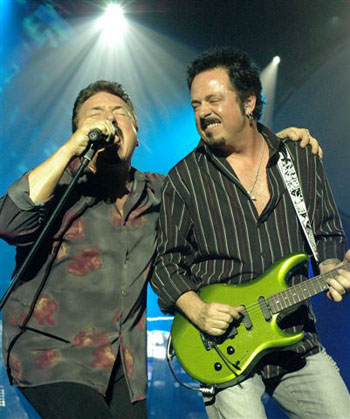 Photo: Lee Millward/GRTR!
What have Toto planned for their 30th anniversary tour? Former vocalist Fergie Frederikson is mentioned as being involved along with 'retired' keyboards player David Paich.

There are NO plans after this next leg of the tour. I think we need to put it to rest for an indefinite amount of time. I am not saying NEVER but I do not see it in the near future and certainly not in this configuration.
I am starting my solo tour end of June for all of this year and well into 2009. That will keep me VERY busy!

How do you view the internet and downloads? How has the internet helped get your music out there?

Well there are good and bad bits. It's a fantastic viral marketing tool but it IS a drag that we get our life stolen from us. You wouldn't like to work hard and not get paid for it would you?
The major labels fucked everything up by NOT jumping on in the begining. I have hope for the future and see the
internet as THE future like it or not!

What do you like doing with your spare time outside of music?

Well I have a new baby girl Lily, 5 months old so THAT keeps me busy but I like a simple life. Dinner with friends and family and TV. I NEVER watch TV on the road and I am out 8-9 months a year so TV is a novelty to me.
I read a lot on the road and maybe watch the news. At home I watch all my fave tiVoed shows. Haha!

Message for your fans...
Thanks SO much for the last 30 years. I owe you guys a lot. I hope you are all groovin and happy and healthy and hope to catch you out there somewhere soon
Luke
---
Interview © 2008 Jason Ritchie.
All rights reserved.
DVD review (Toto)
---
| | |
| --- | --- |
| | Print this page in printer-friendly format |
| | Tell a friend about this page |