VARIOUS Rock Legends Universal/Polydor (2008)

Universal's mid-priced 'Rock Legends' series has received mixed response from GRTR! Reviewers, falling short for the fan or collector, and seemingly squarely aimed at the service station consumer - that's the person who isn't too fussy about where they purchase their music and not too fussy about the content either. But 'Rock Legends' may look cool in the glove box next to the Sat Nav and for those not familiar with the art of download.

The series is inoffensively packaged in sequentially numbered dig-packs, and the selections vary from the obvious to the slightly more obscure, and sleeve notes provide basic background information. In these days of climate change, it really is a dubious case of blatant recycling. The on-pack sticker proclaiming 'Rare Recordings" is a tad disingenuous too.

Free (No.2) brings together the usual suspects for a compilation, a mixture of album tracks and the better-known singles. This compilation is sensitive enough to include some of Paul Kossoff's showpieces such as 'Walk In My Shadow' and 'Come Together In the Morning' as well as the less expected, including the instrumental 'Mouthful of Grass' from the band's debut album. But it's really only of use to anyone for whom 'All Right Now' means more as backing music to a chewing gum TV commercial. ***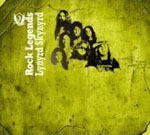 Lynyrd Skynyrd (No.3) are celebrated in a 11-track collection which features all material from the 'classic' pre-1978 line-up. Again there are no rarities just some damn fine music including of course perennial rock compilation favourite 'Freebird'. The compiler might have chosen to include more live material, other than 1976's 'Travellin' Man' from the 'One From The Road' 2001 remaster, but overall it is a fair summary of a great southern rock band beset by tragedy. ***½
If Skynyrd proudly flew the southern rock flag in the late seventies, at the start of the decade the Allman Brothers Band hoisted it up the pole. Another band beset by tragedy, this collection (No.6) picks out their key tracks including the splendid 'Whipping Post' and, one of three live tracks from the classic 'At Fillmore East' set, 'In Memory Of Elizabeth Reed'. And of course 'Jessica' (from the sometimes overlooked Brothers and Sisters album in 1973) is present and correct. ***½
Not surprisingly, five of the twelve tracks on the Dio collection (No.7) are from 'Holy Diver' and therefore punters may be best pointed to the repackaged version of that 1983 classic.
Anyone who saw Ronnie James Dio on 2007's 'Heaven and Hell' tour - or heard the live CD - will know that he has lost none of his power. Back in the eighties, on the back of his stint with Sabbath, 'Holy Diver' set a blueprint for well-crafted metal.
There are several tracks (including the live version of 'We Rock') from 1984's 'The Last In Line' - which many fans thought a worthy successor to 'Diver' - but by the end of the decade, with more band line-up changes, Dio had seemingly lost the plot. This collection serves, then, as a reasonable summary of his golden years. ***½
In truth there may be better ways to acquire these tracks but for a time-poor generation rushing to their next meeting, these collections may fit the bill.
Review by David Randall
In the same series:
Related>> Creedence Clearwater Revival
Related>> Motley Crue
Related>> Velvet Underground
---
| | |
| --- | --- |
| | Print this page in printer-friendly format |
| | Tell a friend about this page |