VELVET UNDERGROUND Rock Legends Polydor 0602498468807 (2008)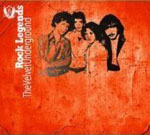 Rock legends they may be but Velvet Underground are not well served by this compilation. Far better to check out the five CD and fully annotated release 'Peel Slowly & See' on the same Polydor label as this!
Let's face it most Velvet Underground fans have all of this and wouldn't be drawn to a strange compilation that somehow manages to make any musical reference to Nico. Indeed even the live take of 'Femme Fatale' is sung by Lou Reed rather than Nico. And given that the material here is drawn from the bands early career, you have to wonder what the reason are for at the absence of 'Sweet Jane', 'Waiting For the Man,', 'All Tomorrows Party's and 'Venus In Furs'.
After all this is a band that dealt with the dark side of life and the above songs defined their respective subject matters brilliantly. The liner notes here are quick to suggest that the Velvets were and still remain hugely influential, but it begs the question how can you set out to explore that influence when you miss out on the core of their career highlights.
The handful of latter career live cuts is hardly the stuff that will make die hard fans down tools and run to what's left in the way of record stores. Not a release for the aficionados.
**
Review by Pete Feenstra
In the same series:
Related>> Creedence Clearwater Revival
Related>> Motley Crue
Related>> Rock Legends
---
| | |
| --- | --- |
| | Print this page in printer-friendly format |
| | Tell a friend about this page |