Just witnessed your best live gig?..send us a review!
ERIC BURDON
Royal Albert Hall, London, 21 April 2008
Review by Pete Sargeant www.fairhearing.co.uk
Photos by Noel Buckley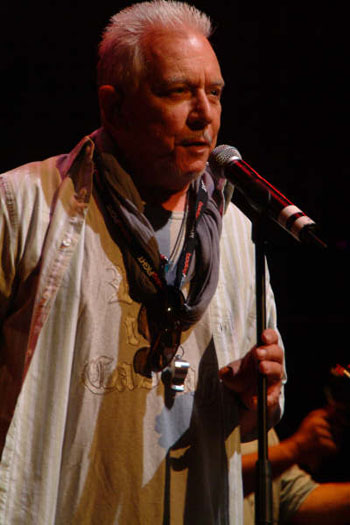 A real trip back in the musical time machine, this. Thirty years after they went their separate ways in the early Seventies, Newcastle blues shouter Eric Burdon and atmospheric soundweavers War reconvened and in many ways, it was as if the last few decades hadn't happened. The band – or what you should really term the current touring version of War, led as ever by smiling keyboard dude Lonnie Jordan – had the look of road haulage operatives meeting up at a favoured border cantina. That this was well thought-out evening was underlined by a splendid starter of War hits.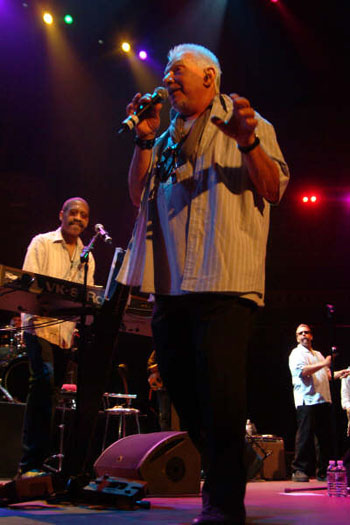 (above) Lonnie Jordan and Eric Burdon
Kicking off with guitar man Start Ziff's moody wah-wah'd arpeggio of 'World is a Ghetto' this wonderful crew soon had feet tapping and heads swaying, largely due to the drums and percussion pairing of Salvador Rodriguez and Marcos Reyes. Often driving but at other times gently tinkling and tapping, these two make every player on the stage sound fabulous.
Francisco Tomaselli's meaty bass pretty much evoked the B B Dickerson original lines powering 'Cisco Kid' and the perennial mover 'Low Rider', cheeky stop/start cowbell intro et al. This number prompted an enthusiastic audience member in Row D just in front of us to leap to his feat and throw out frug-style dance moves, much to the delight of other punters and earning him a brief bounce onto the stage with an amused band making the most of the moment.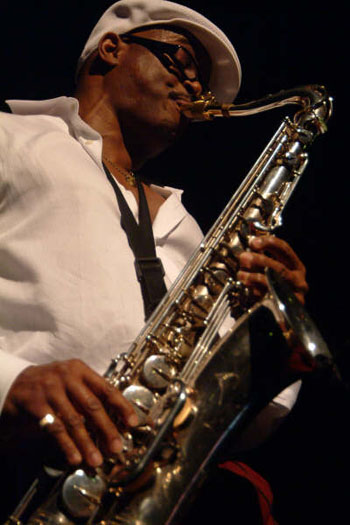 Notwithstanding Fernando Harkless' sublime sax and flute forays and the hard-driven harp riffs of Mitch Kashmar, the most distinctive trademark of War is when these two combine as on 'Spill the Wine'. This collection plus a good natured 'Why Can't We Be Friends' and you could hardly fault the start of this show, good sound balance too and nice conducting from Jordan.

Burdon's approach to the show was to put his head in Fillmore mode and freewheel. He sang, he pleaded, he growled and he reminisced. Whether you like his voice or not, this singer and band are as complementary as Neil Young and Crazy Horse or the terrific linking of Dylan and Tom Petty's crew. Much of what Eric produced here was deep blues with soul seasoning.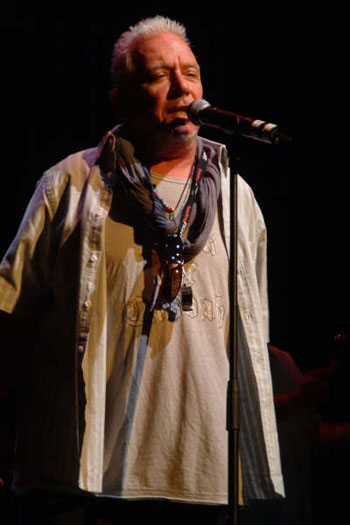 Stepping on the stage to a roaring welcome during the cool latin tread of 'Spill The Wine', Burdon did his thing and encouraged the band to groove and solo. Yes, a throwback show I suppose but such a contrast to more recent 'I'm the star and you remember your place' antics of Simply Red and the like. The version of 'Spirit' was worth the trip alone, a quite brilliant rendition. The Roland Kirk tribute was almost spat out, in a confusion of tone colours. 'Tobacco Road' as it always did, almost disappeared up its own fundament.

Burdon remembered watching Memphis Slim in a Paris bar when Eric was 17as he sauntered into 'Mother Earth' ( probably the same effect that seeing Howlin' Wolf had on me at the same age...) and on this song the band solo'd with the ESP of veteran players, none more so than Ziff who when he wants to sounds uncannily like the late Mike Bloomfield – I suspect he purloined the Butterfield axeman's DNA, to sound this close.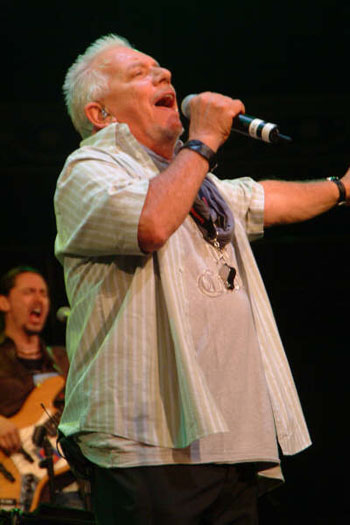 A boogie intro to 'Bare Back Ride' moved the crowd whilst 'Paint it Black' went onto its own universe and back again. Some of the audience were surprised to find the acoustic guitar scrubbing morph into an edgily paced 'House Of the Rising Sun', Burdon reclaimed the song from a thousand bar bands with ease.

For this writer, it is the way that the players in War know when to play and when to hold back that made this celebration show special and maybe only the optimum lineup of Little Feat could presenty a show quite this way. Nothing to prove, y'see


Review © 2008 Pete Sargeant www.fairhearing.co.uk
Photos ©2008 Noel Buckley/GRTR!
All rights reserved.
---
| | |
| --- | --- |
| | Print this page in printer-friendly format |
| | Tell a friend about this page |