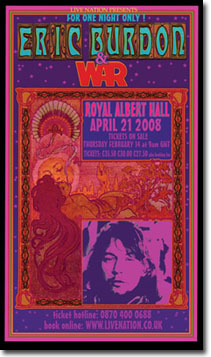 Original poster by Bob Masse
Both Eric Burdon and War ushered in the winds of change in rock music in 1969 when the Californian based former Animals lead singer teamed up with the southern Californian multi-ethnic band whose mix of funk, blues, rock and soul hadn't up to that point been appreciated beyond the confines of being an accomplished backing band in southern California.
But with the backdrop of the Vietnam War and the rapidly changing times, the band was projected into the forefront of a new music scene. And despite the name War, this was a band with a message of peace, harmony and tolerance and a front man who had been in the one of the most influential bands in the 60's, albeit his later New Animals project had just ground to a halt.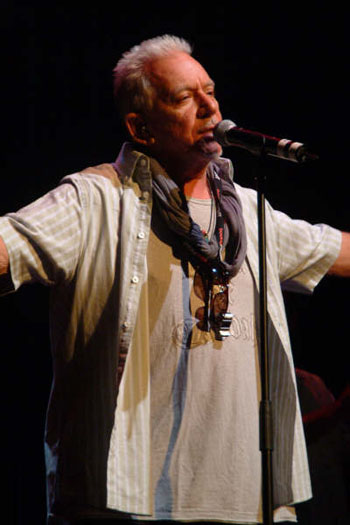 Photo: Noel Buckley/GRTR!
The result was an unlikely alliance that spawned a brace of highly regarded albums 'Eric Burdon Declares WAR' and the double 'The Black -Man's Burdon'. Then there was also the unusual hit record in 'Spill the Wine', a groundbreaking slice of Latino Funk that to this day continues to be aired in films albums and radio.
37 years on the two elements are reuniting for a one off show at the Albert Hall. Pete Feenstra spoke to Eric Burdon and band keyboard player and founder member Lonnie Jordan.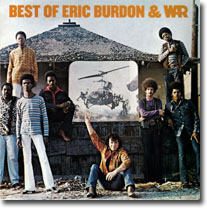 Was the impetus for this reunion the forthcoming Rhino re-issues?

Eric: 'Yeah I guess that had something to do with it, they are re-issuing the albums, but the time seems right also'.

When you first teamed up with War you seemed to be searching for a new direction at the time. Is there a parallel with this reunion 37 years on?

Eric: 'Well I guess I'm always searching for new things to do, new directions, new challenges and hopefully we will come up with a show that connects not just the band but mostly with the audience.
So far the rehearsals have been really well. They have been mainly based around the bits and pieces that we can still remember and we have to work on the other bits we don't remember.
It's like you've got the letter A and the letter Z, and the whole alphabet in the middle has to be worked out again. On top of that we're coming back together again after many years and attitudes have changed both to life and audiences. We're basically making the same music though and I think without a doubt the band is a lot tighter and certainly more skilled than it was back then'.

Early on War was known as one of the very first jam bands. How did you see yourself fitting into such a situation?

Eric: 'Well in some ways calling them a jam band is a misnomer because the idea of a jam band is often misunderstood. War certainly improvised and took numbers in different directions, but too often people mistake the notion of a jam as being laid back and unprofessional, when in fact nothing could be further from the truth.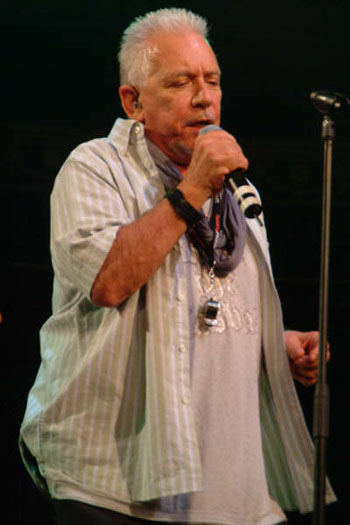 Photo: Noel Buckley/GRTR!
You've basically got to know your stuff and they really do. It's like when you go sailing on yacht with a small crew, someone's got to be able to read the ocean and the wind and of course know how the equipment works, know the navigation - dead reckoning.
So while some of you may think it looks the opposite the spirit of the music is matched by great professionalism. As a vocalist it is easy for me to step into that situation. Plus this time round things are much more tightly structured than they used to be'.
Lonnie: 'Yeah we are revisiting our past and exploring the music and Eric is really the reason for that, giving us the opportunity to start again. And I really think we can do it a lot better and give so much more, we know so much more.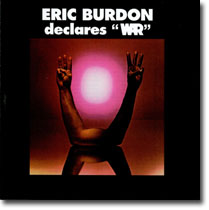 Eric: 'Yeah, we are starting at the beginning again, with Eric Burdon and War. In one way it was easier back then as now we have to relearn it all, paying more attention to arrangements and working out which bits were improvised back then and the bits that were not originally part of the arrangement. But it's a very enjoyable process'.

Lonnie: 'Playing with Eric again is big treat. Of course we never stopped playing as War really, as it's all I've ever done in life and the music continues to go on and on. But being back with Eric is like a recharging of the batteries, a real boost.
It's like revisiting an old movie again, but now we have new tools to do it again, we all know more, and to coin that phrase, 'if we'd known then what we all know now'…..sadly that applies as much to the business as it does to music'.

Were you surprised at the success of the single 'Spill the Wine'?

Eric: 'I was very surprised not only at the original success, but especially after the way it came about and also the fact that it continues to be played now and is still in people's minds. 'Spill The Wine' still appears in film sound tracks and pop sup everywhere.
Also the funny thing was that it was originally going to be the B-side to a song called 'Magic Mountain'. Now that song was basically about a Californian mountain called Mount Tamalpais, and back in the hippy days we all used to go up there and hang out. But the DJ's wouldn't play the song because the wrongly assumed the lyrics were all about sex and drugs. So as a consequence 'Spill the Wine' became the song that they played'

And it's a very sexy song too?

Eric: 'I think 'Spill the Wine' is pure FUNK!!'

'For me the best thing is the band connecting with the audience, vibing off the people, it's almost a movement. Our music has always essentially been the same. You can't easily categorise us, there are elements of funk, soul, jazz, r&b but there is no ready made library card for our kind of music, but I like to think we are the godfathers of what we play'. Lonnie Jordan
You sang the song as a first person narrative with a half spoken arrangement, was it all arranged that way before you put the vocals on it?

Eric: 'The way I remember it most of the band had taken a lunch break and I was lying on my back having a 5 minute nap in the studio. The producer Jerry Goldstein more or less put a mic down my throat and I started singing while Lonnie put a backing track down on keyboards. I think the rest was overdubbed later on.
I can't really tell you the meaning of the song; I guess it was my homage to Mexico (maybe Mexican women) and the feeling I got when I was there, which was way different from what it is now. It was old world Mexico nothing to do with the Americanised version now'.

Lonnie Jordan: 'You know really Eric sang the first Latino rap song ever to be on pop radio. Only he could really have done. I've been singing the song since fronting the band over the years but with Eric back it gives me an opportunity to get back to playing my keyboards again.
In fact it's the same for the band, as War were originally a backing band until Eric came along and we became band real band in our own right. I am comfortable in either role, but I love putting people forward to sing.
For me the best thing is the band connecting with the audience, vibing off the people, it's almost a movement. Our music has always essentially been the same. You can't easily categorise us, there are elements of funk, soul, jazz, r&b but there is no ready made library card for our kind of music, but I like to think we are the godfathers of what we play'.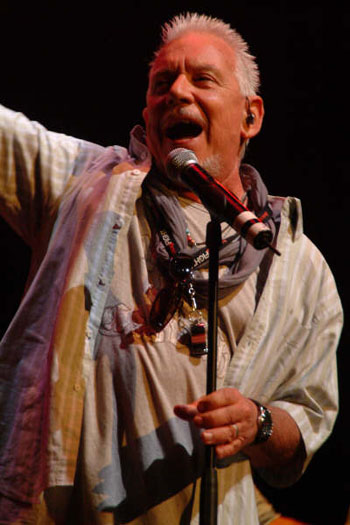 Photo: Noel Buckley/GRTR!
Can you clear up whose idea the band's name was?

Eric: 'Well Steve Gold who was our management partner at the time it was his idea. You have to remember there was the Vietnam war raging at the time and he was looking for a name for the band that would shock everyone and try and make sense of the nonsense that was happening there and all over generally. So the name was good as it was part of our stance at the time. You know peace, but here's the name to get you thinking'.

The band was one of the first multi ethnic outfits along with the Chambers brother, Santana and Sly & the Family Stone. The world has moved on ands yet many of the issues seem to remain?

Eric: 'Ever more so. The things we campaigned against then were in some cases specific - things like peace, the Vietnam war etc - and that was one of the strongest reasons for doing this again now. In the USA today there is a real chance of having a black president, but there's still a lot of racial stuff going. And we are really trying to put a message across that that we are all the same, two eyes, two arms, one butt. I think the US is finally ready for change. It's been going down the wrong path for years'.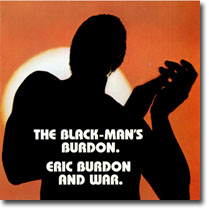 Why did you leave the band little over two years later?

Eric: 'I can't really remember the specific reasons. But when I look back I was a bit out of control and I had had a bad period in my life and I got divorced. I'd had enough really. Then there was the management thing going on they split our contracts, War went to UA and I remained on MGM with a promise that I'd get the film rights of Jimi Hendrix's last show.
In doing some research I found the film didn't belong to them or anyone you could sensible deal with. Then the Hendrix family became involved and threatened to sue anyone who even mentioned his name. His ghost won't seem to lie down in my life.
When I got back to London I had a visit from Jimi and he came down to Ronnie Scott's club. He seemed in a bad condition to me and I told him to go away. A couple of nights later he turned up again and jammed with us. It was that night I felt that Jimi thought that War was probably the band he should have been with all along. The next day he was gone, and in a way his spirit continues to haunt me. So I really hope we can bring a good feeling to the Albert Hall for our show.
But anyway, I felt like I was walking away forever at the time, not just from War but from the music business. But it's a strange thing because once you are in you are in and it continues to pull you back. And after all playing music is the greatest thing to be doing - entertaining people. Back then I was out of control for a while, doing the mystical things, not paying attention of things. I still have my moments now, but I've got a Mrs that slaps me and keeps me in line.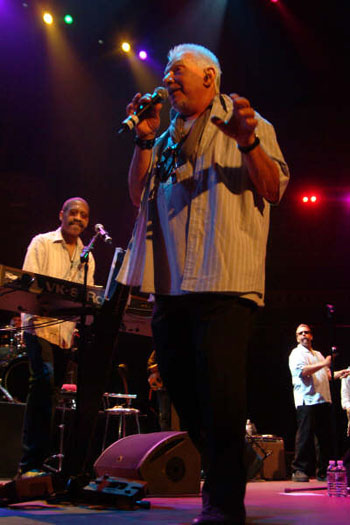 Lonnie Jordan & Eric Burdon, photo: Noel Buckley/GRTR!
Were you both surprised at the way War took off?

Lonnie: 'Musically there was a lot there that people could relate to, but of course if it wasn't for Eric we wouldn't have got our break. He fitted in perfectly with us and also helped get our music to Europe. In many respects War were more readily accepted over in Europe than in the USA.
You know back home it was always the case that we are spoiled really as we have everything, but we all end up toying with our lives and everything becomes a game. Everything is regarded as frivolous fun. Across the pond in the UK and mainland Europe they take their music more seriously. It might be a historical thing as much as anything, but whatever it is they really loved us.'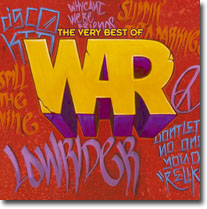 Was it a problem nailing down the band's improvised music on the first two albums 'Eric Burdon declares War' and 'Blackman's Burden?

Eric: 'No on the contrary it was quite easy. And really in a way it's easier now because as I said earlier everything has to be more structured this time round and we are rediscovering our musical selves'.

Did you see any irony in the fact that War became more successful after you left?

Eric: 'None at all and I couldn't have been more pleased for them. They were a great band that crossed over to a lot of different people and I was just proud to have been part of it. The fact they enjoyed further success later on was because they were always a great band in the first place'.

Eric, you always had an interest in black music and championed race relations, did that make it a natural progression to join War at the time?

Eric: 'Well firstly I'm basically a rock and roll frontman, I'm the guy who delivers the words, or tries to and if it works then great. I love black music but it's not really about that it's about our whole approach to people. What we are dealing with is the same old thing that never changes, we are all the same, it's a simple concept, but there's still a lot of racial stuff going on, so I stand up against that'.

Can we expect any other shows after this special one off show?

Eric: 'I really hope so as so far it's shaping up really well, and we are inspired by it'.

Lonnie: 'Playing with Eric again is like a new beginning its like Christmas with lost of presents under the tree and we will continue with War for just as long as the people want it. I still think there are lots to come out and our aim is really to give people the kind of experience where they come out of the show and go, 'darn that was so good we should do that again sometime'. So no matter what kind of day they had before they saw us, they will come out and leave with a new experience'.
Eric Burdon and WAR play the London Royal Albert Hall on Monday 21st April. Tickets: 0844 576 5483, www.livenation.co.uk
To coincide with the show, Rhino re-release "Eric Burdon Declares War", "The Black Man's Burdon" and "The Very Best of Eric Burdon and War" along side eight of War's classic seventies' albums.


---
Interview © 2008 Pete Feenstra. All rights reserved.
Royal Albert Hall photos by Noel Buckley/GRTR!
---
| | |
| --- | --- |
| | Print this page in printer-friendly format |
| | Tell a friend about this page |