SLADE Reissues Union Square Music/Salvo (2007)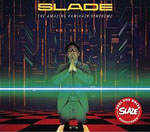 Union Square continue with their excellent remastering of Slade's latter years, and 1983's The Amazing Kamikaze Syndrome kicks off this batch proving that while it wasn't the classic Slade of old, they still had it.
Reading 1980 had rejuvenated the band and their successes. Noddy still sounded like Noddy, despite the hugely updated production. The riffs were still big, and the solos were if anything better, more metal if commercial metal (check out opener 'Slam The Hammer Down'). This was Slade's biggest commercial success in America.
The surprise hit single was 'Run Run Away', despite the new wave tribal sound to the drums. It's still a catchy and memorable track but not one you'd attribute to Slade unless someone told you so. Nice time change mid-song, Celtic flavoured crunchy lead riff, and Jim Lea's violin.
'C'est La Vie' was a waltz ballad that flopped as a single - strange choice lads.
Extensive sleevenotes, slipcase and 6 bonus cuts make for a first class package though. ***½
By 1984 Slade had stopped touring, and the following year's Rogues Gallery was a fine polished set. Fat choruses as you'd expect, the top line to 'Hey Ho Wish You Well' is classic Slade within a solid melodic rock song. This is Slade turned state-of-the-art, something you would never have expected. Synths too, a sound bigger than Noddy's perm. Between single B-sides and remixes, a whopping 9 bonus tracks. ***½
1987's You Boyz Make Big Noize was perhaps not the swansong the band would have wanted. The complete flop of two singles meant label RCA lost interest in promoting it and the single 'You Boyz Make Big Noize' would be put out later on a different label.
While some good moments, classic Slade in others, most of the album is mediocre at best. The anthemic big choruses just weren't as catchy. Plenty of keyboards, layering and whatever just wasn't Slade, with or without the classic Slade harmonies.
If they'd more of an album of 'Fools Go Crazy' maybe fans and label wouldn't have deserted Slade so drastically. They had enough personal problems without that.
Sadly Slade went out with a whimper, at least until 1991's 'Radio Wall Of Sound' (sadly not included amongst the 9 bonus cuts here). **½
The Collection 70-87 is a fine compilation though, originally released over 2LPs. It kicks off with the hit 'Run Run Away' and shows just how good (at times) the band were.
Beyond the hardcore fans, this album will suit most, and well annotated track by track too. ****
All excellently packaged with mammoth booklets and sleevenotes. A good collection, some very fine music, but far from classic Slade.
Review by Joe Geesin
Related>> Compilation
Related>> Reissues
---
| | |
| --- | --- |
| | Print this page in printer-friendly format |
| | Tell a friend about this page |