SLADE Rockers Salvo SALVODCD204 (2007)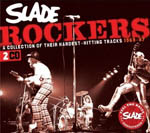 This double CD is part of an excellent reissue programme that aims to place Slade firmly back in the pantheon of British rock music.
Gathering together the rockier side of the band (as opposed to the better-known commercial aspect) this collection spans nearly 20 years from the band's early beginnings in 1969 when they were called Ambrose Slade.
And so the story goes: An early skinhead then glam image hid a basic hard rock savvy allied to solid songwriting.
If you add their exposure to native Midlands 'air', scented with a whiff of Sabbath, it is perhaps easier to see where early Slade were coming from.
'Rockers' does exactly what it says on the tin and well annotated notes guide us through the band's growth. From a competent if slightly tentative, 'Born To Be Wild' (off their 1969 debut) and 1970's 'Could I' with its Beatlesque harmonies, the early tracks presage singles paydirt when, dressed up like children's entertainers, they graced pop mag covers and 'Top Of The Pops' in their 1972-3 glory years.
On CD1 there are four tracks from 1972's 'Slayed' and five from 1974's 'Old New Borrowed And Blue' (an album strangely bereft of singles) which emphasised the band's rock credentials. 1977's 'Be' and 'Burning In The Heat Of Love' with Noddy Holder's ever-powerful vocals and some fine funky riffing show the band could still be relevant.
But by the late seventies, punk came along to squash bands like Slade (who ten years earlier would have adapted better than most) and it was an appearance at the Reading Festival in 1980 that gave the band a new innings. But in truth, their eighties style chronicled on the second CD was still very dated and they struggled to find a new voice.
The band did influence some of the eighties hair metal bands such as Quiet Riot who successfully covered two of their seventies singles. And back in the seventies, their stagecraft had influenced bands such as Kiss and Cheap Trick.
CD2 includes four tracks from 1981's 'Till Deaf Do Us Part' whilst the title 'You Boyz Make Big Noise' (one of the last things the band recorded) is perhaps a fitting epitaph to the band and to this collection as a whole.
If short on subtlety, 'Rockers' does flag up an excellent reissue series which reiterates Slade as one of our most colourful if under-estimated rock bands.
***½
Review by David Randall
Be
© 2007 Salvo/Union Square. All rights reserved.
---
| | |
| --- | --- |
| | Print this page in printer-friendly format |
| | Tell a friend about this page |