The Cash Cow Remains The Same ...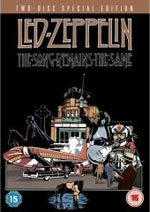 D'you ever get fed up of the hype? At least you can rely on GRTR! to tell it like is.
It's not been possible to turn on Planet Rock on for the last month without them jerking off over the 'reunion', and even the broadsheets are full of it. Frankly, you'd have had to be in a coma to have missed it. OK, Zeppelin were the biggest rock band on the planet back in the 70's and their legacy is as valid today as it was then. But the recent milking of that cash cow is becoming a little wearisome.
First we got Mothership - a repackaging of the Remasters double album released in 1997 and the Early Days and Latter Days discs released a couple of years later. Re-re-mastered this time around by Jimmy Page to give it some extra - oomph - which basically means the volume has been turned up a notch. And if you had either of the earlier collections, not worth your pennies when you could simply turn your stereo up.
Now, we get the re-release of the flawed The Song Remains The Same DVD. I say flawed, because while the concert footage captures the band in all their primal swaggering glory, the fantasy sequences were cringeworthy when it was originally released and not only break the mood, but frankly spoil the overall effect.
Now the soundtrack has been re-mastered in DTS 5.1 from the original master tapes (and sounds wonderful) and it features all 14 songs from the original concert. Unfortunately, the four 'missing' songs - Misty Mountain Hop, The Ocean, Over The Hills And Far Away, and Celebration Day have not been restored to their rightful running order and simply feature on the bonus disc.
So apart from being given a dust down and a new coat of paint, the original movie remains the same, and not what most Zep aficionados would die for - the fully restored concert in original running order, without the unfortunate hallucinogenic interludes. Perhaps one day, maybe?
But there is more - HD and Blue Ray versions, and as well as the bonus tracks, there's further 'bonus' material to seduce the Christmas shopper - mainly in the form of contemporaneous media reports and interviews with Plant and Peter Grant. Nice to have, but hardly likely to merit repeated viewings.
So the million dollar question - an essential purchase, or wait until the reunion gig is released on DVD? The answer - a no brainer - Zeppelin delivered some of the finest blues/rock we'll ever be privileged enough to witness. And while The Song Remains The Same may not be perfect, it's the the best there is on the market at present, so invest now and start saving for the reunion DVD (and tour?).
Review by Pete Whalley