LED ZEPPELIN Mothership 2-CD, Atlantic (2007)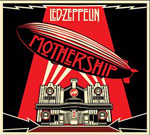 This latest Zep compilation does smack a little of 'cash-in'. With the reunion only weeks away, why on earth do we want another 'best of'? Well in truth, this release has been scheduled for some time, long before the reunion announcement, but you can't help thinking greater marketing forces are at work here.
It should be stated at the outset that this two CD collection is merely a best of the studio albums, there is no new or unreleased material to tempt fans and it seems squarely aimed at the casual motorway service area customer who wants to appear hip. And if you've already got the 'Remasters' package of 1990, you can forget this. The only tracks missing from the earlier set are 'When The Levee Breaks' and 'Over The Hills And Far Away'.
That said, if you haven't got any Zep lurking in your loft it does place all the key tracks in apple pie order and they do still sound pristine and relevant. And all surviving band members have made their own selections to shape the finished article. But there are no surprises and few obvious omissions (save perhaps for 'Battle of Evermore'). And, despite a so-called 'collector's edition' (an extra disc with highlights from 2003's 'Led Zeppelin' DVD), this is all too predictable, and disappointing. Unlike the reunion gig, we hope.
***½
Review by David Randall
DVD review
---
| | |
| --- | --- |
| | Print this page in printer-friendly format |
| | Tell a friend about this page |