EUROPE Dalhalla Downloads 07 www.europetheband.com (2007)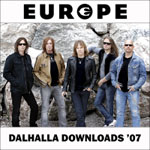 Here at GRTR! we prefer to review a physical CD rather than tracks that are pumped out of the ether via a download. This may seem somewhat archaic, but we felt short-changed after the introduction of the CD. For a moment, life without a new gatefold sleeve was unbearable.
There may be some logic in our ageism. There will come a time when after the inevitable blue screen (or portable player theft), the downloader will lose their collection. What? They burn it to CD anyway? Many will not be that organised. And we may well have the last creaking laugh as we extract the piss and then our shiny CD - beautifully filed in A-Z order, of course.
Whilst we might shrink at the thought of a world of downloads - there is no denying that it is a useful medium for 'bonus' tracks which may not otherwise get an airing except via some dubious peer to peer network.
And the Europe gig from Dalhalla (Sweden, 1 September 2007) fits that bill. These twelve tracks - weighing in at round an hour's worth of music for 8 quid - give fans the opportunity to purchase a legitimate live album and if you don't like a track you can just pay for the ones you do.
We haven't quite recovered from the band's February 2007 UK tour and those gigs have made our 'Best Of' 2007'. So 'Dalhalla' is a nice souvenir and the band are rocking.
Only three tracks are from 'Secret Society' ('Love is Not The Enemy', 'Let The Children Play' and 'The Getaway Plan') - which may disappoint the faithful - and nothing from 'Start From The Dark' although there is still inevitable overlap with the live DVD set. And even though the old faithfuls ('Superstitious', 'Seven Doors Hotel', 'Yesterday's News') sound tougher and leaner, fans may have preferred more live versions from the current album.
The combination of Joey Tempest's vocals and songwriting skills and John Norum's fluent guitar figures is pretty much irresistible. And whilst occasionally there are hints of a cheesier eighties pomp rock (the synth sounds usually) there is enough drop-tuned guitar to please most melodic metal fans.
An excellent filler before the next studio album. Just remember to burn it to CD.
****
Review by David Randall
Gig review
Feature and interview
---
| | |
| --- | --- |
| | Print this page in printer-friendly format |
| | Tell a friend about this page |