TOTO Falling In Between Frontiers (2006)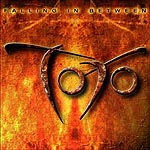 Toto are back with possibly their best album since the days of 'The Seventh One'. In fact the vocalist on that album, Joseph Williams, makes a welcome return on one song plus long term regulars Steve Porcaro and Lenny Castro are all present and correct.
There is also a new kid in town - Greg Phillinganes (Eric Clapton/Stevie Wonder) who handles keyboards and lead vocals on some tracks.
The music is quite frankly superb ranging from the solid melodic rock of 'King Of The World' to the current airplay pick 'Bottom of Your Soul', which features a duet between Steve Lukather and former vocalist Joseph Williams - simply wonderful.
'Dying On My Feet' sees the band veer off into soul/jazz territory but the strong backbeat keeps the music firmly at the end of listenable jazz rock in my book! 'Hooked' takes a progressive route with plenty of synths and Jethro Tull's Ian Anderson guesting on flute.
One of the simplest tracks 'Simple Life' turns out to be a highlight as Steve Lukather takes the mic accompanied by only piano and percussion. This is a real 'shivers down the spine' song. The other real standout track is 'Spiritual Man' with David Paich, Bobby Kimaball (he is on fine form) and Greg Phillinganes all sharing lead vocals. It is an epic slow burning ballad that Toto does so well complete with some soulful sax courtesy of Tom Scott.
Toto have excelled themselves on here bringing in all musical styles into the mix from AOR to gospel via soul and heartfelt balladry. As a longstanding fan (I came in on their 'Isolation' album back in 1984) you couldn't ask for more from the band and what really sets this apart is the quality of the songs which has not always been present on the band's last few releases.
*****
Review by Jason Ritchie