Just witnessed your best live gig?..send us a review!
TODD RUNDGREN/JOE JACKSON/ETHEL
Philharmonic Hall, Liverpool 9 June 2005
When this tour was first announced, it did seem an unlikely combination. A string quartet, Joe Jackson AND Todd Rundgren. Todd fanciers couldn't believe their luck - two tours, two consecutive years. Others may have asked, Joe who?
When the tour opened it all seemed to make more sense and the general consensus appears to be that this could be the making of all of them.
Joe Jackson was one of the better and more musical performers to come out of the punk era and has quietly churned out quality, if lower-key, albums since. His set was well performed and I'm sure it will have jogged a few greying memories with classics like 'Different For Girls' and 'Is She Really Going Out With Him'.
It was quite evident, though, that the majority of the rather vocal Liverpool punters were there for Todd, and whilst Jackson has a brace of fine songs he was always ever going to be support on this occasion.
Ethel who opened the show probably surprised many with their gutsy and sometimes frenetic delivery. When they returned late in the set, their sonorous stringing lent gravitas to several Todd songs.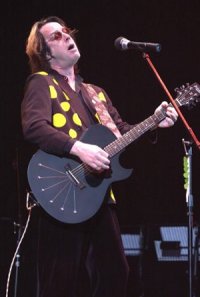 Photo courtesy of Steve Gillett & Angela Lubrano
© 2005 LIVE Pictures (livepix@btclick.com)

Todd Rundgren himself was on form, this was a chance to bring his solo performance show to the UK albeit in the context of the Ethel/Joe axis. He is the consummate showman and multi-instrumentalist and the emphasis here was on his powerful and very soulful vocal delivery as much as his wonderful acoustic-electric guitar playing.
One of the frustrations, and a recurring gripe amongst Todd junkies, is that he doesn't always play what they want to hear. His set has changed through the tour, with some surprises. Tonight he included 'The Wheel', 'Hawking' (as part of a piano interlude) and a Beatles tribute 'You've Got To Hide Your Love Away' wholly appropriate given the venue.
Highlights included one of the 'Liars' standouts 'Afterlife', and 'Stood Up'. The latter song, and a superb 'Pretending To Care', were performed with Ethel.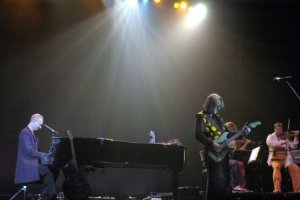 Photo courtesy of Steve Gillett & Angela Lubrano
© 2005 LIVE Pictures (livepix@btclick.com)

The ensemble encore took in an urgent 'While My Guitar Gently Weeps' with Ethel's orchestration colouring Rundgren's electric guitar chords and vocals shared with Jackson.
This was a well crafted evening with the emphasis on songs, a point emphasised with Todd's unexpected Music Hall tribute.
Many will want to see Todd make it three-in-a-row in the UK next year. A 'greatest hits' tour with full band? A lower-key electric workout? Yes, please.
Review: David Randall
Todd Rundgren Set List
(with special thanks to Todd-o-phile Malcolm Kay)
Love for the Common Man
Who's Sorry Now
Black and White
I Saw the Light
Beloved Infidel
Song of the Viking
Hawking
Hello It's Me
Bang on the Ukulele Daily
You've Got To Hide Your Love Away
Afterlife
The Wheel
With Ethel:
The Lord Chancellor's Nightmare
Pretending to Care

With Joe Jackson and Ethel:
Stood Up
While My Guitar Gently Weeps