JOE JACKSON/ TODD RUNDGREN/ ETHEL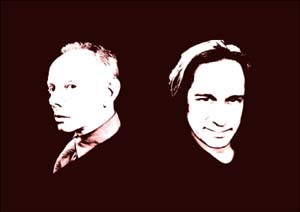 Two legends. One stage. Only one tour. This is a very rare chance to catch both Joe Jackson and Todd Rundgren on stage both performing solo material and solo sets, and also collaborating onstage together on their very first joint European Tour. The tour kicks off at Portsmotuh Guild Hall on Monday 30th May, and will take in Bristol Colston Hall (May 31), London Hammersmith Apollo (June 5th), plus five major other UK concerts, as well as concerts in Holland, France, Belgium, Germany, Switzerland, Italy and Spain.
You'll hear classic hits from Joe such as Sunday Papers, Different for Girls, Is She Really Going Out With Him, and Todd's Hello It's Me, Can We Still Be Friends, and Bang The Drum backed by 'Ethel' the string quartet.
The first set will consist of a 20-minute solo acoustic performance by Ethel, followed by 45-60 minute solo acoustic set performed by Joe Jackson, followed by a 45-60 minute set by Todd Rundgren.
Finally, Todd and Joe will perform together with the string quartet backing them up for an extended encore.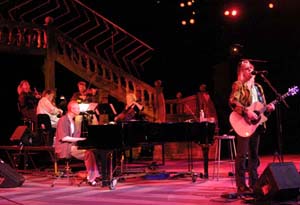 Ethel, Joe Jackson and Todd Rundgren performing together on stage at the same time at the Delecorte Theatre in Central Park, New York City on August 24, 2004
Photograph © 2005 Steven J.Sherman
One summer evening in August 2004, the dynamic and genre-bending string quartet Ethel found themselves sharing the stage with Joe Jackson and Todd Rundgren, closing out a memorable night of performances at the Delacorte Theater in New York City's Central Park. The evening, part of the first ever Joe's Pub in the Park music series, was the brainchild of Joe's Pub director and friend of Ethel, Bill Bragin. The unforgettable event proved to be the impetus for the upcoming US tour by Ethel, Rundgren, and Jackson, a union that will undoubtedly be one of the musical highlights of 2005. Ethel will kick off each night with a set of their own music, showcasing the group's uniquely energetic artistic sensibilities.
"Joe Jackson and Todd Rundgren are great inspirations to all of us," says Ethel violist, Ralph Farris. "For years we've watched these two tremendous artists with great respect and we are thrilled to be getting on a bus to perform all around the country with them, sharing our music and supporting theirs."
Previously, Ethel worked with Jackson, performing on his album, Night and Day II (2000). "Joe's sense of musical form, his elegant and powerful writing and his innovative orchestrations, all hearken back to the great composers of old. It's truly an inspiration to work with him." says Ethel cellist, Dorothy Lawson.
Rundgren was so taken by Ethel's performance in Central Park that while speaking to the crowd during a break in his set, he called Ethel "the wave of the future." The respect and admiration that Rundgren showed Ethel is certainly a mutually shared feeling. "Todd Rundgren has been an innovator from the start," says Ethel violinist, Todd Reynolds. "In every one of his records there are examples of a myriad of different styles. Every language of popular music is resident in that man's head, spirit and hands, and it flows out endlessly."
Clearly, the unique combination of these innovative and remarkable artists - Ethel, Joe Jackson and Todd Rundgren - will captivate crowds across the country this spring.
A Wizard, A True Star - the title of Todd Rundgren's 1973 solo album aptly sums up the contributions of this multi-faceted artist to state-of-the-art music. As a songwriter, video pioneer, producer, recording artist, computer software developer, conceptualist, and, most recently, interactive artist (re-designated TR-i), Rundgren has made a lasting impact on both the form and content of popular music.
Todd Rundgren was born and raised in Philadelphia, and began playing guitar as a teenager, and went on to found and front The Nazz, the quintessential `60's cult group. In 1969, he left the band to pursue a solo career, recording his debut offering, the legendary Runt. But it was 1972's seminal Something/Anything?, on which he played all the instruments, sang all the vocal parts, and acted as his own producer, that catapulted Todd into the superstar limelight, prompting the press to unanimously dub him 'Rock's New Wunderkind'.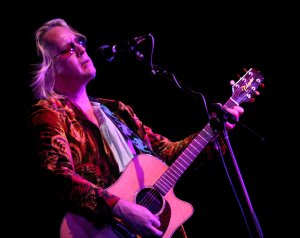 © 2005 Steven J.Sherman
It was followed by such landmark LPs as The Hermit of Mink Hollow and the above mentioned A Wizard, A True Star, as well as such hit singles as I Saw The Light, Hello It's Me, Can We Still Be Friends, and Bang The Drum.
Rundgren's myriad production projects include albums by Patti Smith, Cheap Trick, Psychedelic Furs, Meatloaf, XTC, Grand Funk Railroad, and Hall And Oates.
Rounding out his reputation as rock's Renaissance Man, Rundgren composed all the music and lyrics for Joe Papp's 1989 Off-Broadway production of Joe Orton's Up Against It (the screenplay commissioned by The Beatles for what was meant to have been their third motion picture).
Todd's first studio CD of all new music in more than 10 years, Liars, was released last year to global critical acclaim.
Joe Jackson fronted one of the classic bands of the post-punk era: Jackson (vocals and keyboards), Gary Sanford (guitar), Graham Maby (bass), and Dave Houghton (drums).
Former classical prodigy Jackson was already a young musical veteran (with a resume that included the Royal Academy of Music, the National Youth Jazz Orchestra, musical directorship of a Playboy Club, and a proto-punk band called Arms and Legs) when Look Sharp was released into the charged post-punk atmosphere of January 1979. The album's hard-hitting, melodically concise tunes and passionately articulate lyrics struck a responsive chord on both sides of the Atlantic.
The Jackson/ Sanford/ Maby/ Houghton line-up was remarkably productive, refining its approach on I'm The Man and stretching into new sonic territory with Beat Crazy. When they weren't in the studio, the band toured almost continuously. "We were together for a much shorter time than I realised," Jackson notes. "We got together in the summer of '78, recorded Look Sharp in August, and just kept going through to the end of 1980. We toured very hard, but then again, we were very young and it was an adventure. This was all heady stuff, because so much of it was new - travelling internationally, playing bigger places, being on TV. It's kind of like you've gone through a war; you'll always have that bond because of what you've experienced together."
Despite their success, Jackson chose to put the band to rest and move on to new musical challenges: the ahead-of-its-time swing project Jumpin' Jive (1981), the sophisticated urban pop of Night and Day (1982) and Body and Soul (1984), the stripped-down, live-to-two-track Big World (1986), the majestic, semi-autobiographical Blaze of Glory (1989), the more mainstream but still idiosyncratic Laughter and Lust (1991), the gentle, soul-searching Night Music (1994), the innovative song-cycle based on the Seven Deadly Sins, Heaven and Hell (1997), and the album Joe considers his best, Night and Day II (2000).
There have been two live albums (Live 1980-86 in 1987 and Summer in the City - Live in New York in 2001) and Jackson has also distinguished himself with scores for several films, including Francis Ford Coppola's Tucker and James Bridges' Mike's Murder, and two albums of instrumental music, Will Power (1987) and the non-traditional, non-orchestral Symphony No. 1, which won the 2001 Grammy award for Best Pop Instrumental Album. In 1999, Jackson published a well-received book, A Cure For Gravity, which he describes as "a book about music thinly disguised as a memoir."
Ethel is a 21st-century realization of the classical string quartet model featuring uptown and downtown performing stalwarts Ralph Farris, Dorothy Lawson, Todd Reynolds, and Mary Rowell. Their credentials read like a who's who of classical, contemporary, and popular music. From the Orpheus Chamber Orchestra and the Steve Reich Ensemble to the Sheryl Crow Band and the Roger Daltrey Band, the members of Ethel bring together a vast spectrum of performing and recording experiences.
Unencumbered by convention, genre or style, the tastes, talents and experiences of these four musicians come together to create a flexible entity that is committed to exploring new possibilities in string quartet performance.
Ethel has collaborated with such innovative composers as John King, Evan Ziporyn, Joe Jackson, Steve Coleman, Mel Graves and Benny Wallace. The 2000-2001 Ethel season included regular appearances on the World Music Institute's "Interpretations" series, on the Upper Manhattan Arts Project's "Featured Artist" series, a lecture-performance at MIT, and her first international appearance at the Schleswig-Holstein Music Festival, with the Bang-On-Can All Stars and Ensemble Moderne.
In addition, Ethel will also present a couple of humdinger self-produced concerts. This season's recordings include Showtime's original series, "The Hoop Life", and the Oscar Moore animated film, "The Indescribable Nth". Ethel will soon be heard on new releases from Joe Jackson and from Rickie Lee Jones.
Oh, and next time you see a Poland Spring television commercial, listen for Ethel.
The 2001-2002 Season includes work with the American Composers Orchestra, Daniel Bernard Roumain, Prism Saxophone Quartet, and continuing collaborations with Lisa Bielawa, John King, Phil Kline, Daniel Schnyder, Benny Wallace, Randall Woolf, Mark Wood, and the Bang On A Can family.
THE UK CONCERTS
The following three concerts are promoted by Clear Channel in association with Primary Talent.
Buy online at www.getLIVE.co.uk
Tickets: £21.50 Regional and £25.00 London (subject to booking fee)
Credit Card Hotline; 0870 400 0688 (24hrs)
Monday May 30, 2005 - Portsmouth Guild Hall Tickets £21.50 Box Office 01772 258 858 Online booking - www.getLIVE.co.uk/JoeandTodd Doors open 7pm / on stage 7:30pm Street Address - Guildhall Square, Portsmouth, Hants, PO1 2AB
Tuesday May 31, 2005 - Bristol Colston Hall Tickets £21.50 Box Office 0117 929 9009 Online booking - www.getLIVE.co.uk/JoeandTodd Doors open 7pm / on stage 7.30pm Street Address - Colston Street, Bristol, BS1 5AR
Sunday June 5, 2005 - Carling Apollo Hammersmith, London Tickets £25.00 Box Office 0870 606 3400 Online booking - www.getLIVE.co.uk/JoeandTodd Doors open 7pm / on stage 7.30pm Street Address - Queen Caroline Street, London W6
Joe Jackson and Todd Rundgren will also be performing 5 additional UK concerts -
Thursday June 2, 2005 – The York Opera House Ticket Price - £20.00 Box Office - 0870 606 3595 Enquiries: 01904 678703 Venue Website – www.york-operahouse.co.uk Online Booking - www.cclive.co.uk, www.jewelspromotions.com Doors open 7pm / on stage 7.30pm Street Address - Cumberland Street, York, North Yorkshire, YO1 9SW
Friday June 3, 2005 - Leicester De Montford Hall Ticket Prices - £19.50, £22.50 Box Office 0 0116 2333111 Online booking www.demontforthall.co.uk Doors Open 7pm / on stage 7:30pm Street Address - Granville Road, Leicester, UK LE1
Monday June 6, 2005 – Newcastle The Sage Ticket Prices - £21.00 Box Office - 0141 443 4661 Online Booking - www.thesagegateshead.org Doors open 7pm / on stage 7:30pm Street Address – St Mary's Square, Gateshead Quays, Newcastle, NE8 2JR
Wednesday June 8, 2005 - Edinburgh Usher Hall Ticket Prices - £21.00 Box Office - 0131 228 1155 Venue Online Booking - www.usherhall.co.uk Alternative Online booking – www.ticketweb.co.uk Ticketweb Phone Bookings - 08700 600 100 Doors open 7pm / on stage 8pm Street Address - Lothian Road, Edinburgh, EH1 2EA
Thursday June 9, 2005 - Liverpool Philharmonic Hall Ticket Prices - £17:50, £20.00, £25.00 Box Office 0151 709 3789 Online booking and website: www.liverpoolphil.com E-mail: customerservice@liverpoolphil.com Doors open 7pm / on stage 8pm Street Address - Hope St, Liverpool, L1 9BP
Non-UK European Dates:
June 11, 2005 Amsterdam Carre
June 12, 2005 Amsterdam Carre
June 14, 2005 Paris Bataclan
June 15, 2005 Paris Bataclan
June 16, 2005 Bochum Jahrhunderthalle
June 18, 2005 Brussels Palais de Beaux Art
June 19, 2005 Bonn Museumsmeile
June 22, 2005 Bielefeld Ringlokschuppen
June 23, 2005 Munich Circus Krone
June 25, 2005 Hamburg Musikhalle
June 26, 2005 Berlin UdK
June 28, 2005 Zurich Kongresshaus
June 30, 2005 Milan Conservatorio
July 1, 2005 Rome Caveo Paco della Musica
July 4, 2005 Barcelona Musical Theater
July 5, 2005 San Sebastian Kursaal Theater