THE OUTFIELD 'Any Time Now' (2005)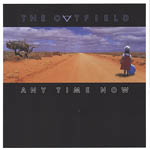 Been a long time since this band last released a new album and this album has been in the pipeline for a couple of years, hence the title 'Any Time Now' as the band's response when asked by fans for a release date.
For a band originating from the UK they mean diddly squat over here in terms of sales but in the US the band were platinum sellers in the mid/late 80's (their debut 'Play Deep' went triple platinum in the US).
That was then and this is now with Tony Lewis and John Spinks, the two main men are still in place, as are the trademark high range vocals (a mix of Sting and Jon Anderson).
There is much to enjoy for fans of the band as their classic sound has merely been updated with modern production values and slightly more atmospherics in some musical passages.
'It's All About Love', 'This Love Affair' and 'There She Goes' could all be singles, although sadly they wouldn't be hits as they don't fit current trends. Not too sure on the dance beats added to 'Heaven's Little Angel'. There are seventeen tracks on here so you certainly get your money's worth and only two songs at most are fillers.
Will definitely please their fans but the band's main task will be letting many fans know they are still going! If you've yet to sample the delights of the Outfield try their 'Best Of' released a few years ago or 'Voice Of Babylon', my personal favourite album as it contains more catchy songs than you can shake a stick at!
****
Review by Jason Ritchie
This Love Affair
© 1996 Sony. All rights reserved.