THE OUTFIELD 'Big Innings - Best Of' Sony (1996)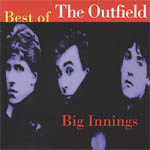 Cunningly re-released 'Best Of' to capitalise on the band's new studio album. As an introduction to the delights of the Outfield you can't really go wrong, especially as it opens with the harmony overload of 'Voices Of Babylon', which for me is the best track they've recorded to date. Imagine the Police singing with the Beatles and you'd be close.
The US hit singles are here as – 'Say It Isn't So', 'Since You've Been Gone' and the sports anthem 'Winning It All'. There are two new tracks along with a couple of unreleased/acoustic versions of existing tracks to make it appealing to existing fans.
If you like harmony driven AOR/melodic rock then you seriously need to check out this band who were criminally overlooked in their UK homeland but luckily the US understood their musical potential!
****
Review by Jason Ritchie
Album review
Voices Of Babylon
© 1996 Sony. All rights reserved.