STEVE HOWE Spectrum Inside Out (2005)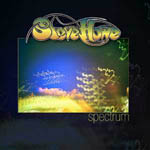 Deep down inside, I knew that it would be only a matter of time before I would be given the opportunity to review one of Steve Howe's solo albums, and I had good reason to believe so. Of course, what helped a lot was a) the fact that both my fellow colleagues, Jason Ritchie and David Randall, had already reviewed both of Steve Howe's previous solo albums ("Skyline"/2002, "Elements"/ 2003) and b) Steve Howe's continuous need for recording all of his musical experimentations - a need that lead to the release of "Spectrum".
As with both of the abovementioned releases, "Spectrum" is not an effort from Steve's part to prove his musical skills - having been a member of Yes for the last thirty five years has allowed him to prove himself on more than one occasion.
What this album did was to provide Steve with another opportunity to explore a variety of different musical styles and genres - something that he did in 2003's "Elements" . To achieve that goal, Steve once again required the participation of both his sons - Steve (guitars) and Virgil (keyboards) Howe, as well as that of Oliver Wakeman's (keyboards) and Tony Levin's (bass), whose unique talent has been shown in his contribution to bands like Liquid Tension Experiment, Peter Gabriel and King Crimson.
With such an impressive group of musicians involved, one would expect that "Spectrum" would be a compilation of progressive rock anthems, featuring lengthy solos and incomprehensible rhythms. I am sorry to disappoint you, but this is hardly the case here.
Even though there are a few songs like "Tigers Den" and "Highly Strung" which will remind you that he is indeed a member of Yes, you will also get songs like "Ebb and Flow" with references to country music, or "Ragga of Our Times" whose combination of sitar melodies with 80's keyboard tunes gives us an idea of how Steve perceives a modern representation of traditional Indian music.
I can hardly point out a single composition from this sixty minute release that was not to my liking, but I must admit that there were a few compositions that I can name as my personal favourites. Both "Realm Thirteen" and "In The Skyway" are based on equally beautiful acoustic guitar melodies whose simplicity on the one hand and emotional nature on the other makes them quite irresistible to any poor music nutter such as myself.
Come to think of it, there is a good reason why Inside Out has chosen to promote "Spectrum" as "Your summer LP". Even though it will probably be the fans of Yes who will rush to get their hands on it, this fifteen-track album has many good things to offer to a wider audience. Assuming that you like good quality music, I don't see a reason why you will choose not to invest in it. An easy four stars rating indeed!
****
Review by John Stefanis