STEVE HOWE's REMEDY 'Elements' (Inside Out 085-60442) (2003)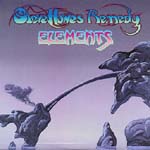 It must be great enlisting younger family members on an album, in this case Virgil and Dylan Howe. Father Steve must be confronted with the realities of cutting-edge contemporary vibes via his offspring, even if he trys to otherwise avoid it. This is evident on the two opening tracks where Father lets rip with some decidely juicy heavy rock chords showing he can cut it, no problem.
Into the album, and the more expected muso elements come out. On this CD Steve has paired with the talented contemporary jazz player Gilad Atzmon and so the outcome is somewhat studied and jazzy. 'The Chariot Of Gold' has a great rasping guitar groove punctuated by Atzmon's sax harmonies and a nice melody. Almost a theme tune and short enough to be a single. 'Pacific Haze' is just the job for those balmy nights, fat jazzy guitar and brass interjections. Elsewhere, there's a country element on 'Where I Belong' and an atmospheric ballad 'Tremelolando' whilst 'Load Off My Mind' and 'Rising Sun' treads ZZ Top territory! Steve now needs to tour this album, preferably in smaller, sweatier venues.
If you liked Steve Howe's previous solo outing 'Skyline', get this. It's essentially a guitar album, will appeal to Yes fans and guitarists alike and, hopefully, will get on board younger listeners too who will appreciate Father Howe's nod to the cutting-edge.
The Chariot Of Gold
© 2003 Steve Howe/Inside Out All rights reserved.
****
Review by David Randall


£12.99