STEVE HILLAGE Remasters EMI (2006)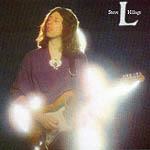 It pains me to say it, but Steve Hillage's woollen hippie hat has probably worn better than his early albums with the possible exception of 'L'.
Hillage came to our attention with the cosmic-hippie imbued Fish Rising (EMI CDVR2031). The influence of French underground hippie band Gong, with whom Hillage played in the early seventies, must have rubbed off but on 'Fish Rising' there's a distinctly Zappa-esque vibe and - betraying his Canterbury origins - there's even a touch of Caravan in there too.
Bolstered by the bonus track 'Pentagrammaspin (2006 remix) and the original backing track for 'Aftaglid', although Lord knows why you'd want to sit through this again. **½
By the time of 1977's L (EMI CDVR2066), it is tempting to think that Sir Richard B had put a rocket up Hillage's backside, because the woollen-hatted one actually came up with - for him - something a tad more commercial and it yielded the surprising minor hits 'Hurdy Gurdy Man' and poppy 'It's All Too Much'. And 'L' went Top 40.
One problem for Hillage was that he never really had a settled band, the one continuity was his partner Miquette Giraudy. For 'L' he used Todd Rundgren's Utopia and the album was produced by Rundgren.
The bonuses here include a backing track to the Byrds' 'Eight Miles High', an early version of 'Palm Trees' and 'Shimmer'. ***½
The following year's Motivation Radio (EMI CDVR2777) was back to more cosmology capers, the tracks were shorter but still jazz-funk-rock, and not too focused. Hillage had garnered something of a reputation as a guitar 'hero', his figures frequently enveloped in fuzz and delay to add to the psychedelic vibe.
The bonuses, once again taken from Hillage's archive, include a promotional single 'Leylines to Glassdom', 'The Salmon Song' backing track and an alternate mix of 'The Golden Vibe'. ***
Rainbow Dome Musick (EMI CDVRX1) in 1979 marked a return to the mandatory extended-length track, just two of them this time and with no bonuses on the reissue. This album is important because it influenced many ambient musicians of the nineties, such as The Orb, with whom Hillage worked briefly. 'Dome' is one of those albums you might have used to impress your friends whilst clutching a much-thumbed copy of 'Hi-Fi News & Record Review'.
The term 'New age music' wasn't quite invented in 1979 but Hillage can claim - for better or for worse - to be one of its early benefactors. ***
These four albums are part 1 of a reissue programme which will continue in early 2007 with 'Green', 'Live Herald','Open' and 'For To Next - And Not Or'. With Hillage's input and Mark Powell's informative liner notes they represent a handy retrospective. But for a quick fix, and frankly that's all you probably need, the curious may want to investigate the 'Light In The Sky' compilation that came out on EMI in 2003.
In truth, without a spliff and a light show, you're going to find much of this hard-going.
Review by David Randall
Album review (Reissues 2)
---
| | |
| --- | --- |
| | Print this page in printer-friendly format |
| | Tell a friend about this page |