STEVE HILLAGE Remasters EMI (2007)

The second bout of Hillage reissues, and it's the later stuff that came out on Virgin between 1978 and 1982. Most have bonus tracks, and the liner notes are informative and annotated by the man himself.
From the opener of 1978's Green (CDVMR2098), 'Sea Nature', you'll gather that lyrically things haven't moved on a tad since the previous offering. We're still in trippy-dippy-cloud cuckoo-land, and unless you can reach the higher vibe with Hillage's ramblings you may find this somewhat dated.
Musically, Hillage continued in jazz-funk-prog vein with lots of synth flutters and ambient textures (Check out 'Activation Meditation'), sometimes redolent of his spiritual antecedents, Hawkwind and Gong, sometimes evoking a less excessive Mahavishnu Orchestra or the late lamented Nova (a seventies Italian band that also fused jazz rock and funk).
Guitar-hero tag notwithstanding, Hillage sounds like a spaced-out Prince on the intro to 'Palm Trees(Love Guitar)' but this would have been better as a torch instrumental rather than with the characteristic Hillage vocal. Trainspotters will note that Nick Mason of Pink Floyd produced the album and plays drums on 'Leylines to Glassdom'.
The bonus tracks will be more interesting to fans, with two live tracks from Glastonbury (1979) (Unidentified Flying Being', 'Octave Doctors') and one live track from the Rainbow Theatre in 1977, 'Not Fade Away (Glide Forever). There's also an alternative mix of 'Meditation Of The Snake'. ***½
I confess to owning a vinyl copy of the following year's Open (V2135), which I think I originally bought on the strength of 'Day After Day'.
Hearing this album again I can now understand why it's still resting among the cobwebs in my store cupboard of forgotten plastic. There are flashes of excellence throughout, never more so than on the funky intro to 'New Age Synthesis' but when Hillage's lightweight hippie vocals and trite lyrics come in you will either like it or loathe it.
Bonus tracks include a backing track for 'Don't Dither Do It' and an alternative mix of 'Four Ever Rainbow'. ***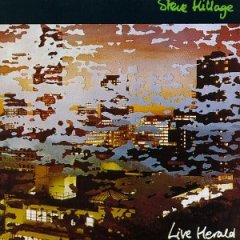 Live Herald (CDVMR3502) also came out in 1979. It was understandable that there would be a live document of Hillage's work because he was a darling of the festival circuit in the late seventies. No doubt those insistent guitar riffs and rhythms worked well with a groundsheet and a bong.
'Herald' scoops up tracks from his first three albums. You may also want to check out the excellent Live At The BBC disc from this period.
Originally a double LP, this now sits happily on one-CD with a bonus track from the Rainbow Theatre in March 1977, 'Solar Musick Suite'. As with all the remasters the sound quality is excellent and Hillage's guitar work excellent throughout - sometimes Beck-esque as in jazz-funk mid-seventies period. Band members include Clive Bunker (Jethro Tull) and Colin Bass (Camel). ****
For To Next/And Not Or brings together what is effectively two albums but the year is 1982 and Steve is meddling in synth-pop rock. Tracks 1-8 might be Human League, OMD, or a lightweight Gary Numan but it's not Steve Hillage as we know him. The hippie hat almost jettisoned for a new romantic quiff. As with much synth-driven pop of the period, this hasn't aged well at all.
Tracks 9-15 represent the 'And Not Or' album and more in tune with Hillage's spaced-out rock. It's all instrumental too. 'Before The Storm' sets the tone for this section, with the trademark echoplexed guitar sounds and infectious synth rhythm. But because of what has gone before, this release can only be for die-hards and gets a **½. No bonus tracks, which may be fortuitous.
If space rock is your bag, Steve Hillage has a rightful place as one of its best exponents. 2003's compilation is probably the best bet for new space cadets, but if you must, the reissued 'Live Herald' is a worthwhile pan-album summary.
Review by David Randall
Album review (Reissues 1)
---
| | |
| --- | --- |
| | Print this page in printer-friendly format |
| | Tell a friend about this page |