SAVOY BROWN
Blue Matter/A Step FurtherBGO BGOCD677(2006)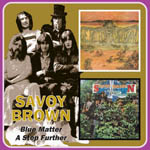 Another 'two-fer' from BGO in a welcome reissue of this mainstay of early Brit blues rock's early Decca catalogue finds Savoy Brown in transition from churning out covers to forging its own path in rock crossover.
1968 brought a bigger recording budget and a spate of singles releases to break the band. The writing talents of singer Chris Youlden and guitarist Kim Simmonds were evidenced on Blue Matter with opener, the hypnotising 'Train to Nowhere', hallmark Savoy Brown, Youlden's murky and mournful vocal driven firmly by a funereal bass drum and substantial brass section.
Recorded in two days (the band's first album was finished in three), it was released as a single with another fine track from the album ('Tolling Bells') while 'She's Got a Ring in His Nose and a Ring on Her Hand' (title of the year!) and 'Don't Turn Me From Your Door' made both album and singles market. ****
By late 1968, playing six gigs a week, the band recorded a live set which brought in three more tracks for the 1969-released album: 'Maybe Wrong,' 'It Hurts Me Too' and 'Louisiana Blues'. This mix n' match of studio and live was taken to new levels with A Step Further.
Released later that year, and in the US to coincide with the band's second American tour, the LP combined a studio side and a live side. Studio tracks in the aching 'Life's One Act Play' and jaunty 'Made Up My Mind' are the highlights, the flip, a numbing and sweaty boogie recorded at Cooks Ferry Inn (dedicated to fans in 'Deee-troit') revealed nonetheless the potency of a live experience that - more theatrical and engaging by the minute - was winning a significant fanbase in the US for this hard-working, class act. ****
Review by Peter Muir
Related>> Album review