SAVOY BROWN
Shake Down/Getting To The PointBGO BGOCD678 (2006)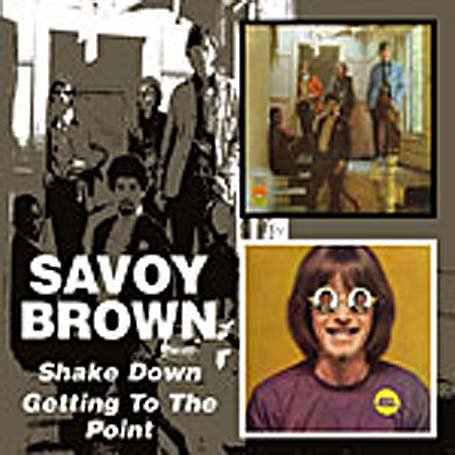 Here's a welcome reissue for fans of Brit blues-rock in the early outings of a band that alongside John Mayall, Chicken Shack and Peter Green's Fleetwood Mac proved integral to the development of the 60's UK blues movement.
Founded in 1966 by guitarist Kim Simmonds, it was originally named Savoy Brown Blues Band to reflect its Chicago Blues-style repertoire. 'Savoy' nodded at US label, Savoy Records and sounded classy; 'Brown' was good ol', down-home plain and seemed a useful counterpoint.
Early singles for Mike Vernon's Purdah label in 1966 were followed up the following year with Shake Down after signing to Decca Records. Produced by Vernon, this set was in the can in a mere thirty hours over three consecutive days. A collection of soulful, raw blues standards by BB King, John Lee Hooker and Willie Dixon amongst others, it proved a persuasive calling card for the 'live' experience. 1967 saw Savoy Brown tour as backing band for Hooker's UK tour and also open for Cream's first London performance.
Extensive touring was followed by personnel changes after a drugs 'bust' which saw in new bassist Bob Brunning from Fleetwood Mac and singer Chris Youlden. Youlden was a find, his rich, often mournful vocal harnessed to Simmond's fluid guitar lines levered in home grown material from both men that trademarked the Savoy Brown sound, the line-up soon enriched by the arrival of bassist "Lonesome" Dave Peverett and drummer Roger Earle.
Getting to the Point followed in March 1968, the mix now reversed with just two covers and seven originals by Youlden and Simmonds. Initially something of a downer after "Shake Down", the album picks up half way and begins to rattle along, showcasing an individual style and a growing dynamic within the band.
Winning contemporary media plaudits for the album, this chemistry was to grow to even better purpose with subsequent releases in the last gasps of the decade, all of which are being reissued by BGO. Go get 'em.
***
Review by Peter Muir