Rush in new romantics scare...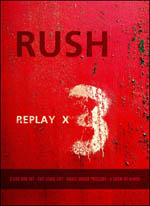 Rush fans have really had it good in recent years with several excellent DVD releases of their heroes. A Live In Rio set, followed by R30 to celebrate their anniversary, and now three DVDs of previous VHS titles, bolstered with extras and a CD.
Remastered by the band's Alex Lifeson and remixed for 5.1 sound, this concert footage is important in reflecting key stages of the band's rampant progress in the eighties.
'Exit Stage Left' was first issued in 1981 on the back of their best-selling album 'Moving Pictures' which gave us such classics as 'Tom Sawyer' and 'YYZ'.
The video version omits several tracks that appeared on the audio album, including an instrumental tour-de-force La Villa Strangiato. (This track is included in a medley on the 'Show of Hands' disc).
Several years later came 'Grace Under Pressure' released in 1985 and with the band in front of a partisan Toronto audience. Three songs from the GUP album and betraying its eighties origins (and Rush's synth leanings at that time) with Alex Lifeson looking like a New Romantic, thankfully sounding like an Old Pro.
A little bit of trivia for you, but the 'Grace' concert was directed by David Mallet renowned for his multi-camera rock shoots, including Queen and Pink Floyd's Pulse. He's also directing the live footage of David Gilmour's forthcoming DVD.
For completists, the DVD remaster omits the music video for 'The Big Money' that appeared on the original VHS release.
Finally, in 1989 the band released 'A Show Of Hands', a 90 minute version of their Birmingham NEC gig in 1988, shot over two nights and arguably at their peak. Just for a moment, Lifeson's chiming guitar figures ('Red Sector A', 'Force Ten') take the edge off, er, The Edge. Remember this is the late eighties.
'Grace' gets a bonus audio CD of the soundtrack and nice touches in this package include reprints of the original tour booklets. There are, though, no bonus commentaries or filmed extras.
Quality-wise, as you'd expect the sound is vastly improved and all gigs are well filmed with no weird transitions or effects that sometimes affect concert footage of this period.
For fans, it will be time to open the wallet again: 'Replay x 3' charts the rise and rise of a premier prog-to-rock power trio at the peak of their powers.
****
Review by David Randall
Related>> DVD review (Rush In Rio)
Related>> DVD review (R30)