First ever concert DVD for influential progsters...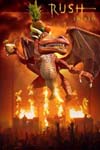 With rumours of a thirtieth anniversary tour in 2004, this DVD should keep Rush fans happy for the interim. Recorded at the end of their 2002 world tour, in Brazil and in front of a Rush-crazy throng of 44,000, this double DVD celebrates one of rock's most enduring phenomena.
Understandably, their set was heavy on then current album Vapor Trails but in addition there is a trawl through all but a handful of their previous offerings. Rush have always been at the more intelligent end of heavy prog rock and this concert - over two hours in duration - is the ultimate primer.
Bonus material includes a 22 minute documentary and multi-angle viewing. The documentary follows the band from arrival in Rio through to showtime, and in the wake of torrential storms it was a triumph of organisation over the elements.
What this DVD does is reassert Rush's strengths against any number of younger pretenders: solid songwriting and musicianship and the occasional killer like 'Spirit Of Radio' or 'Tom Sawyer' which sound as good as they ever did. The South Americans seem to go overboard for their classic rock heroes and their enthusiasm is plainly evident here and to an extent the filming milks this audience/band interplay.
Probably not a DVD to sit through in its entirety, unless you turn down the lights and the neighbours are out and you have three hours to kill, but certainly there's plenty to be dipped into to top up adrenalin levels.
****
Review by David Randall
Related>> DVD review (Replay)
Related>> DVD review (R30)