Just witnessed your best live gig?..send us a review!
RODRIGO Y GABRIELA
Academy 2, Liverpool 13 May 2005
There's a lot to like about guitar duo Rodrigo y Gabriela. Engaging, cosmopolitan personalities, wizards on the guitar and with a refreshing open approach to their music. But it was some way in to this gig that I realised the couple's musical weakness, and the reason I like their live album but only play it for one track.
That track, 'One' by Metallica, is a tour de force and, melded with Dave Brubeck's 'Take Five', shows what R&G can do with a good tune. And that's about it, because in this energetic hour-long recital there was a lot of guitar noodling and repetition.
Both are excellent guitar players, with Gabriela taking an accompanist's role to Rodrigo's more strident figures. Her percussive technique is quite mesmerising and she also showed herself to be no mean soloist too, with a delicate touch when needed.
Rodrigo, on the other hand, brings a one-time thrash metaller's love of dynamics to the party.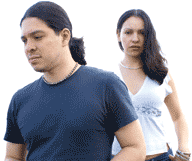 Photo: Aidan Kelly
It is easy to see why audiences find R&G so appealing. They have typical buskers-to-wider-stage wonderment, like rabbits caught in a car headlight. Like many buskers, you are left in no doubt that they could probably play anything thrown at them, but with an absence of truly great original songs.
This is why 'One' is so outstanding, because they deliver a great tune which might even better the original and with 'Stairway To Heaven' in the encore showed that they can do it more than once. Their own material, including a couple of new pieces from the forthcoming album, is a typically eclectic mix of Latin, folk, jazz and rock characterised by repeater-fire chords and soundboard raps.
Some years ago, the great Dutch guitarist Jan Akkerman recorded a unique live album 'Live At The Priory' which demonstrated a similar eclectism and willingness to break normal acoustic guitar boundaries. Rodrigo y Gabriela adopt a similar approach, but the absence of the killer track in their own material is worrying. This shortcoming is easily corrected to avoid the unnerving possibility that they could forever remain a musical 'one'-trick-pony.
Review: David Randall